Last year I did a "Black Friday Don'ts" post that got a really positive reaction…. and I usually refer people to that post when they email me asking for recommendations. I thought I would do an update to that post in lieu of the "deals" being advertised by the big boxes. Spoiler, my lens recommendations haven't changed.
There are several things to know about buying cameras (I am a Nikon shooter, so all my recommendations will be for Nikon stuff as I really have little clue about Canon)… Nikon's come in three different levels, which can be confusing, because the thousand level (3300, 5500, etc.) are the beginner and mid-level, and the hundred level and ten level tend to be pro cameras. Seems like it should be the other way around, but it's not.
My picks are NOT cheaper than the bundles… why? Because the lenses in the bundles are worthless and the camera bags are ugly. If you learn how to use these cameras the way they are meant, you will hate these lenses really quick… as they are really only useful if you are outside in the sun. They are not meant to handle inside lighting… nor are they really meant to handle speed (so forget photographing your kid opening their presents or running around the soccer field).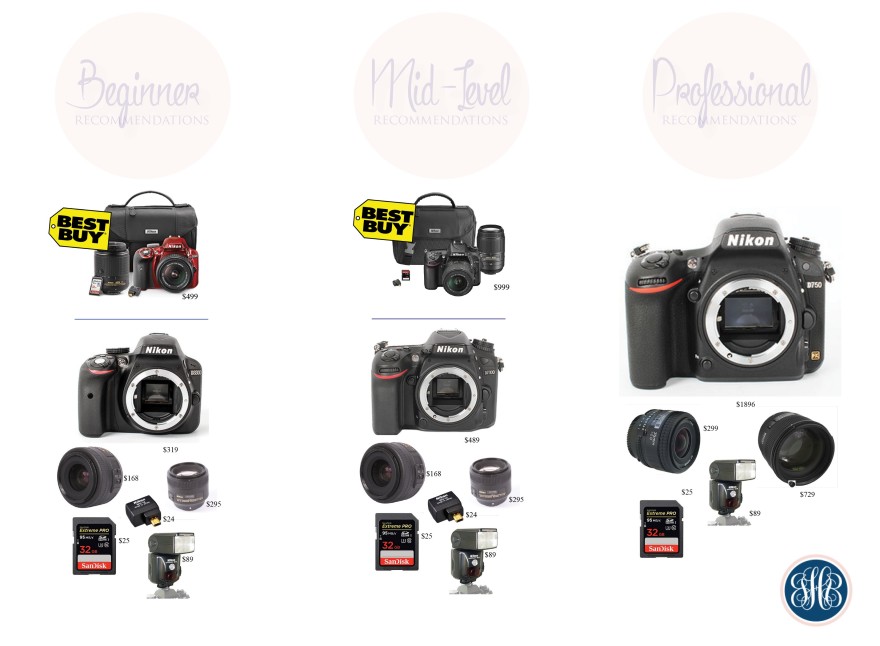 *Right click to open in a new tab/window for larger image
Beginner: The bundle with Best Buy includes a red body (which I hate, but whatever). I couldn't find the red body pictured alone so I included the black version. They are the exact same, but the red one makes you look really amateur in my opinion. The price listed for for the black one. I will warn you, this model (and the mid-level) are really small in your hands, this body weighs less than a pound… that may not matter to you, but for me, when I'm holding a camera for hours I need it to feel good and balanced in my hand. If you're just needing something to stick in your purse without being weighed down (maybe for vacation or something) this might be a good choice for you. This body goes to 1/4000 a second shutter speed, has 11 focus points and does 20 minutes of video.
Mid-Level: I have the same sentiments about the lenses and camera bag as the beginner. This body is heavier, and larger at almost double the weight of the D3300. It also provides you dual card slots which is great for backing up images immediately. This model goes to a higher shutter speed than the beginner (1/8000 a second), has up to 51 focus points, and does 30 minutes of video.
*I've listed the same lenses and accessories for both the beginner and mid-level as they are quality products that will work well with both cameras. I've picked 2 fixed-focal length lenses, a 35mm and 85mm. These will give you enough versatility to get what you want. You may also want to look at the 50mm 1.8. It's a wonderful lens, I just felt it to be too tight for a lot of situations (like inside). The 85 is great for giving you some distance. They both have f-stops of 1.8 which makes them great for lower light situations.
Professional: This is the camera I'll be upgrading to soon. I've rented it and loooove it. It's very comparable to the D700 that I currently shoot with (out of production now). I've listed the higher-end lenses of the ones I posted with the beginner and mid-level… but these are meant for a full-frame (FX) body. You can certainly still use the other 2 lenses listed with the others, but you will not be utilizing the camera effectively. The same flash and memory card are included with this camera as those aren't so important…. but I did leave out the wifi adapter because this camera has wifi built in!! A feature I never thought I'd care about, but I've used it and love it.
*A note about the wifi (adapter or built in): Since Instagram (and FB/Twitter) has become a serious platform for business of all kinds, the amount of professional pictures being posted is really high (non-iphone)… this is a wonderful, easy way to get those photos off your camera and to your phone for easy social media posting!! Check out this video from Tamera Lackey on how it works, it's so cool!
Now… There are always those accessories that area great to give along with the actual camera gear. My first pick is a Foto camera strap. These are so cute and the straps can be customized. Second is a a camera insert. This is a great item for someone who tends to carry a larger purse or backpack. When I am out (not on a shoot) I tend to stick my camera in my purse (sometimes with another lens and flash) this is made to fit down in your bag without carrying a separate camera bag. Third- batteries! You can go rechargeable or disposable… but you'll need lots! Flashes take 4. Lastly- Lightroom. This is a relatively inexpensive product that can really help images look their best. Adobe has gone to a subscription system (ugh) but you can still find the software for purchase (I've linked Staples below).

*Memory Card, Wi-Fi Adapter, Flash (same listed for all 3)
Lastly, if you're gifting a camera to someone this holiday season…. give them the gift of knowledge! Knowing how to use a DSLR is 100% of the battle to take better photos… I offer mentor sessions called Camera 101 where I'll go over all those basics. It's about 3 hours and only $199… get a group together of up to 5 and the price drops to $145 per person.
**REMEMBER** Do NOT be afraid of used gear from reputable sites! Places like KEH.com and Adorama.com are wonderful resources for used goods. Most of the items I own were used when I purchased them!
HAPPY SHOPPING!