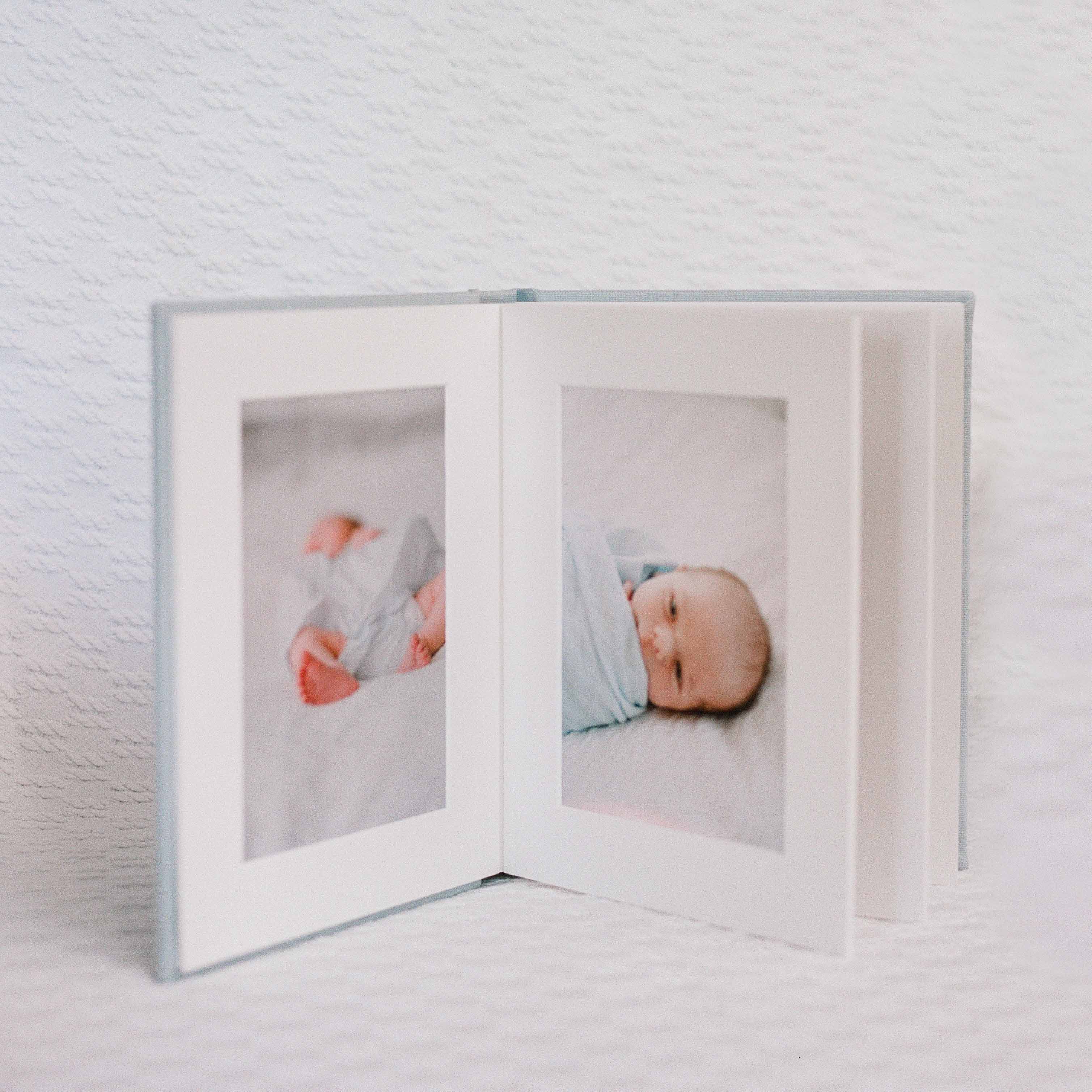 Printed photographs will always be my favorite way to complete a session with a client. I know you *think* you need those digital files, but do not cause yourself any more mom-guilt than necessary because your baby just turned two, and you realize you never printed any of his newborn photos! Leave that work to me, it's my job!!
Albums
I offer two types of albums, a flushmount and matted. Both are equally beautiful and offer different perks.
See both here!
Flushmount
Flushmount albums are going to have thick pages (that your toddler cannot tear!). They are professional prints mounted on a sub-straight for stability and longevity. Images can bleed seamlessly across the gutter. Flushmount albums start at $895 and
include all digital images
from your session!
Matted
(pictured)
Matted albums are a timeless way to display a set of 5x7 prints. They slide in through a slit and can be changed out if desired. The mats are durable, thick and luxurious. These are a wonderful way to display a handful of images (10-14) from a single session, or a few from several sessions. Matted albums start at $595 and
include the digital images
selected to be printed in the album.

Prints
Professional grade prints are a sure-fire way to ensure you are getting the highest quality paper and color. I order all prints through my production lab, and inspect them before delivering them to you. All prints 11x14 and larger will be printed on a foam core back to ensure stability and longevity. Professional prints start at $45 each.
Custom Framing
Along with professional prints, I offer endless custom frame options. From sleek white, to warm wood and even bamboo.... whatever your decor style, we can find a frame for your walls. Framing starts at a 5x7 print size (finished about 10x12) and goes up from there. Custom framing starts at $215
Yes, digital files are still available for purchase. Each session does come with 8 files of your choice, but you can upgrade to the entire gallery for $395.