Well... we've been in our new bedroom for about 5 weeks! It's been so lovely, I can't even tell you!!!! Once
the contractor
was finishing inside, they started work outside. Jeremy had them run the plumbing rough-in work for the outbuilding aka the man cave. They'll be a kitchenette and bathroom in there, so he had then run all the lines. Of course there are a few items still not complete... but I'm hopeful that by the end of June they will be. The only thing left for the contractor to do is put in one last door (we had them replace all the doors in the original house to match the new ones.... they forgot about one closet, so we are waiting for it to come in). Let's just appreciate how this space started..... See more before/during shots
HERE
,
HERE
and
HERE
!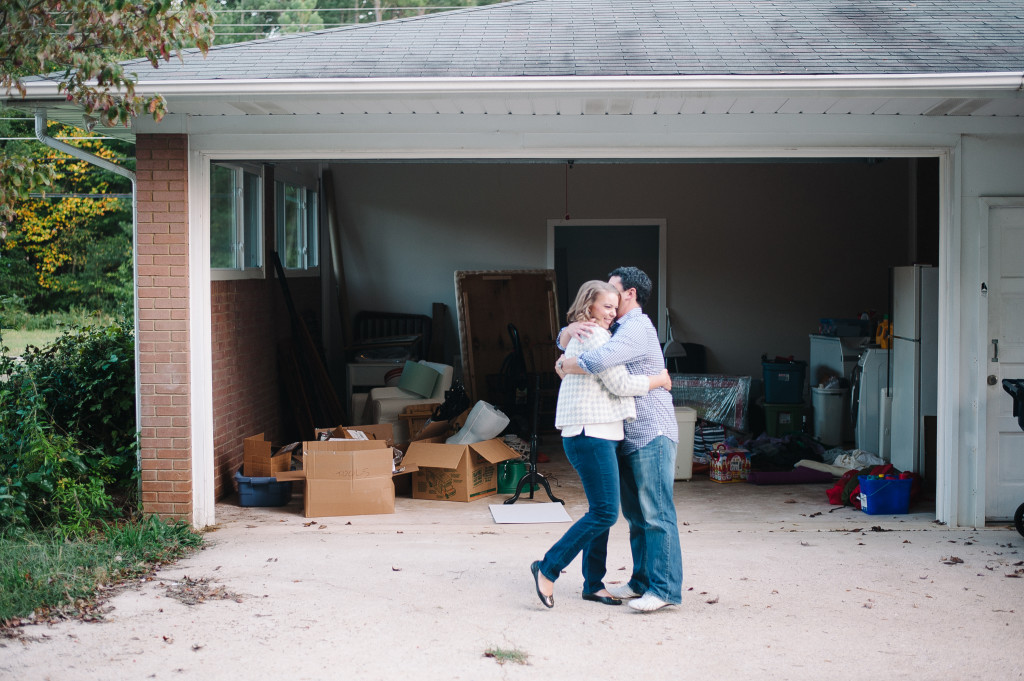 *above photo by Catherine Marciniak *for a point of reference, the wall the bed is on.... is where the garage door was!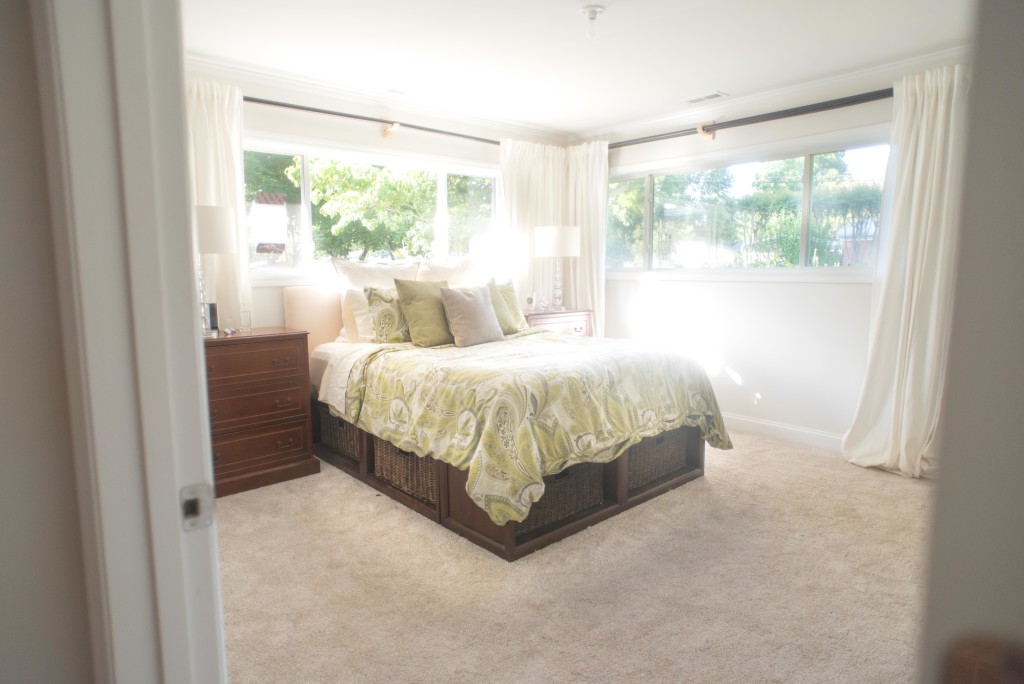 Our bed is old (but still sold) from Pottery Barn. The nightstands were in the guest room at the house I grew up in... we haven't had space for them... so my sister has been
storing
using them for the last 14 years! Our duvet is also Pottery Barn... but a certain black puppy has managed to put a few small holes in it when chewing his toys on our bed. Might be time to replace it. Lamps are from TJ Maxx, I think... they're also 6+ years old. Curtains are from Ikea, we have blackouts that are hidden behind the white ones that we close at night (and keep shut during the day to help keep the room cooler). There are actually 7 white curtain panels up... two on the left of the bed, three on the right (two behind nightstand and one on the adjacent wall) and two by the bathroom. I knew just one panel in each spot would look skimpy.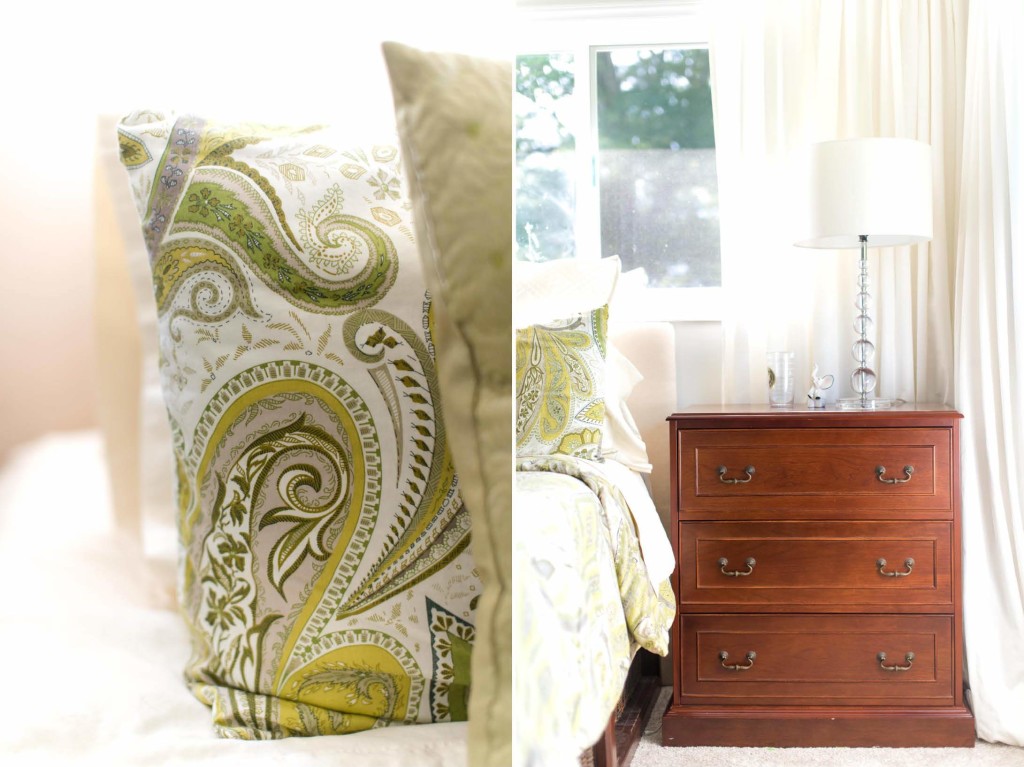 I failed to photograph the wall to my left (below) but it just has our tv hung on the wall right now... struggling with what to put below it. We don't really need more storage, so a dresser doesn't seem right. The door on the left goes to our gigantic closet! We just have hanging bars up right now, but have big plans to make custom built-ins!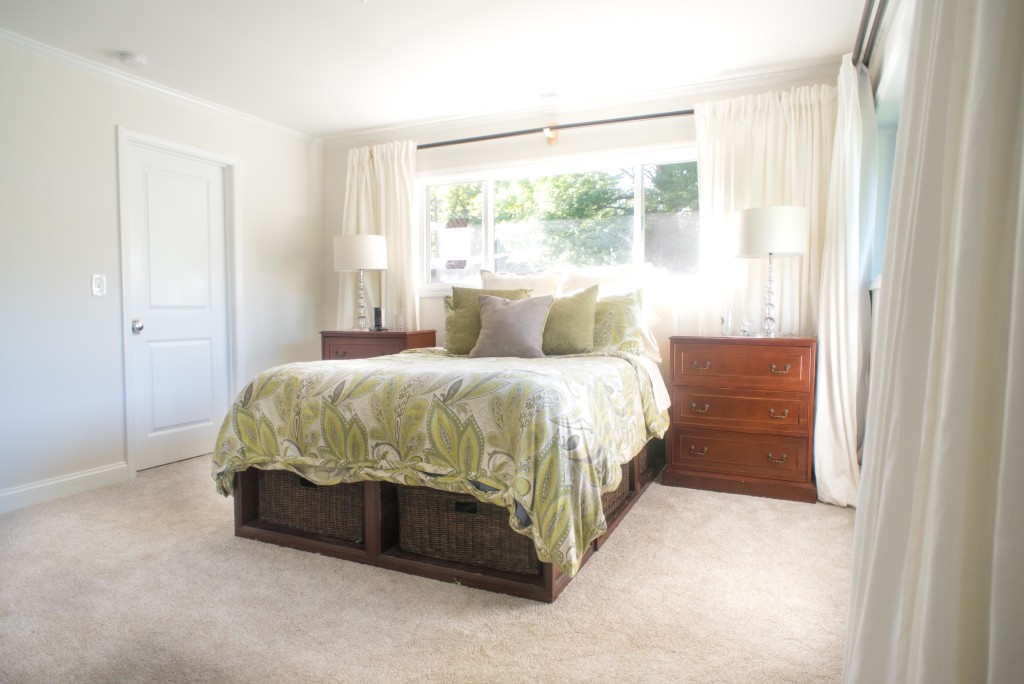 Below is the view looking out of the master door.... the laundry room the left and kitchen (original house) straight ahead.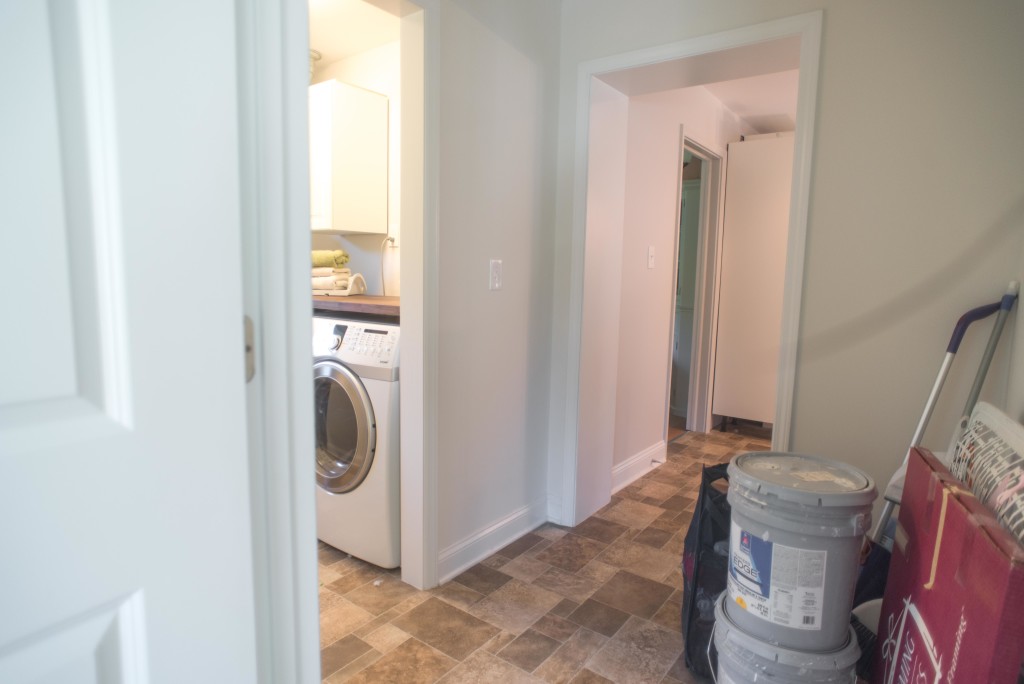 The laundry room is small, but functional. We got a butcher block counter from Ikea and it was the perfect length to cover the washer and dryer and fit the nook under the window. The dog crate fits perfectly under it and the cat food/treats are on top. We also hung a cabinet over the washer and will hang a rod between the cabinet and wall for drip dry shirts. It's so nice to have the counter for folding and it's amazing to have this room right outside our master suite... magically, clothes get put away much easier now!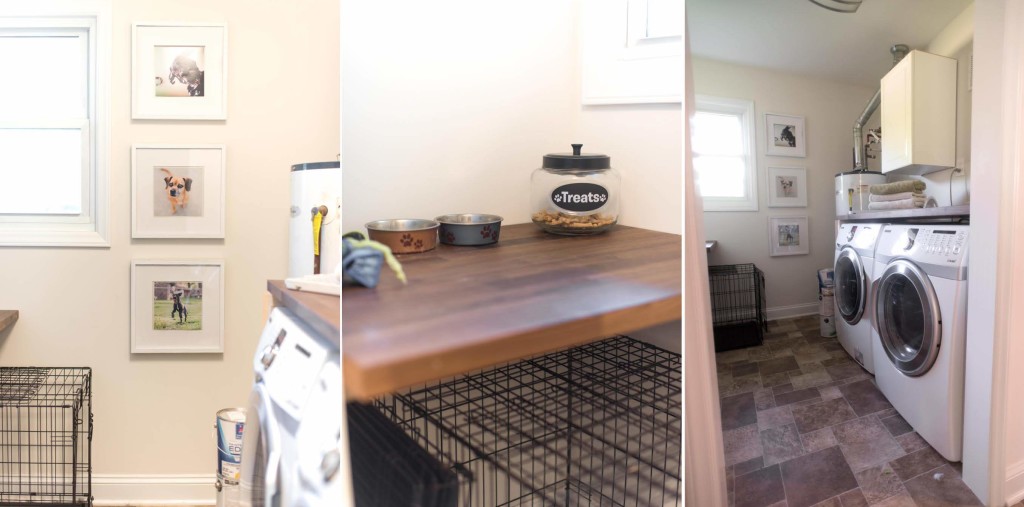 Our master bath has been a serious labor of love... that came out better than I could have imagined!! As you can see from the photo below, the vanity still isn't complete. Our plumber had some serious issues getting the drains in the sinks to quit leaking. They finally got it right and now Jeremy has to retro-fit the drawers.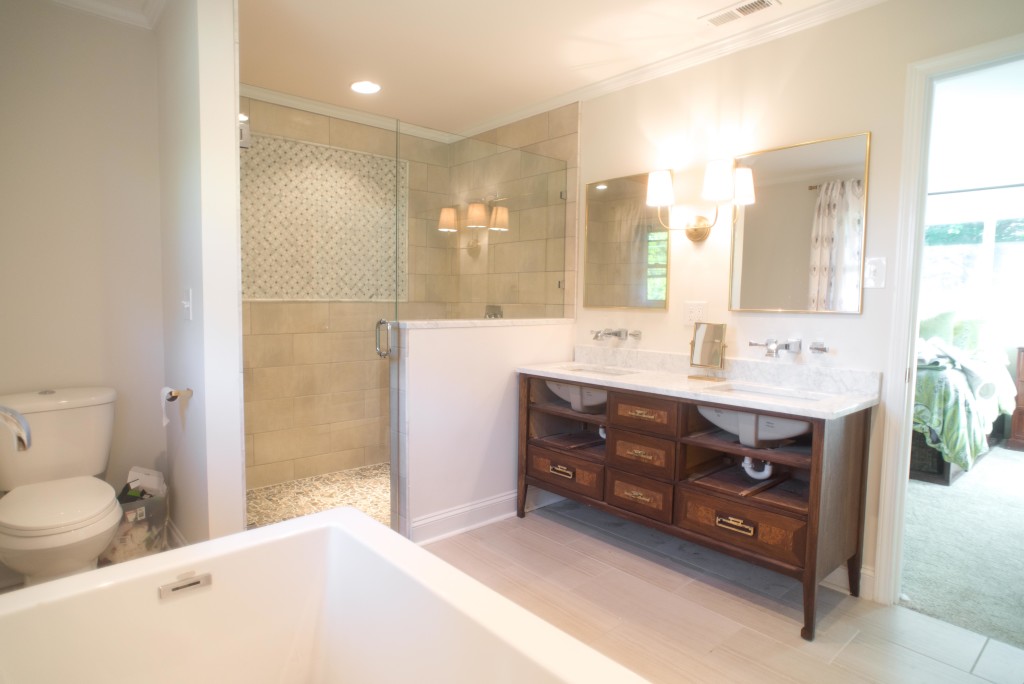 Sources: Vanity: A dresser from Craigslist (
but the seller owns this shop
) Tile: All tile is from
Floor & Decor
, except the shower floor, it's from
Tile Shop
Sink Faucets:
Delta Dryden from Build.com
Shower Faucets:
Delta Dryden from Build.com
Tub:
Jacuzzi from Build.com
Mirrors:
These frames
that I had mirror cut for at Lowes Towel Bar:
Restoration Hardware
(bought on eBay) Vanity Mirror: Target (can't find link, bought it in store) Curtain Rod: Wayfair (unavailable now... but it's the Umbra Cappa rod) Curtains: TJ Maxx Tub Filler:
Jacuzzi from Build.com
Sconce: Wayfair (unavailable now) Toilet paper holder:
CB2