July 22, 2019
July 22, 2019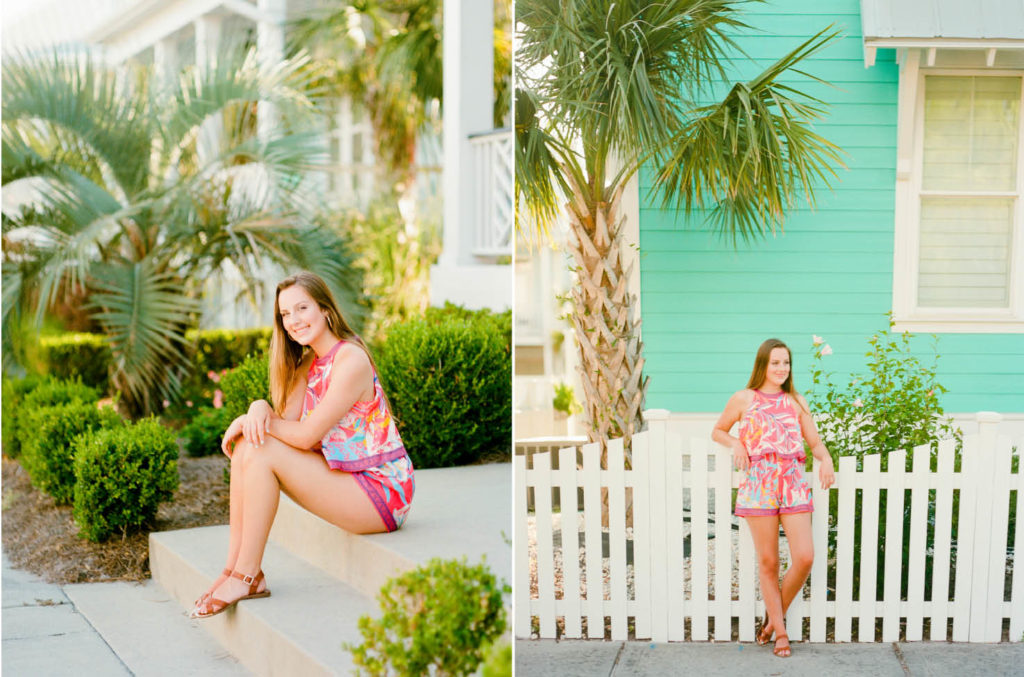 I cannot believe this girl will be a senior in high school in a few short weeks. I feel like it was yesterday I was holding her as a newborn in the hospital just before I left for college. #ImNotCryingYOURECRYING
(there's a photo of me somewhere in a black tube top, and far too much Aussie scrunch spray in my hair holding her.... #yikes.... and because high school girls are far too critical of their own looks, if I can dig it up and make you feel better about yourself, I'll post it below... Lord knows I didn't look half this good at her age!).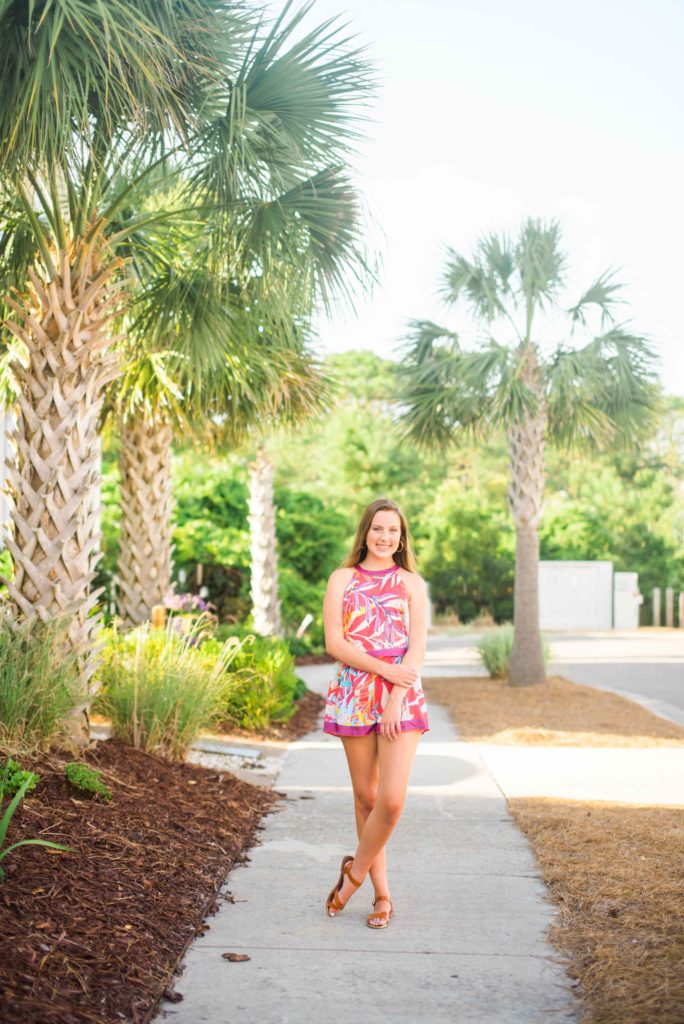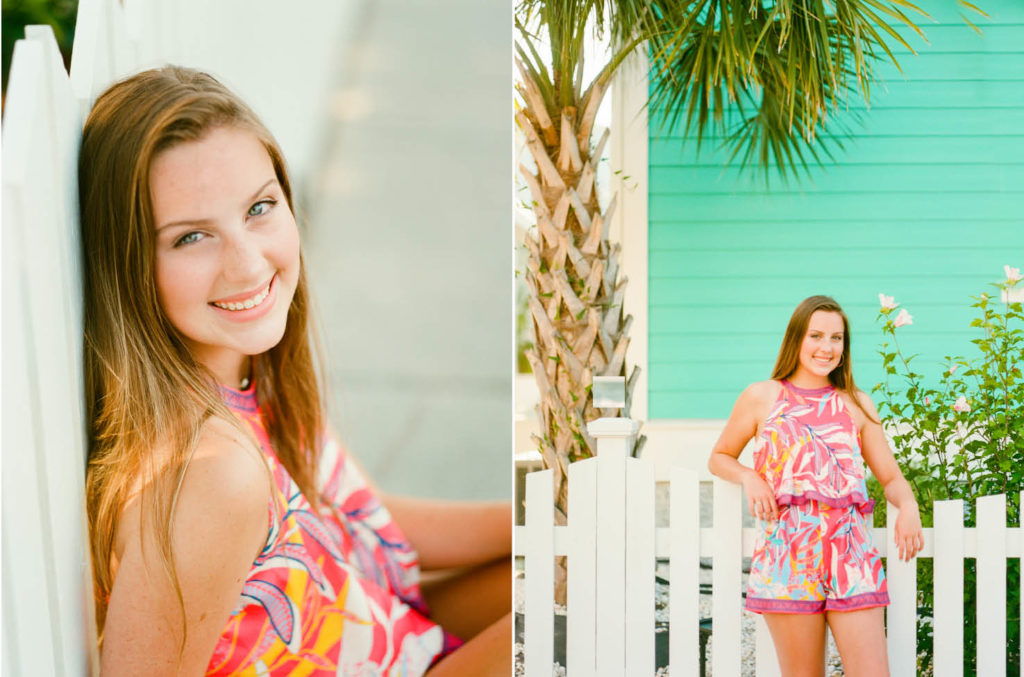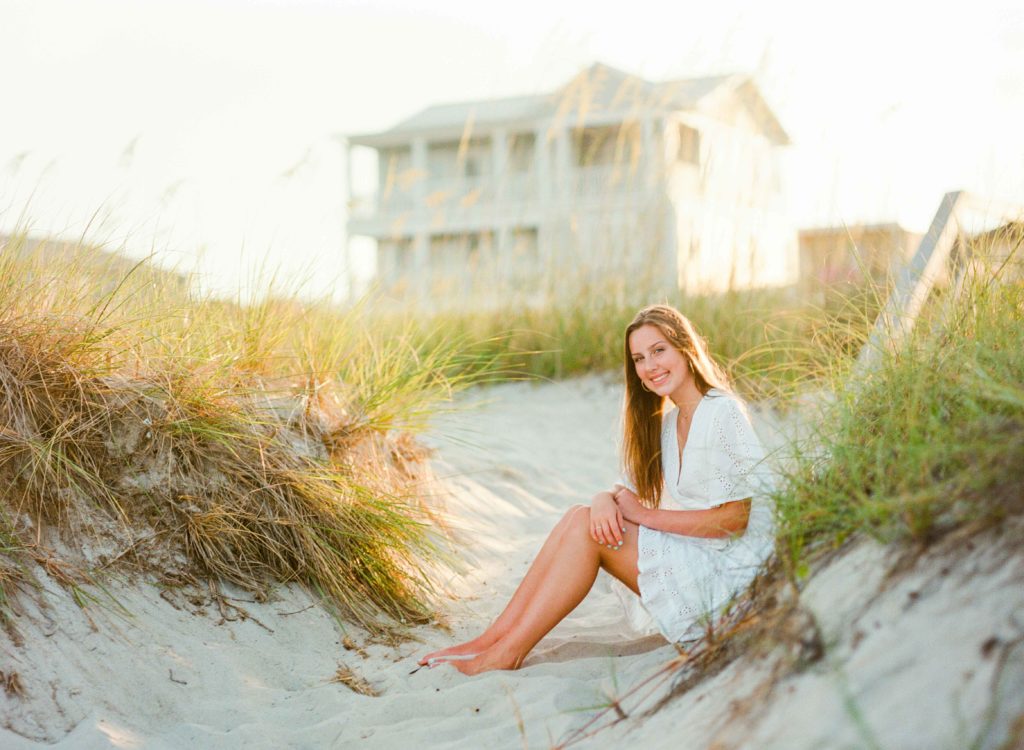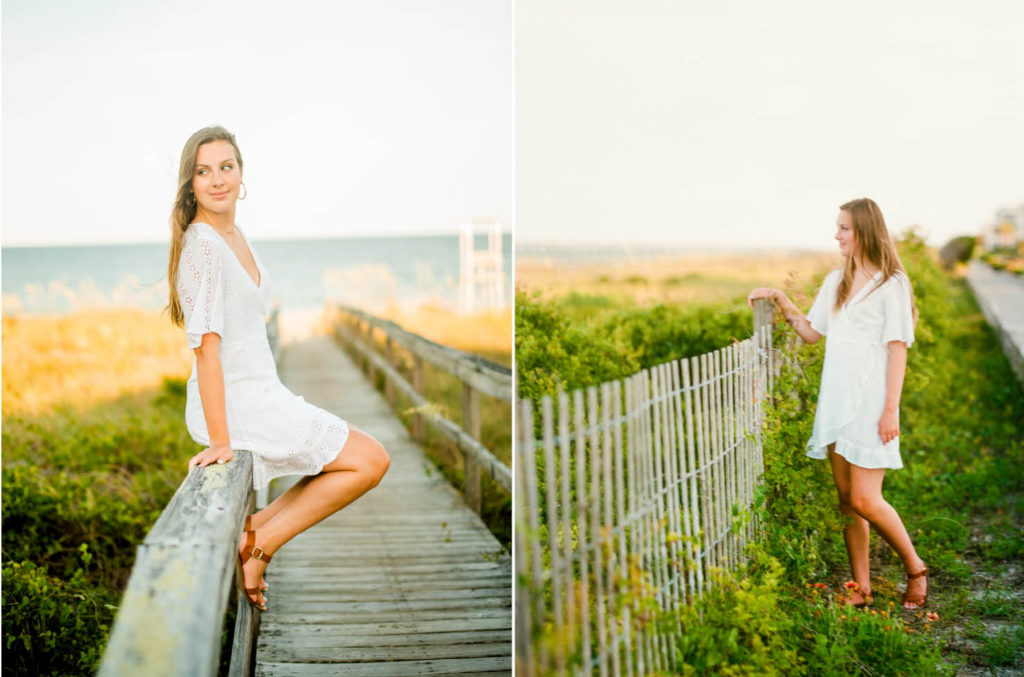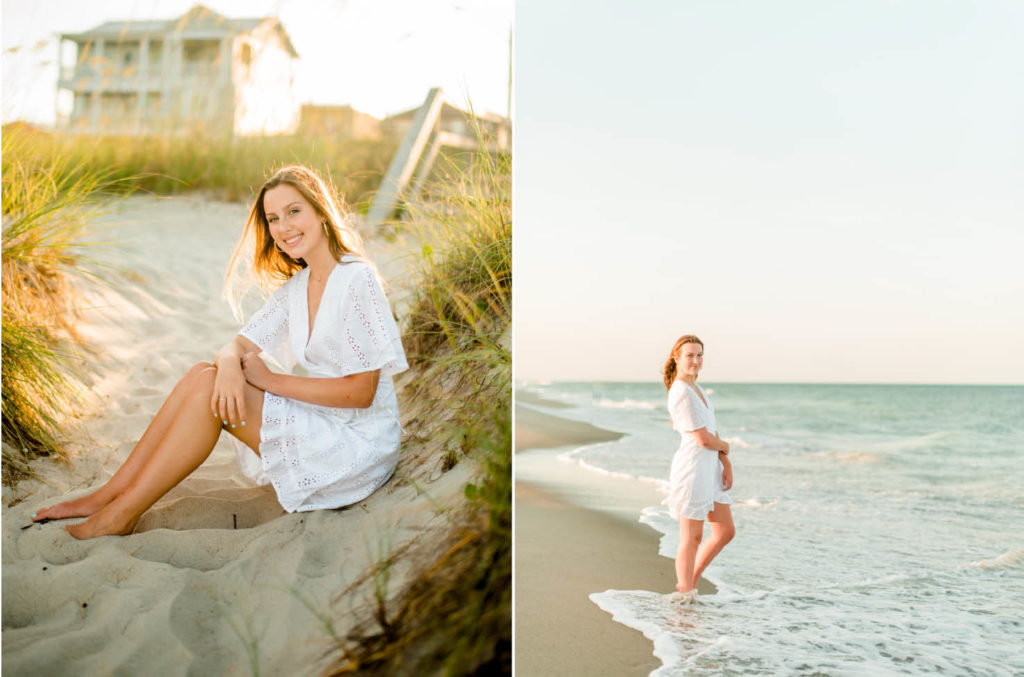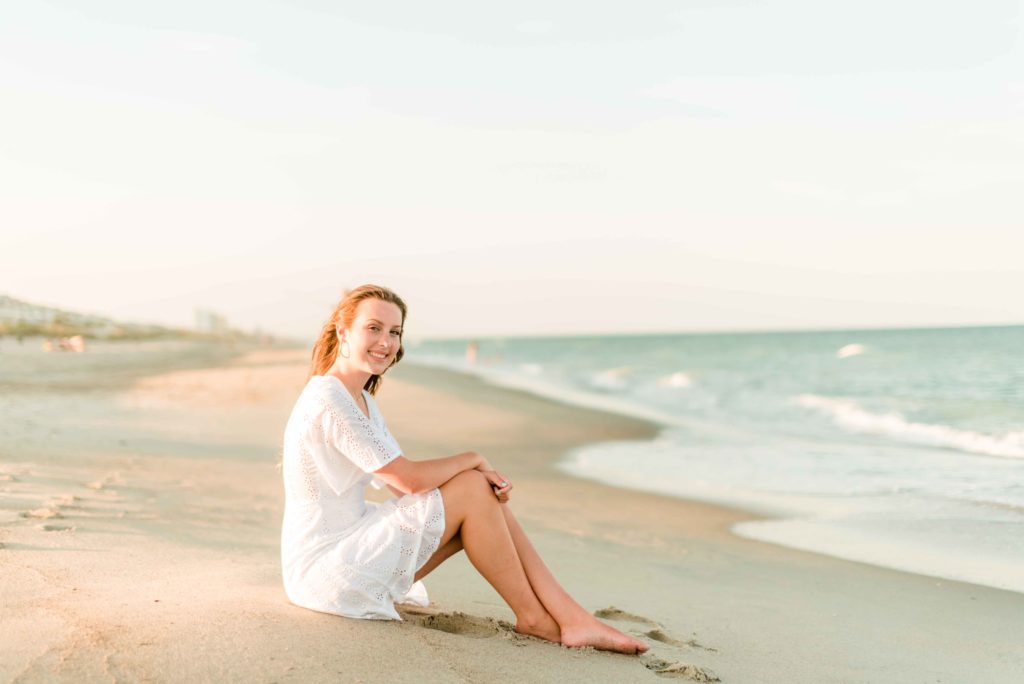 I hope Kate turns out just as wonderful as her birthday buddy. (yes, Kate and Olivia share a birthday!)
All images shot on Kodak Portra 400 120 Film, Pentax 645nii camera, 105 2.4 lens, developed and scanned by Indie Film Lab.
June 25, 2019
June 25, 2019
If you follow me on Facebook or Instagram, you may have seen we went to Key Largo over Easter. I had enough Marriott points for one free night at our resort, but we paid cash for everything else (flights and 2 other nights). Traveling home (flying from Ft. Lauderdale to Charlotte) we had an evening flight home, about 7PM. We got ourselves there, checked in and were waiting at the gate when the gate agent made the magical announcement....
this flight is oversold, would anyone be willing to give up their seat for a $425 voucher?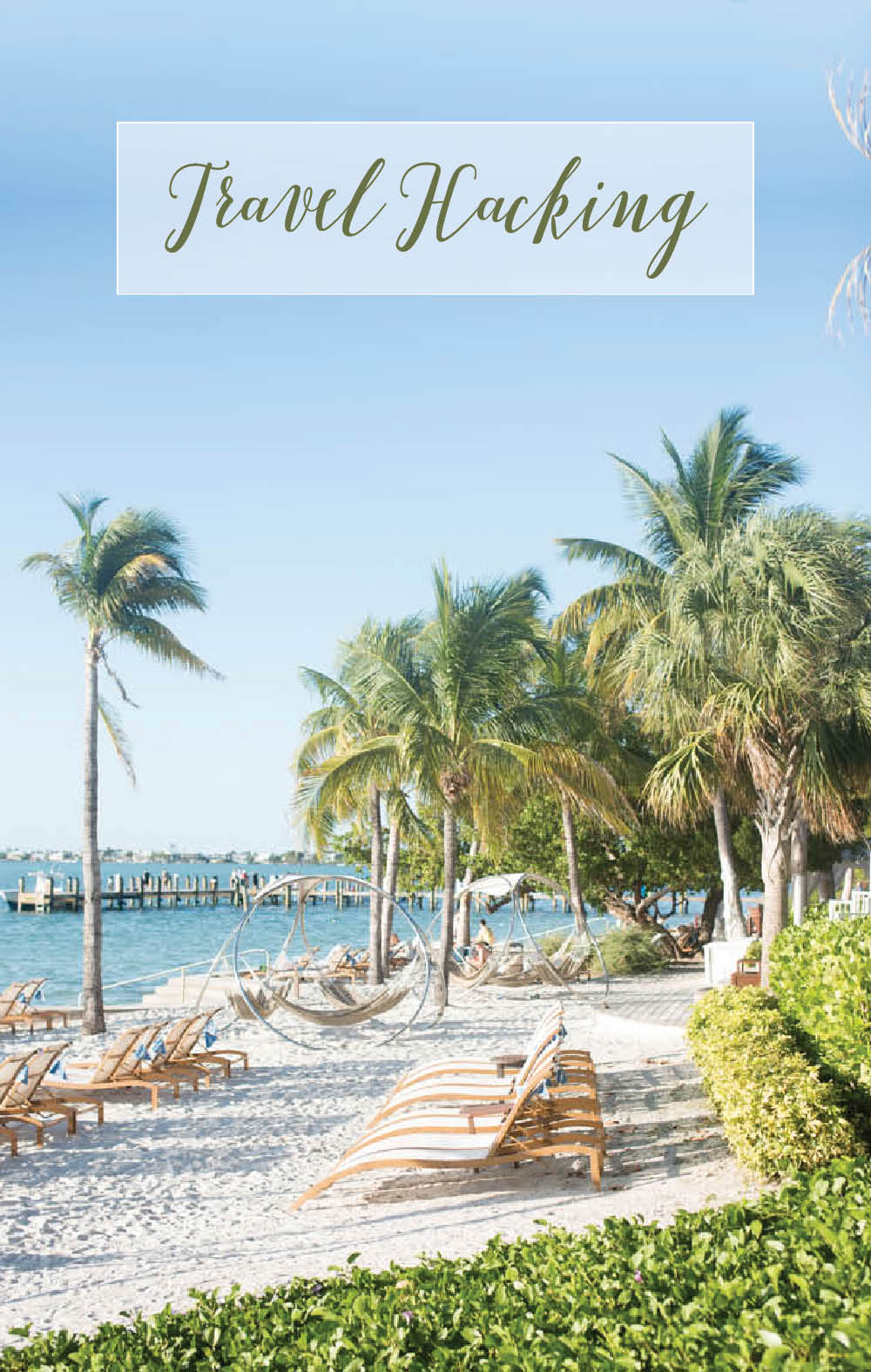 We took the deal. We flew out at 6AM the next morning instead, got a free hotel night and vouchers for dinner! I'll be honest, it made for a rough morning but the vouchers were worth it. We had already made the decision to go to London this October to see the Panther's play, so this voucher was icing on that cake. In planning for our London trip, I've learned a few things....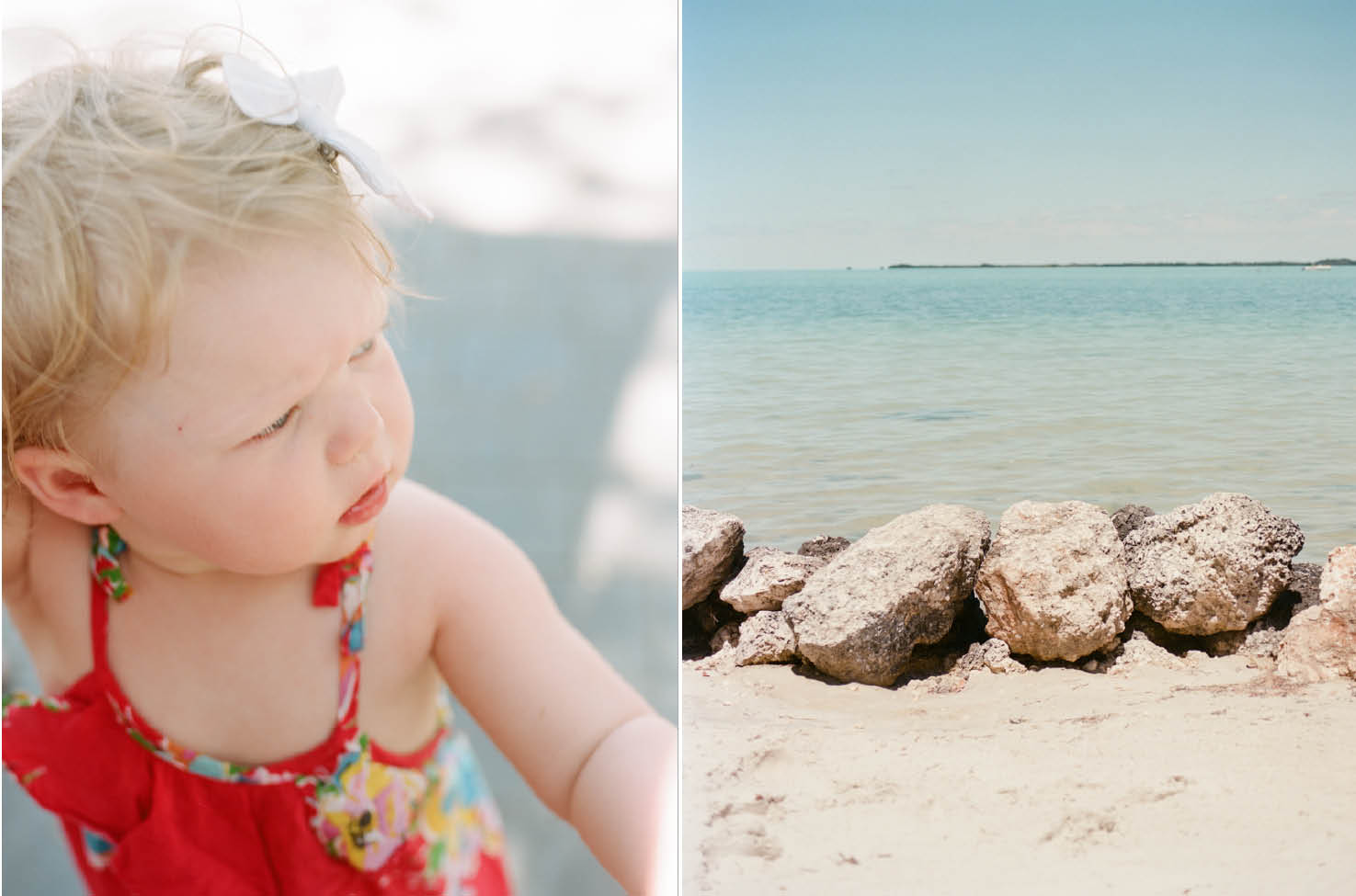 FIRST...
if you don't have a "frequent flier" account with your airlines, open them. They are free... it's like having a CVS reward card, it costs you nothing. It simply creates an account with the airline for you. A loyalty credit card is not required!
Flying to Europe is so.much.cheaper out of New York and Boston
Flights from Charlotte to London, are like $1400 round trip right now, so nearly $3k for both of us!! No thank you. You can get flights from BOS or JFK for as cheap as $350.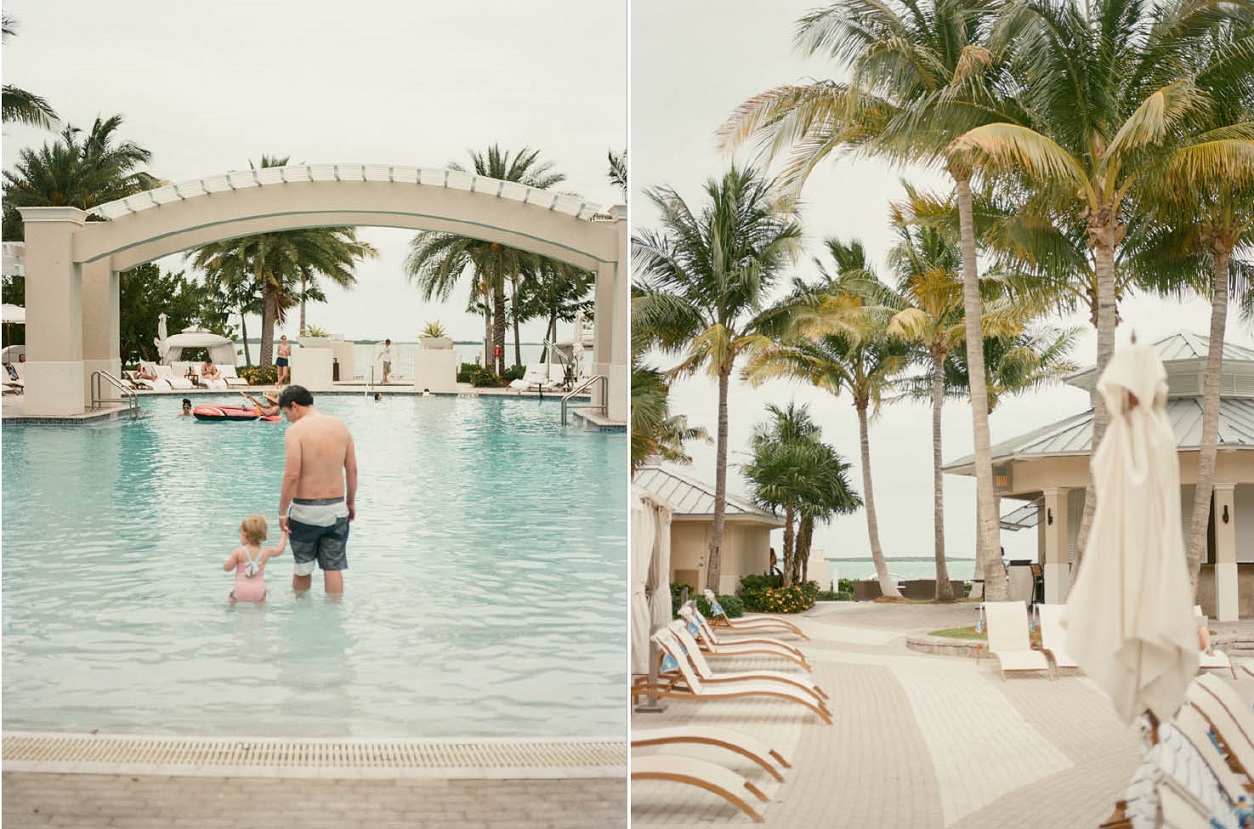 Google Flights is amazing.
Visit flights.google.com and use their "explore" feature to find deals on flights. You know you want to go on a Caribbean vacation, but are not partial where... use Google to search for the best flight prices (you can put a region/continent as your destination, not just a city). You put in where you want to fly from and dates (you can even select carrier, number of stops, etc.) and it will show you prices of places to fly! Prices will pop up in green if they are a good deal. Here is an example.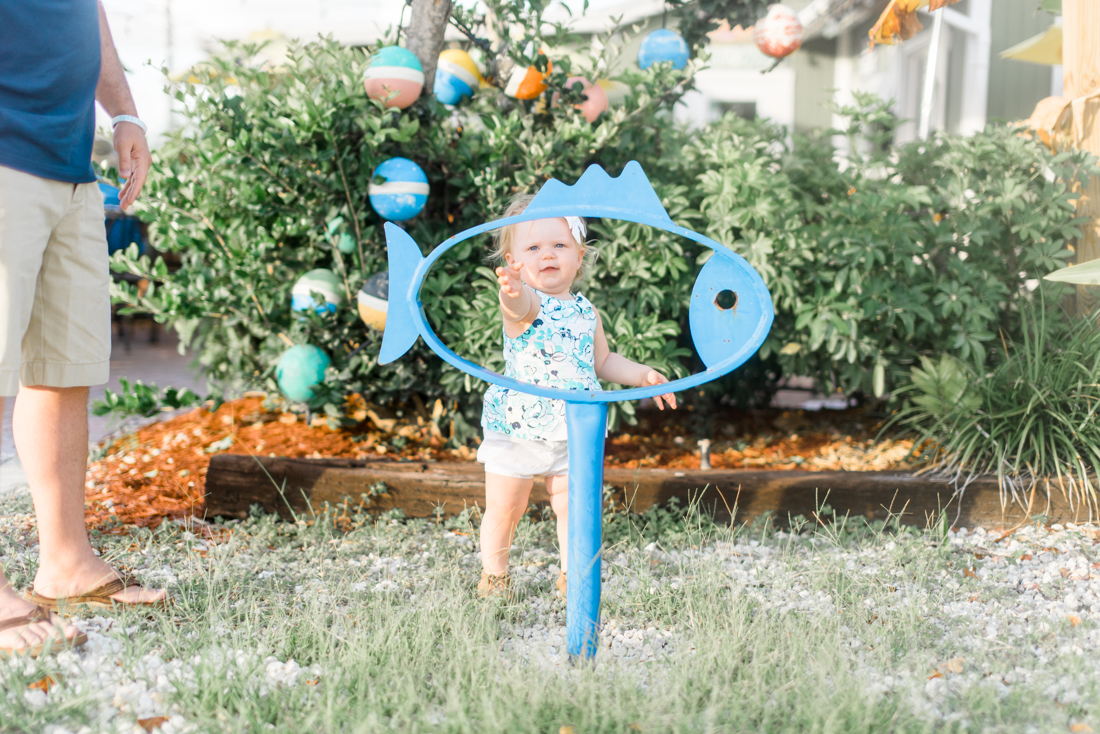 You can put flights on hold.
I'm sure you can do this with other airlines, I only have experience with American. You login, and go through the booking process. When it's time to pay, there's an option that says put flight on hold. You can select it, and it will hold your flight through the next day at midnight. This probably seems like something you wouldn't use much, but it comes in handy for a few reasons. One, if you have a voucher like we got, you must use it at a ticket counter. You cannot use it online, by phone etc. You have to go to a ticket counter and have an agent apply it to what you want. So, I found the flight I wanted, put it on hold, then drove over to CLT and booked it. Note, if you have multiple vouchers in different names, everyone must be present to use them. I made the mistake of going to the airport without Jeremy the first time and I couldn't book both tickets, only mine.  Also, you can use a voucher to book a ticket for someone else. If you are local to Charlotte, park in the new hourly deck... the first hour is free and it's right next to the terminal!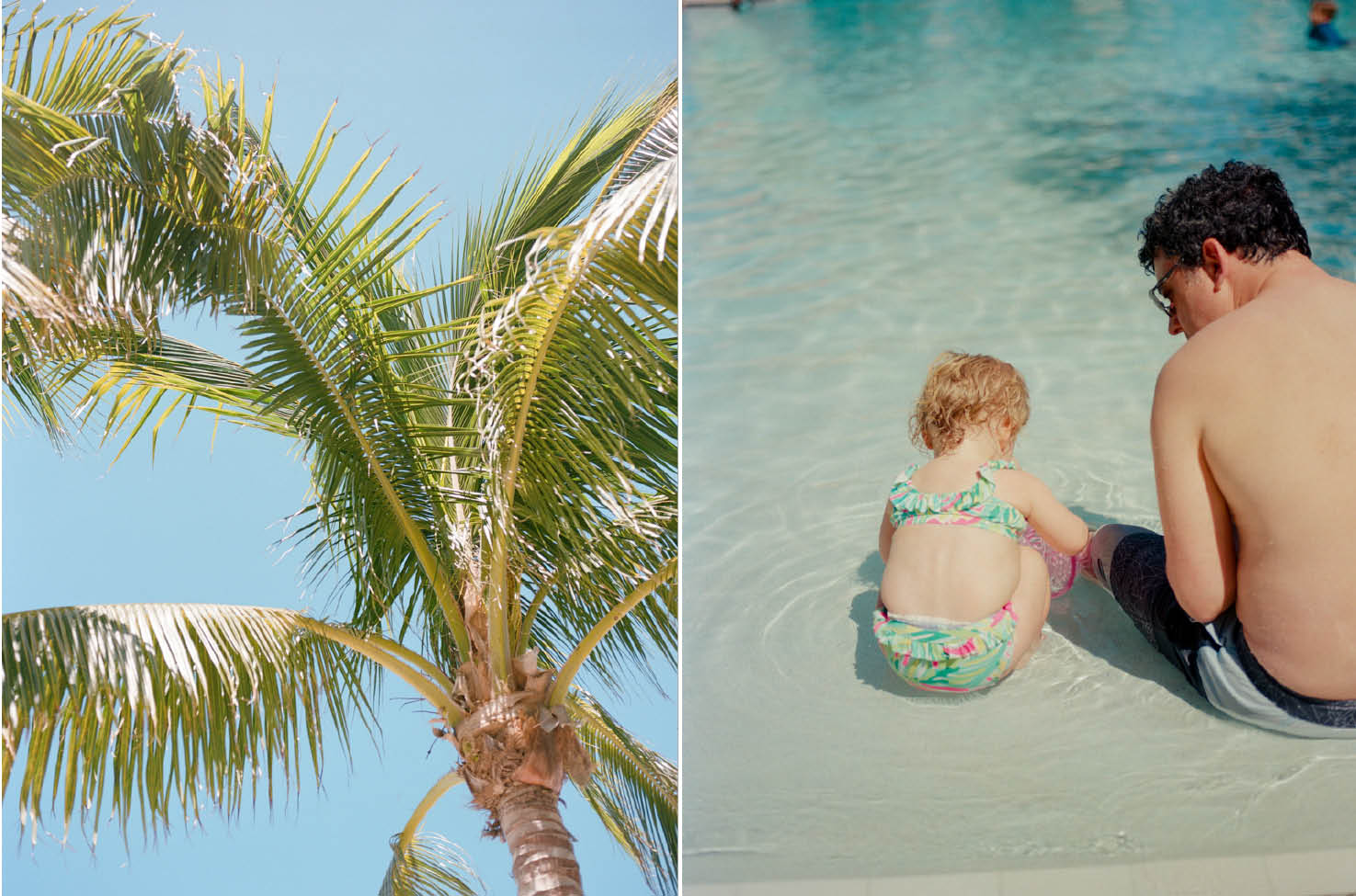 You can earn miles without flying.
Several years ago, while on an AA flight, the attendants talked up their credit card with a 50k bonus mile offer. I decided to take it. 50k miles is enough for a few domestic round trips and some to the Caribbean. Since opening my AA card, I've earned miles all purchases. Just recently I was offered a great bonus on an AAdvantage business credit card. I've actually been looking to open one, so the timing was great for this. I'll have 60k bonus miles in a few months! If you have been operating a business on 100% cash, I highly recommend putting all your expenses on a business card, then paying it off each month. You might as well make that cash work a little harder for you, and get rewarded!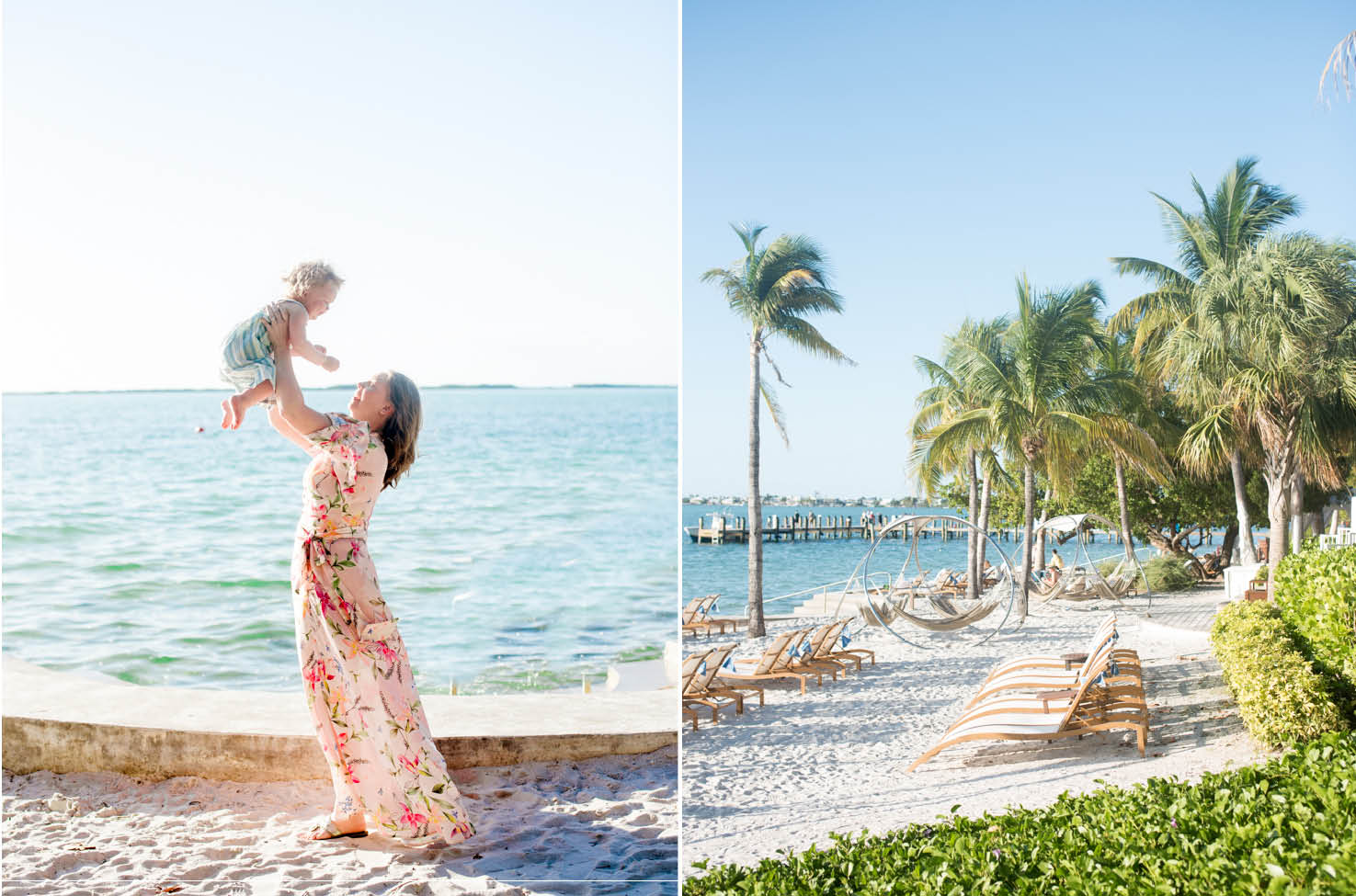 But I don't want a credit card.
I hear ya (but it is seriously the easiest way to get a ton of free miles)... you can earn miles with their other shopping portals. If you are familiar with Ebates (or Rakuten... whatever it is now), AA has a similar concept, but for miles instead of cash. You can shop through their portal and earn miles on your purchases. My best tip for using this service is to see if your partner airline has a toolbar button. I was alerted that AA had one, and it's been awesome! When I visit a webpage that offers miles on purchases, I get a popup letting me know. I simply click "activate" and boom... on my way to more miles! Here is what it looks like when I visit Old Navy. It's currently 3 miles per dollar. Those can add up quick!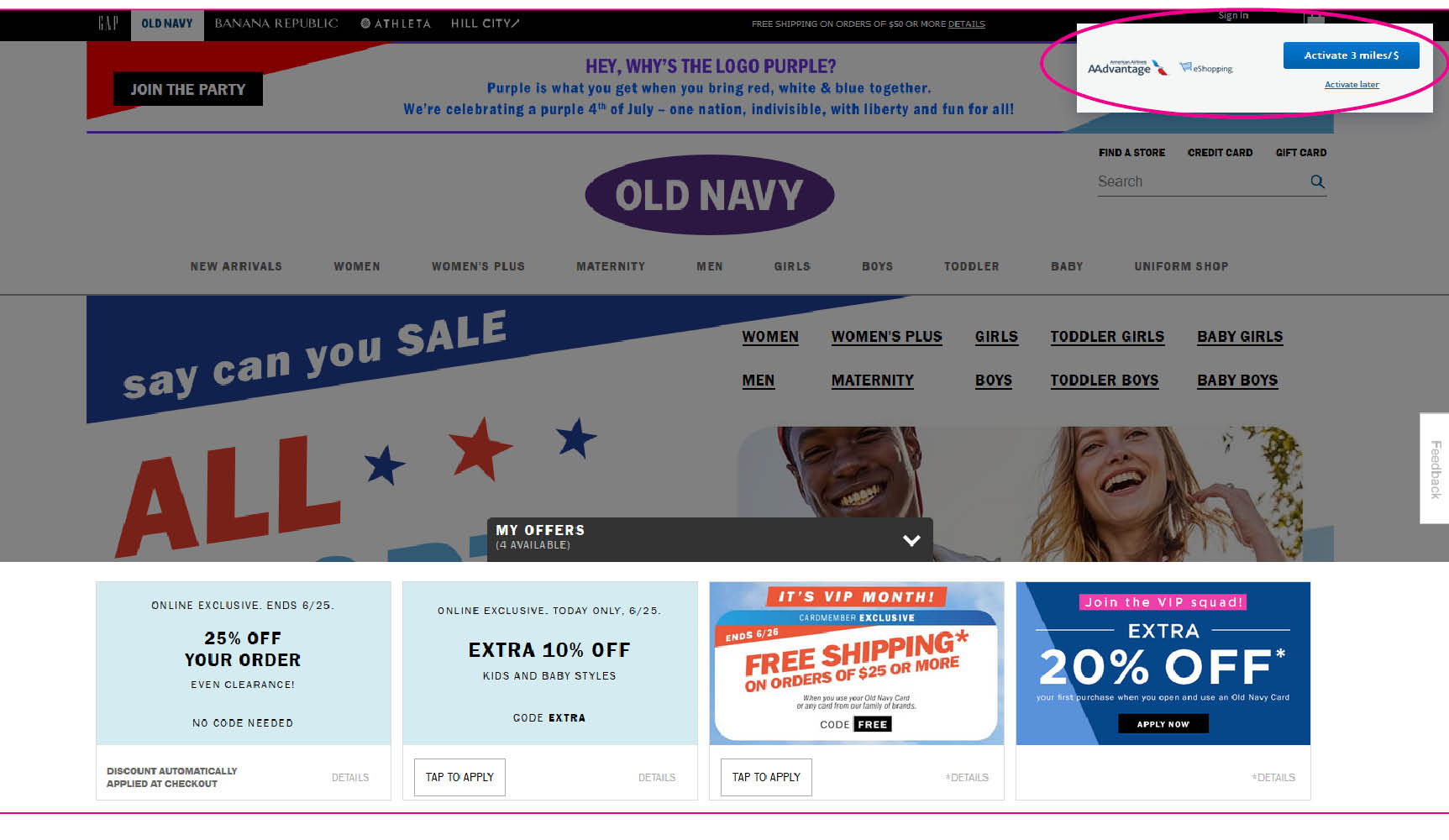 But I don't want a credit card x2
You can also book hotels, cars, activities, vacation packages and cruises to earn miles. Some are straight forward and equal to the dollar amount spent... ie: I spent $200 on a hotel, so I get 200 miles. Often you can find bonus deals though. Here's an example, when we went to Key Largo, the Marriott was listed for 11,000 bonus miles! So instead of getting 1000 miles for our regular dollar amount purchase, we got 11k! Here is just a quick example I searched in Grand Cayman... these mile offers actually seem a little low to me, I've seen them close to 25k before! Literally all you need to do for this is visit aa.com click plan travel, then hotels (this is via desktop, not sure about mobile). It will kick you to a booking.com partner site that offers the rewards. Make sure you already have your AAdvantage account in place. It will ask you for your number when you book. Sometimes you can get your miles instantly, and sometimes you have to wait until after your hotel stay.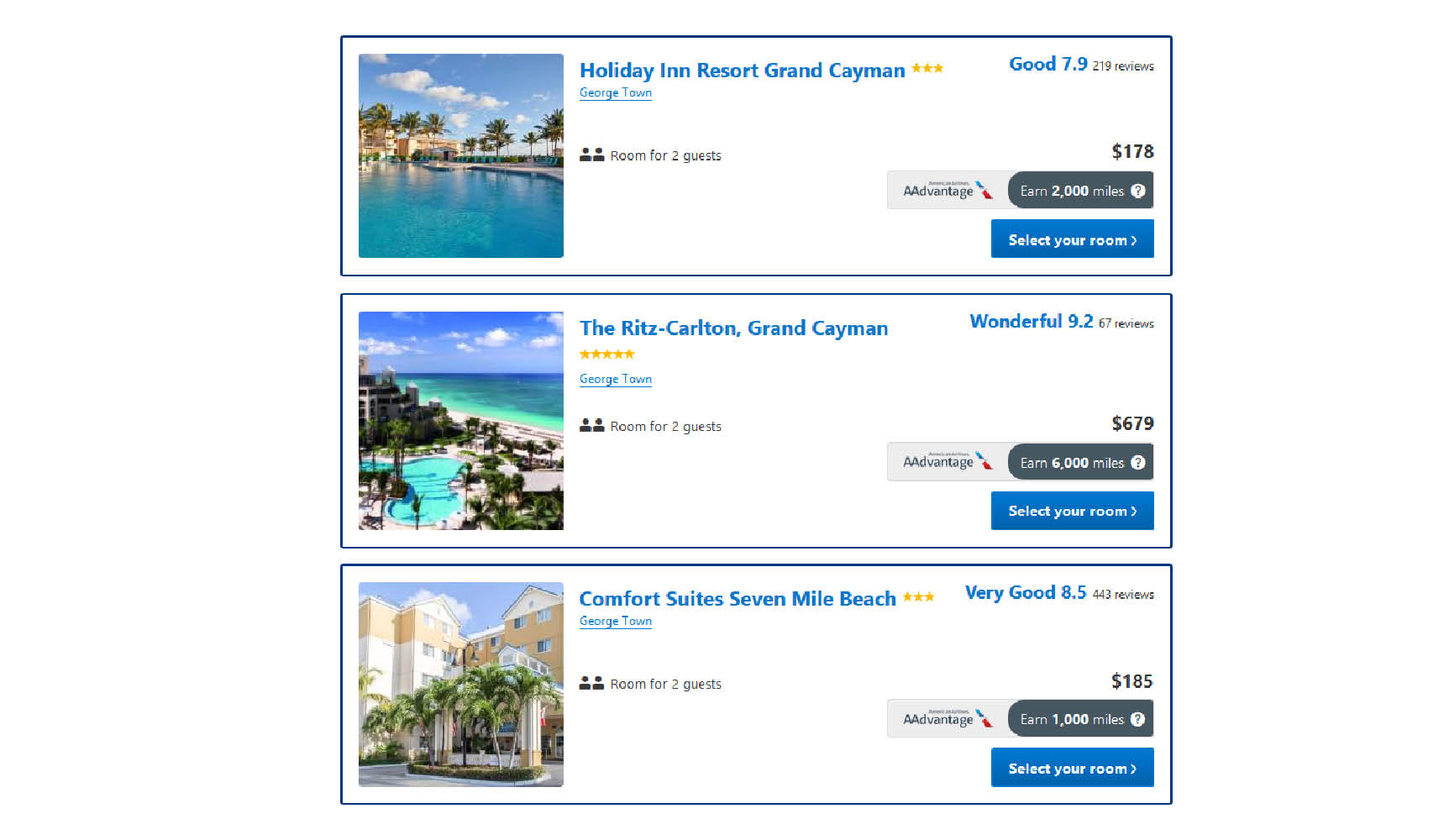 If you are interested in the "churning" game of opening credit cards for the bonus offers.... 1. This isn't an overnight solution to taking a trip next week, this game is often played with travel plans over a year in advance. 2. Be responsible. 3. Take the
Travel 101 course
to learn lots of insight on this game. It's a free course with loads of information. The guys who run the site have 2 different views and are very interesting to read. We are currently working on booking our Europe Trip this October booking with as many miles an we can, but also earning miles for a future trip!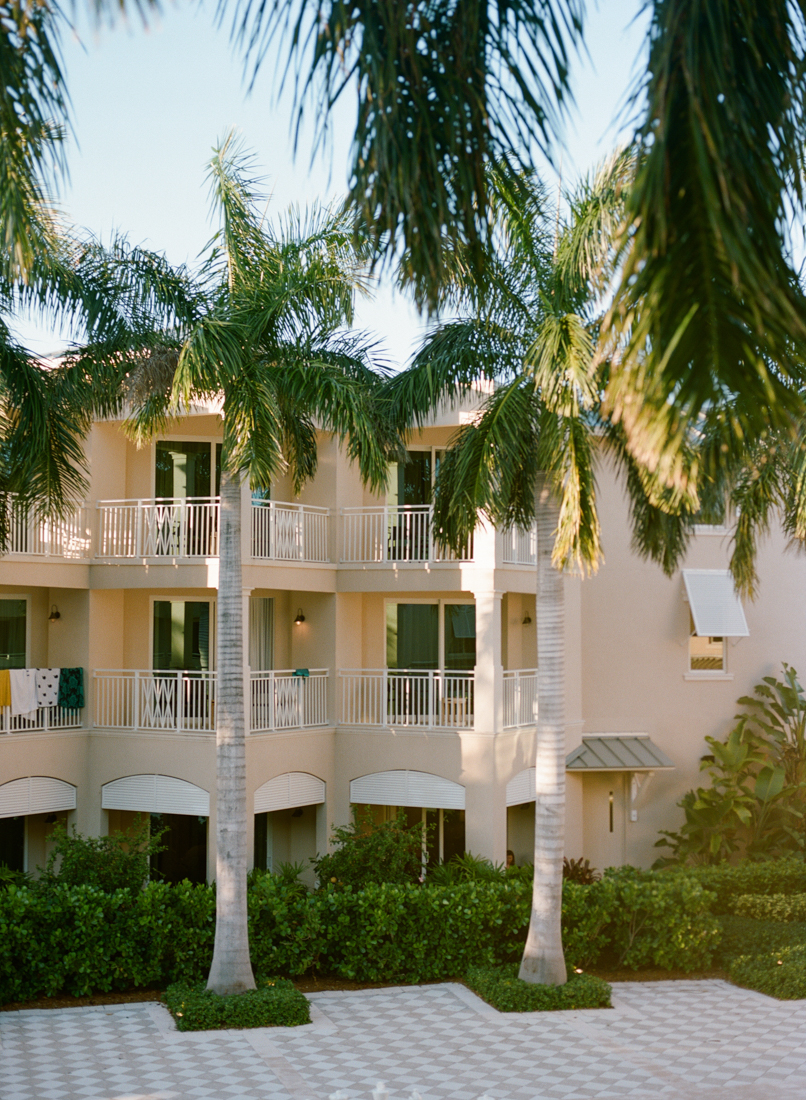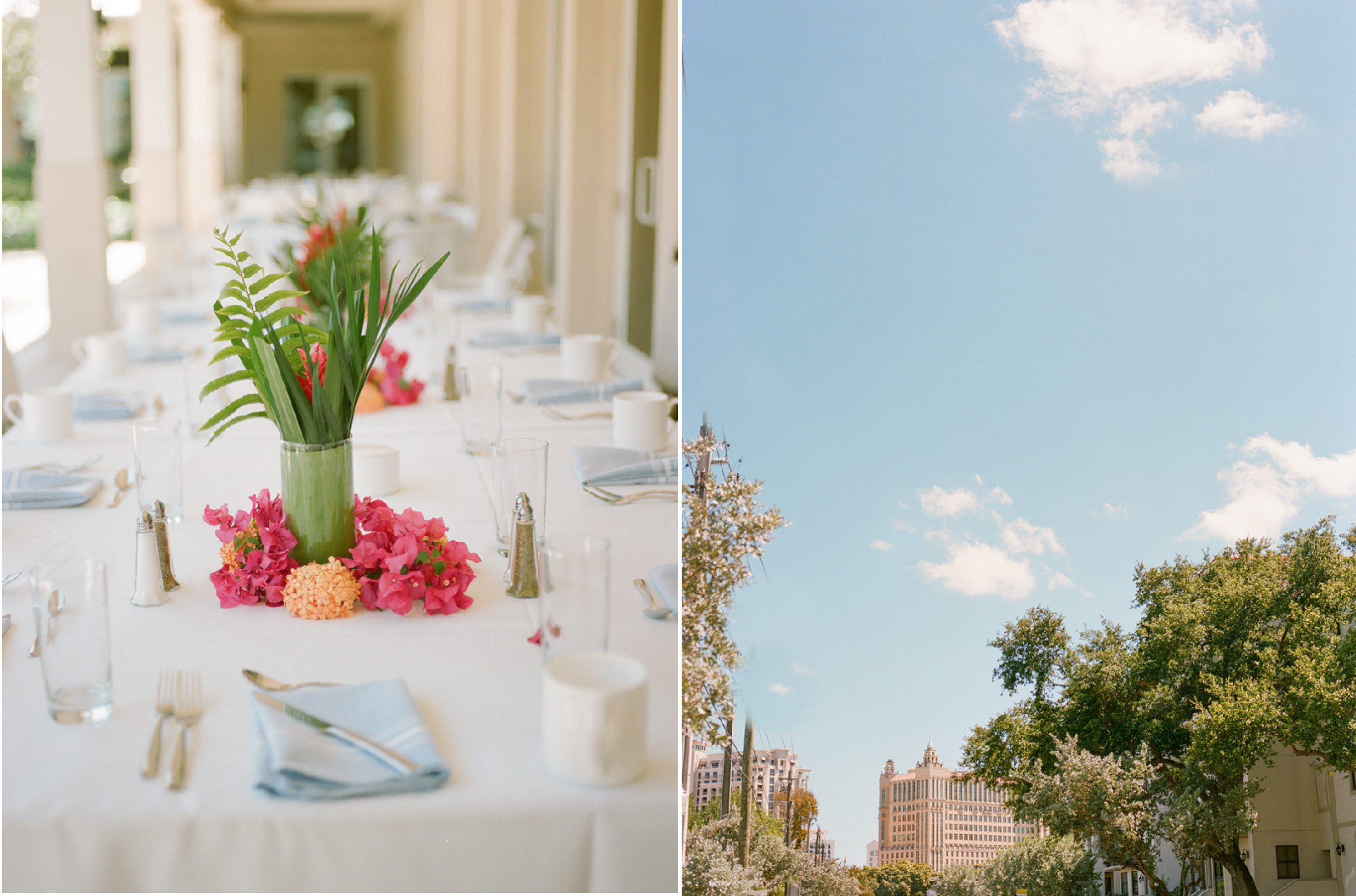 Easter egg hunting on the beach. Guys, the staff at Playa Largo is amazing! We hunted eggs, had a touch tank and a petting zoo while we were there. We even arrived a little late to the hunt, and they threw eggs out for Kate to go find. We will for sure go back! Resort:
Playa Largo
We ate: 
Pilot House
Sharkey's
Sal's Ballyhoo's    
We also hit Publix for breakfast foods, snacks and beer. Since Kate eats breakfast early, it was just easier to grab a box of squeeze yogurts, cheerios, milk and bananas. It saved us from pricey breakfast at the resort. They also had free coffee in the room and lobby. We liked to go to the pool early and grab coffee on the way there. We'd swim til lunch, eat and then nap. Usually the resort had an activity in the afternoon, then we'd head to dinner. The only hiccup we had with the resort was I booked our stay under 2 different reservations. The first night was in my name for our free night, and the second and third nights were in Jeremy's name.... apparently, the system had us in a room with 2 doubles the first night and one king the other 2 nights.... this forced us to switch rooms. Which isn't a huge deal, but when you have a food that needs to stay refrigerated, and baby who needs a nap when you are temporarily check out of a room, it makes for a rough afternoon. The staff there were super nice, and moved all our stuff, but it was a headache. The only other headache we encountered was when we landed in Fort Lauderdale and went to get our rental car, we discovered the rental office was not "on site" at the airport. We had to catch a shuttle to the office to get the car.... again, not a huge deal, except when you are traveling with a toddler. The whole carting her with all our luggage and her car seat was a bit much. Overall the resort was amazing. It truly felt like a Caribbean vacation without the headache of customs.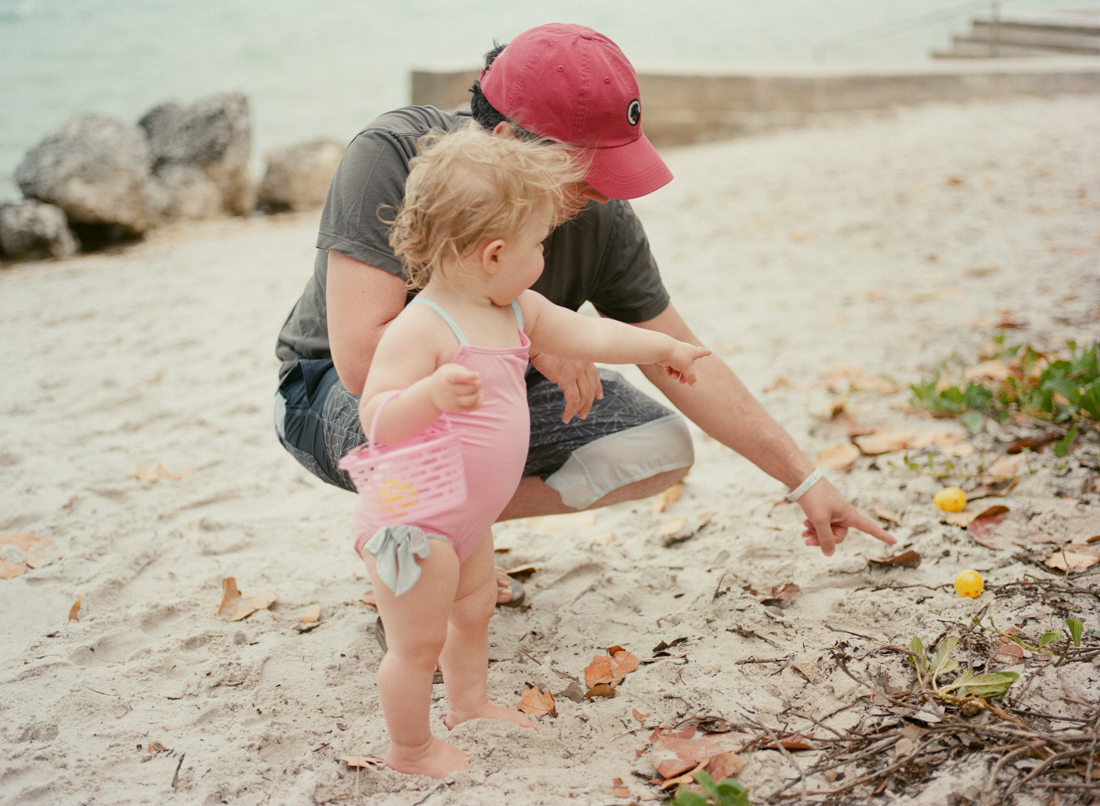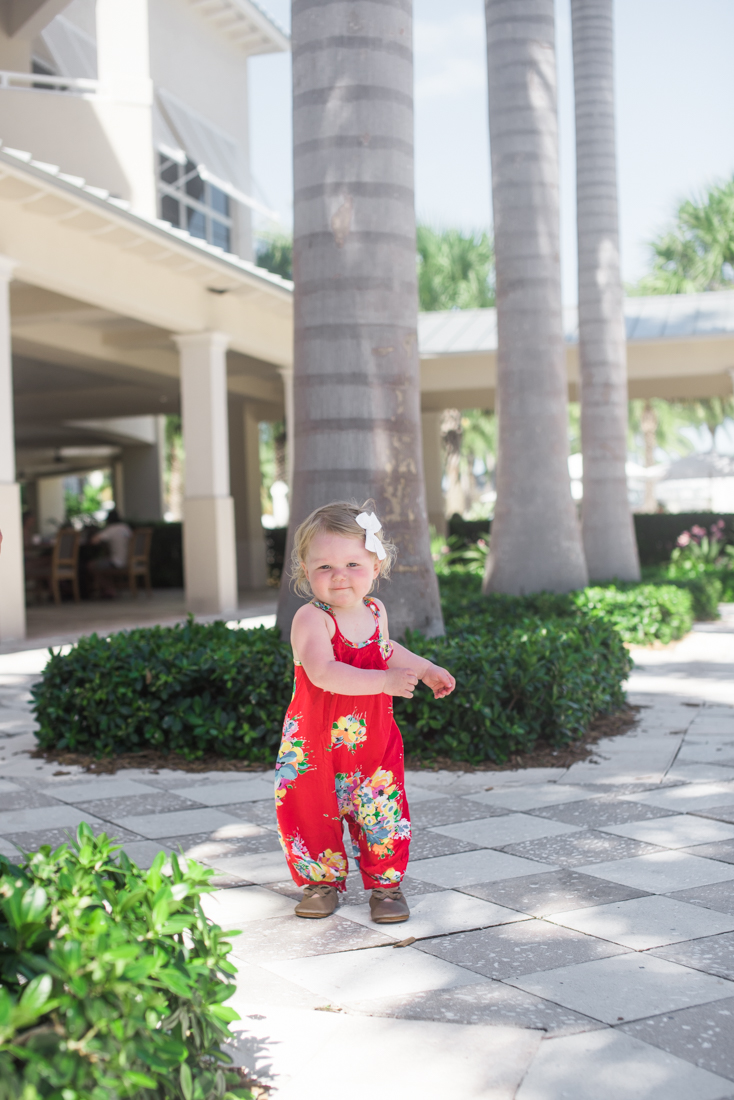 *Images are a mix of digital and film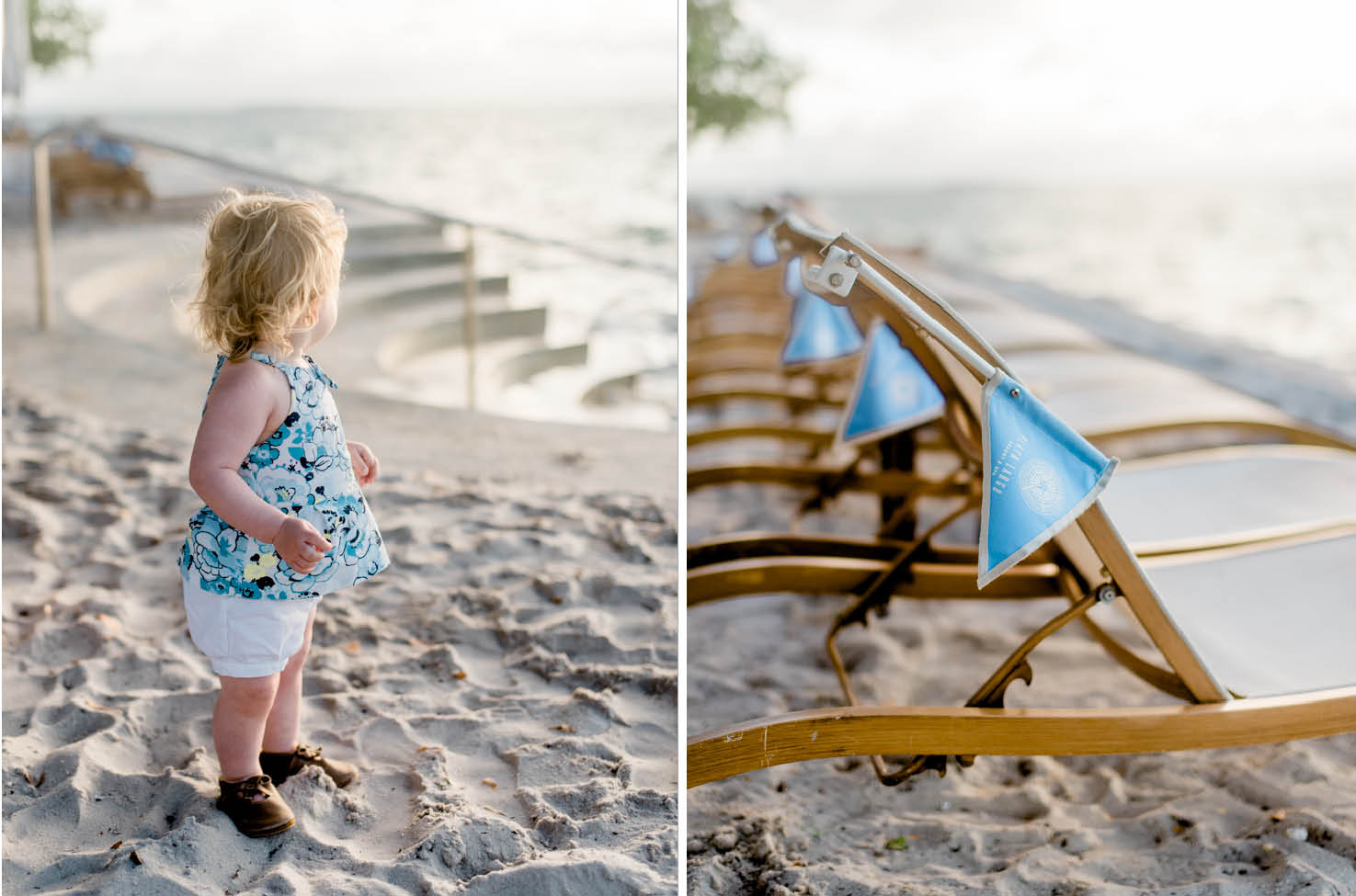 June 10, 2019
June 10, 2019
Last week over on Insta-stories I shared a little tour of the "man cave." I shared because we are not only planning to use this as entertainment space, but also as a space for me to shoot studio work. The kind of shoot we did with the
Kain sisters
.  As much as I love that studio in NoDa, it will be great to have my own space I don't have to pay rent to use, and it will be right in my back yard! We actually ran all the plumbing to the building back in 2016 when we completed our
master suite renovation
. About 6 months after that reno, we bought all the kitchen cabinets for the man cave on sale with Ikea. They have just been sitting, packed in boxes since then! We have finally decided to pull the plug, and refinance the beach house (which we need to do anyway) and pull some cash out to complete this project. I've slowly been collecting inspiration photos over the last year years on
Pinterst
, so you can check that out over there if you want even more ideas of what we are thinking. This building is truly what sold us on the house when we bought it. It offered us a secondary entertaining space we really wanted to have. We were not opposed to it being a basement or bonus room inside whatever house we ended up purchasing, but having it a whole separate structure worked too. We have now been in our house 4 years, and we have done very little with this space. Jeremy finally added a double door to the shop (the new gray door you see). It was a single door, but we needed a wider ramp and door to get the riding lawnmower inside. Ready for the tour? Here she is. That red door has been like a stye in my eye for the last 4 years. If we didn't have plans to just completely replace the doors, I would have painted them. I should have painted them 4 years ago when we moved in!!!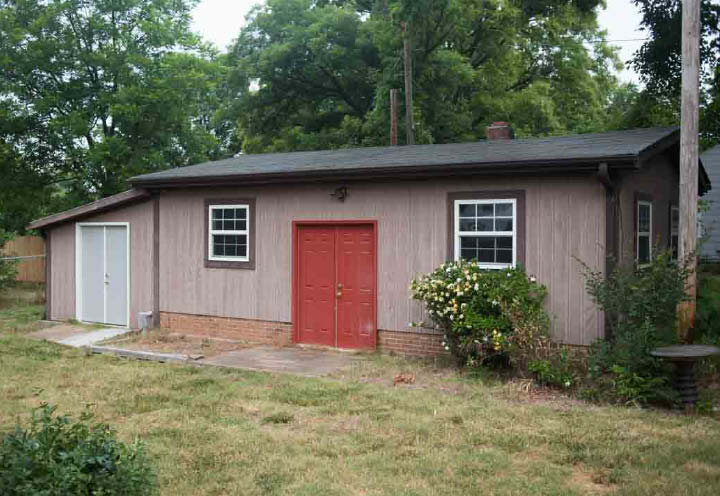 Walking in those doors looks like this. There's a room walled off to your left that was used as an office at one point.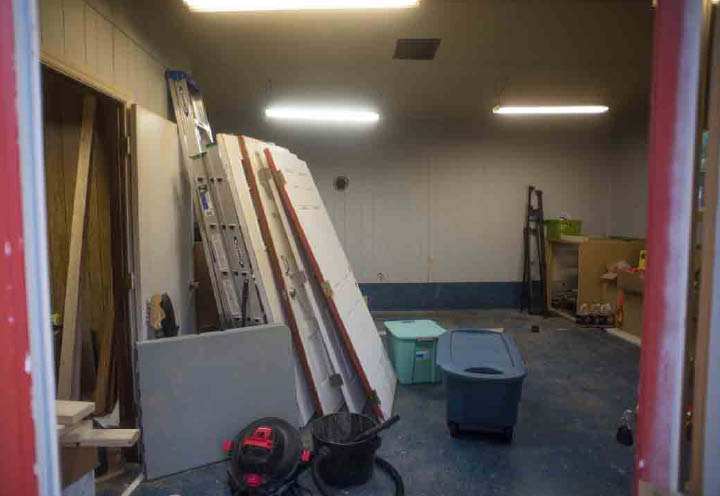 Looking right, it's one big open room. The previous owner or renter put in these strange built in benches around part of the room with speakers. Needless to say, they are going in the dumpster!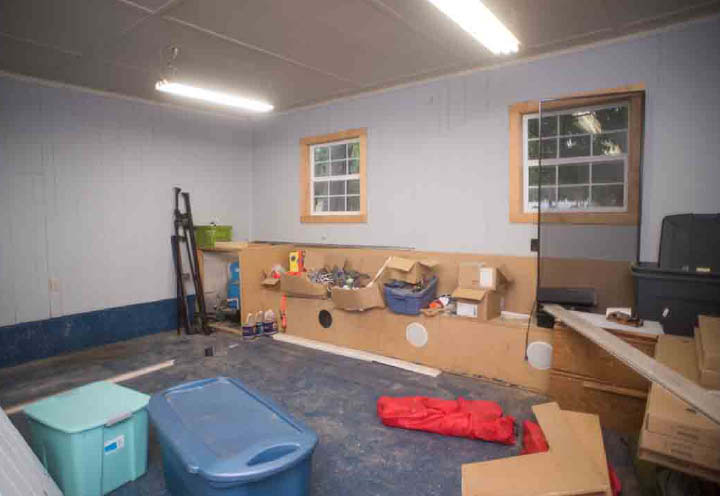 Looking back towards the left, you see that office, and an open space behind it. Where the ceiling fan is, will be the new bathroom.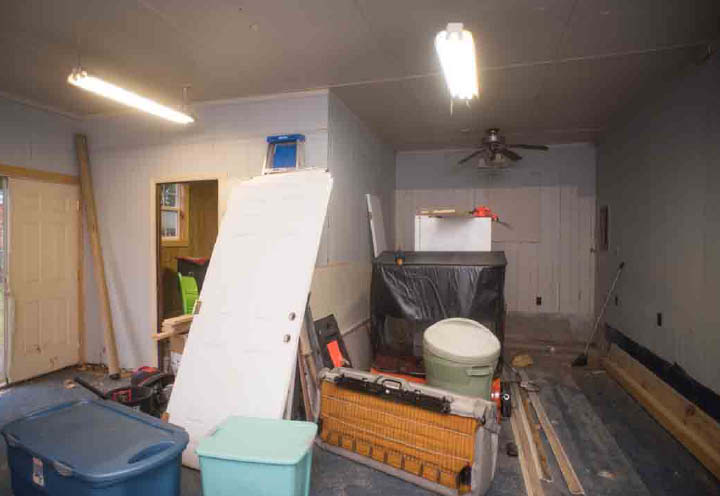 Looking towards the other front corner. Those are all the boxes of kitchen cabinets stacked under the window.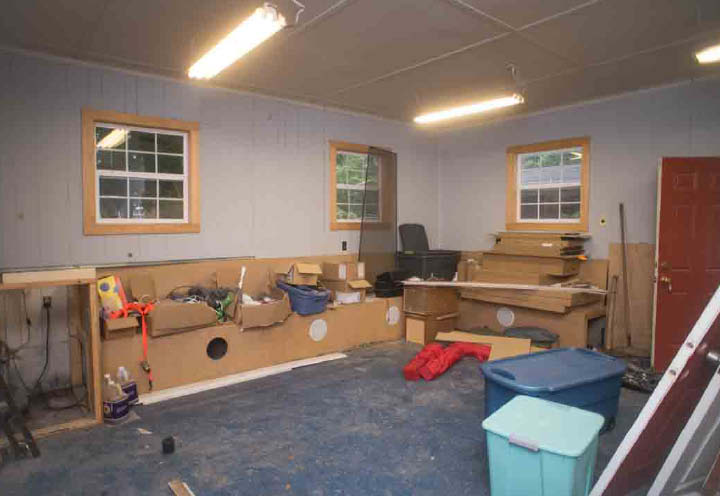 Here's a rendering I made using the Ikea kitchen planner, which I also used when we were planning our master bedroom project. This is standing outside looking in, if the walls were clear haha.

The only drawback to using this program, you have to use Ikea products. So, we likely won't get our countertop there, furniture or lighting... but you get the idea. Here is the view looking from the back right corner. The two large things, are closets. You'll walk between them to get to the bathroom (that's what we are thinking for now... maybe we'll make one larger closet?)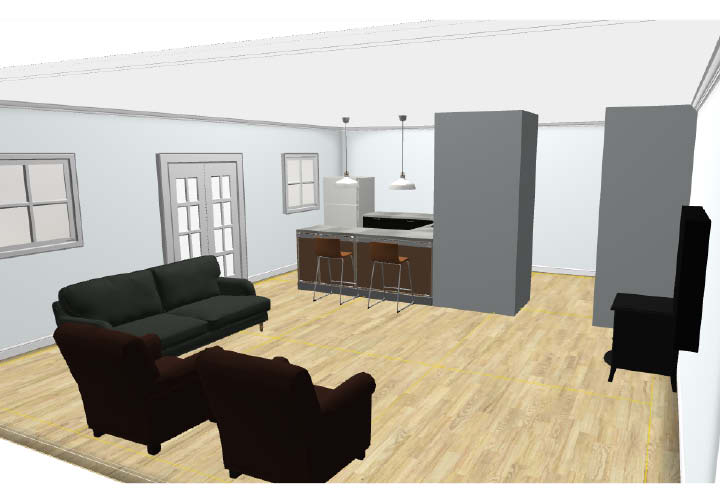 I love the idea of doing something fun and masculine with the bathroom tile. (both images found via Pinterest and are on my board linked above)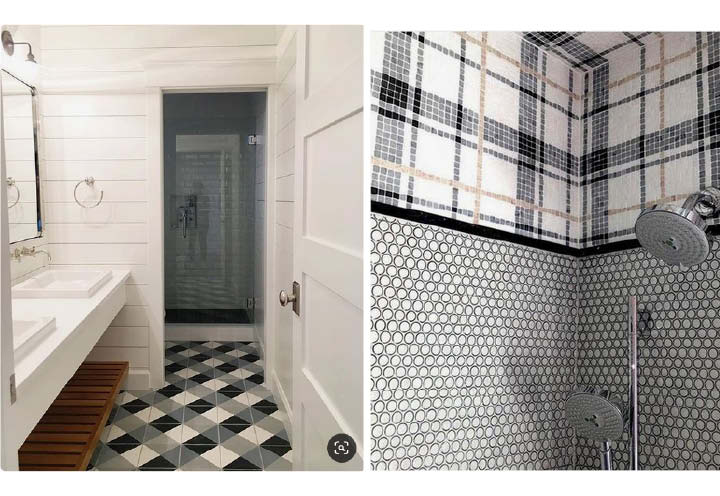 Here's the overall look we are thinking. The bar stools and cabinets we already own. The stools are from Homegoods, and the cabinets are from Ikea.  Jeremy fell in love with this chair when we picked out our sofa back in December, so it's on his must-have list. The sofa pictured is just a placeholder, I think it would look nice, but I prefer something a little lighter since the chair will be dark and the cabinets are black. Both the sofa and chair are from
CoCoCo Home.
We are looking at a lighter granite counter, and probably a large stainless sink. We already have a fridge out there, it's white, and I'm planning to paint it with chalkboard paint.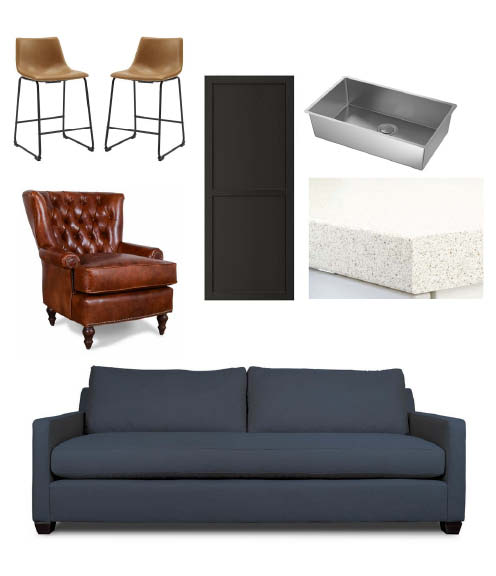 The day Jeremy fell in love with the chair....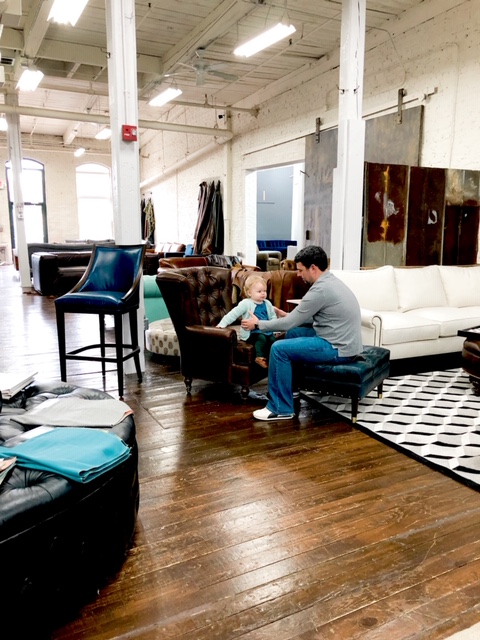 We currently have our an office/guest room in our house, and we would love to move our office out here too. Here is the current, below it is the plan.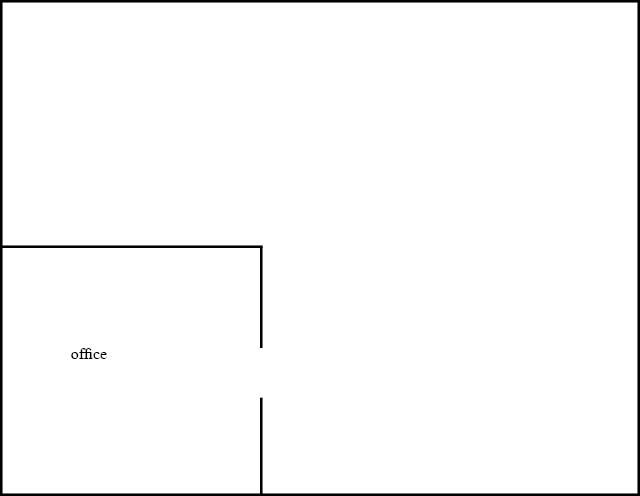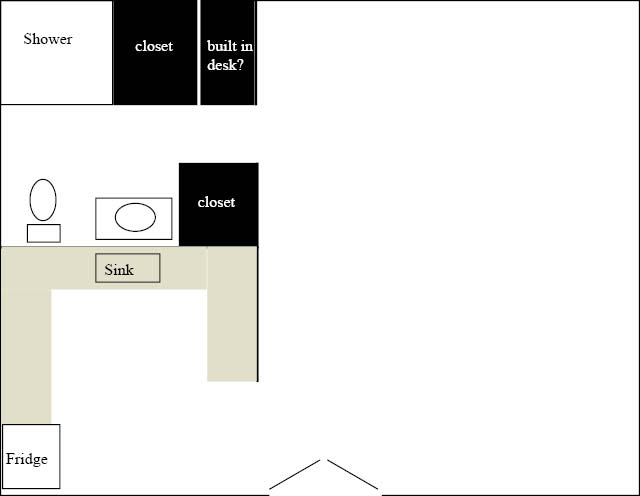 Jeremy also determined we will have to completely redo the exterior siding.... ugh. We thought we were going to be able to keep it and just paint it, but he discovered there's no vapor barrier laid behind it, so it's got to come down.  We have talked about vertical board and batten style siding, painted white. I've also got my eye on some nice window boxes! (images from my Pinterest board linked above)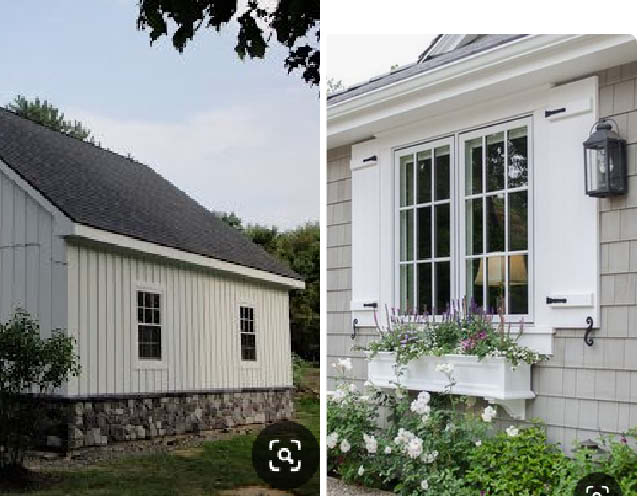 OK, that's what we've got for now! When something interesting happens, I'll let you know. We are hoping to get started this fall!