March 3, 2020
March 3, 2020
Two weeks ago, I spent 3 days at Photo Native in Santa Barbara, California. I attended mostly because I wanted some warm sunshine and palm trees in my life during dreary, North Carolina February. #honest
Most of the attendees appeared younger than me, and shared that they were mostly green in the industry. I learned I am part of the 2% of photographers who make it past year 10.... 60% quit after just one year.
There was lots of philosophical talk about "your why." (which honestly, makes me roll my eyes.... real hard) Why do you do what you (I) do? But that's not what this post is about.... you see, at breakfast on the last morning I was chatting with a few others and I shared the story of why I had wanted photos taken at a specific point in time, and it's not the mushy-gushy "capture the moment" crap either.
(I hate myself for not closing the laundry room door in these photos)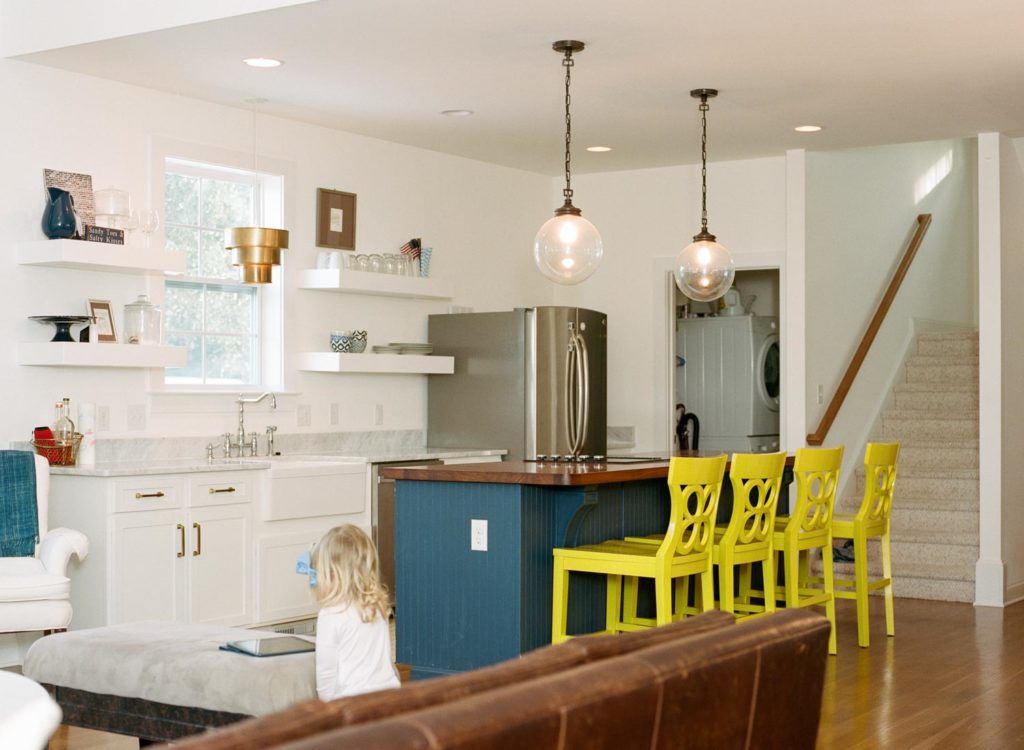 First, the photographer. It was late 2012 when I booked the session with Jonathan Canlas. I had fallen in love with his work and when I found out he was coming to Charleston, SC I jumped at the chance to book a shoot with him (He resides in Hawaii). I had read his book, Film Is Not Dead and wanted to absorb all the information he had to offer.... I felt like, what better way to learn from him than to have him photograph us, and bonus, we'll have beautiful photos afterwards.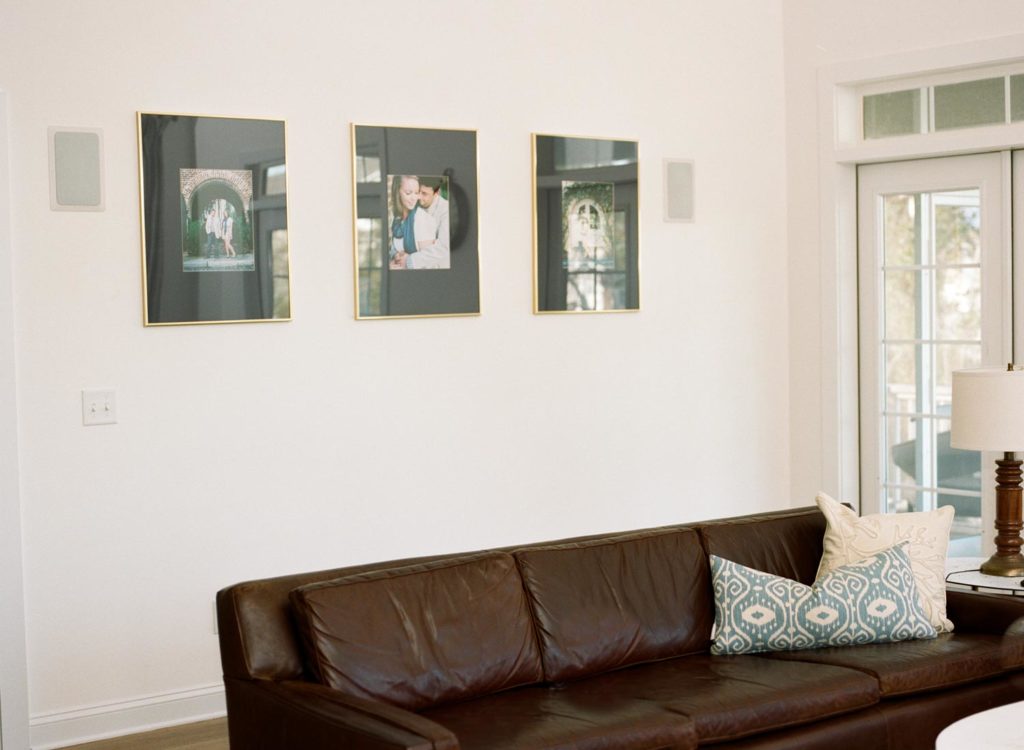 Second, and more importantly.... we were building a new house, with massive wall space. I wanted beautiful photographs to fill them. When picking outfits for Jeremy and I to wear, I specifically chose pieces that would coordinate with the decor of the house. I reverse engineered my own session without realizing it, knowing "my why" before having these photos taken, before Jon ever landed in Charleston or pushed the shutter once. Before I ever saw the gallery, these photographs had a purpose.
I share this story to ask you what is your why?
Are you just looking for good photos to share of your family on social media? A quick Christmas card or birth announcement? Or do you have a bigger plan? Are you wanting prints to fill a void, and beautify your home? Are you looking for an heirloom book that can be passed on for generations? I challenge you to think about what you want the photos for.... before you ever book your session.
Fun fact about that session we did with Jon.... I bought six 11x14 prints, and not a single digital file. I do not regret it at all.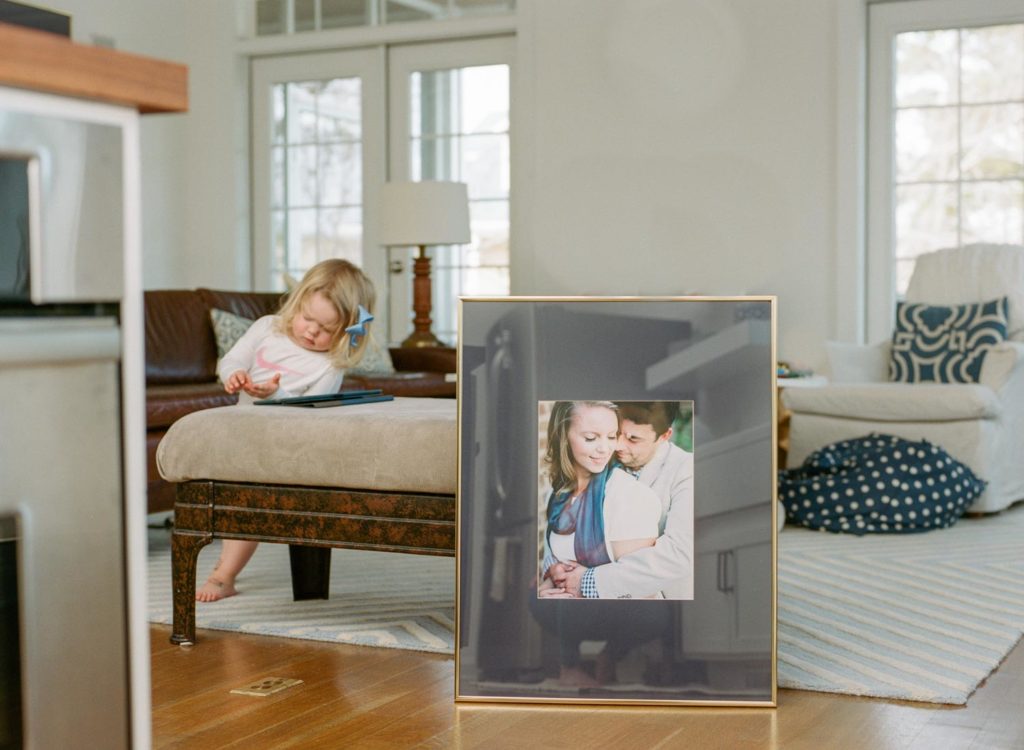 February 11, 2020
February 11, 2020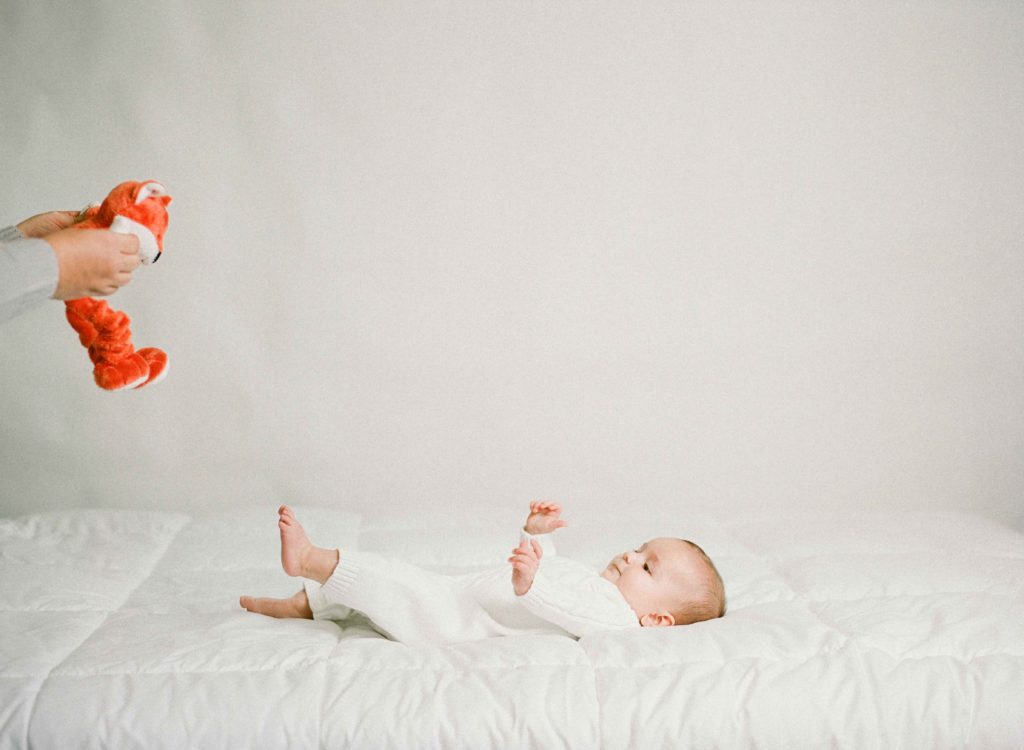 About a month ago baby Knox and his parents dropped by the "studio" for some 4 month photos. We are using the term "studio" veeeeerrrrrryyy loosely. Basically, it's a glorified shed with electricity. Jeremy is still working on figuring out the permit at this point, but I am getting impatient.
Hopefully, by the end of the year this space will have a kitchen, bathroom and space to photograph cuties like this. We are realllllly hoping to have Kate's 3rd birthday here, but I'm not holding my breath for August.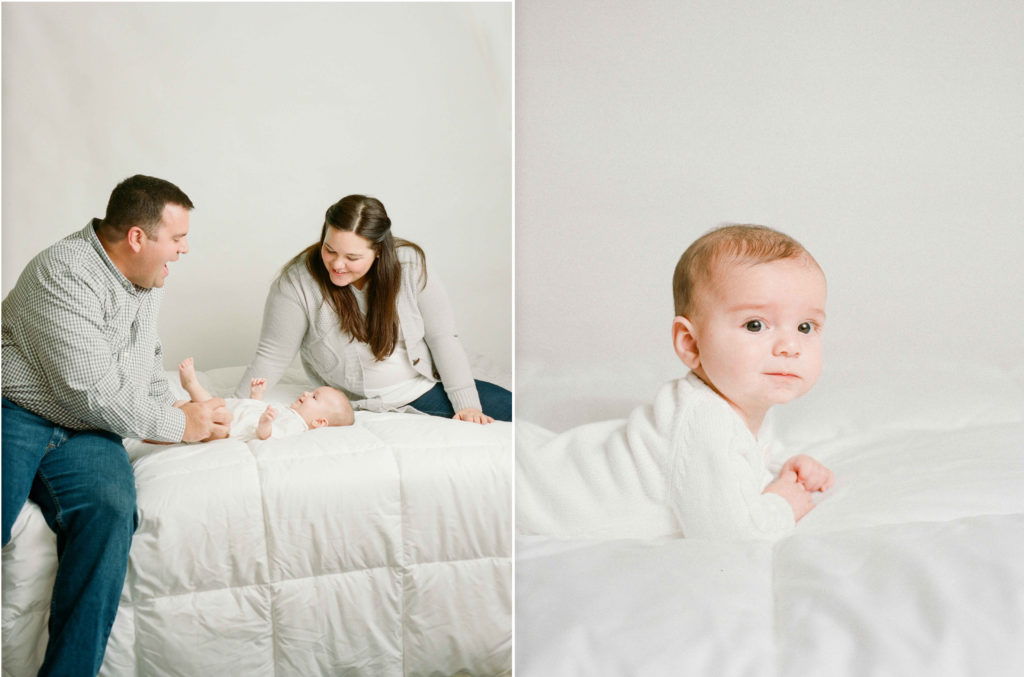 Knox got to model two of the items in my client wardrobe.... the white, cable-knit sweater and the smocked bubble. Fun fact: I bought that bubble when I was pregnant with Kate, before we knew she was a girl!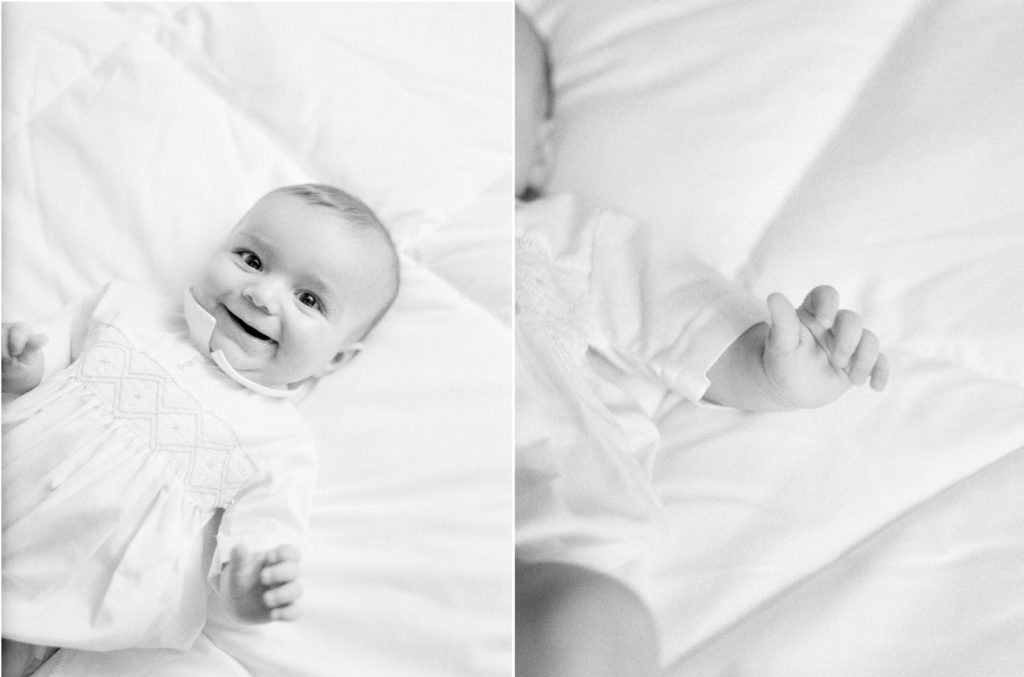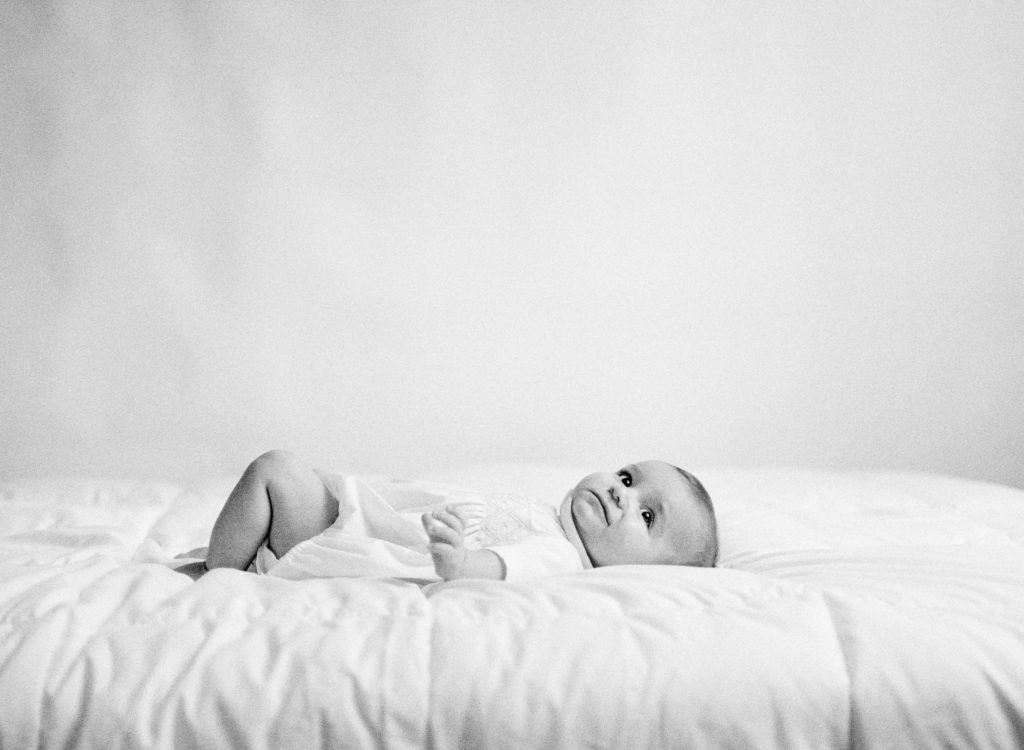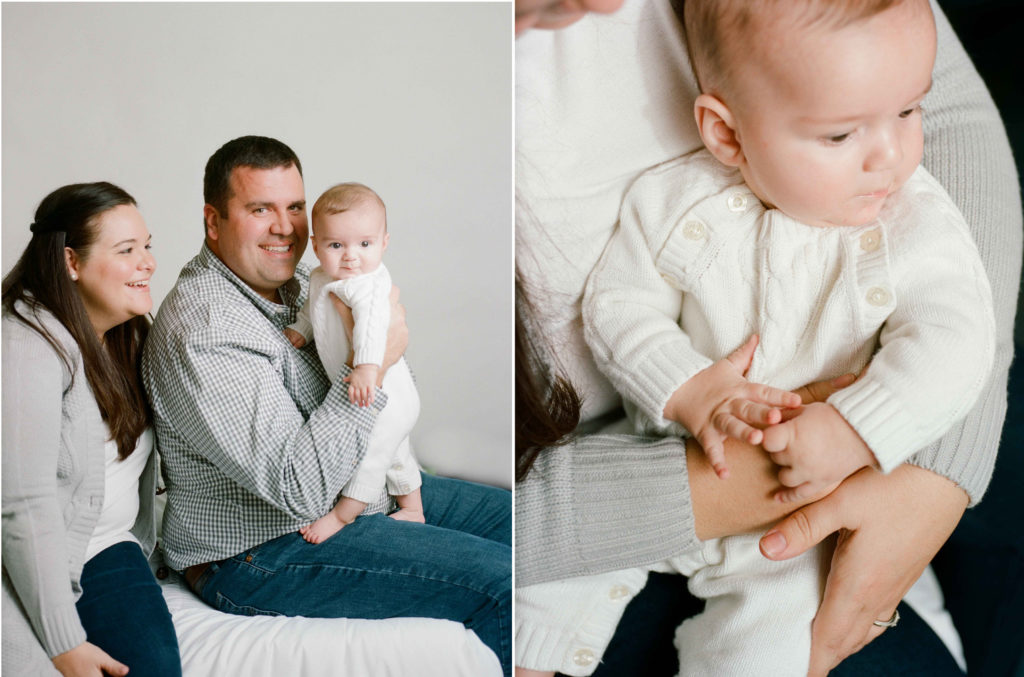 I hope you will come play for studio sessions on March 28! And don't worry, we will be in a legit space.... not my "studio" haha!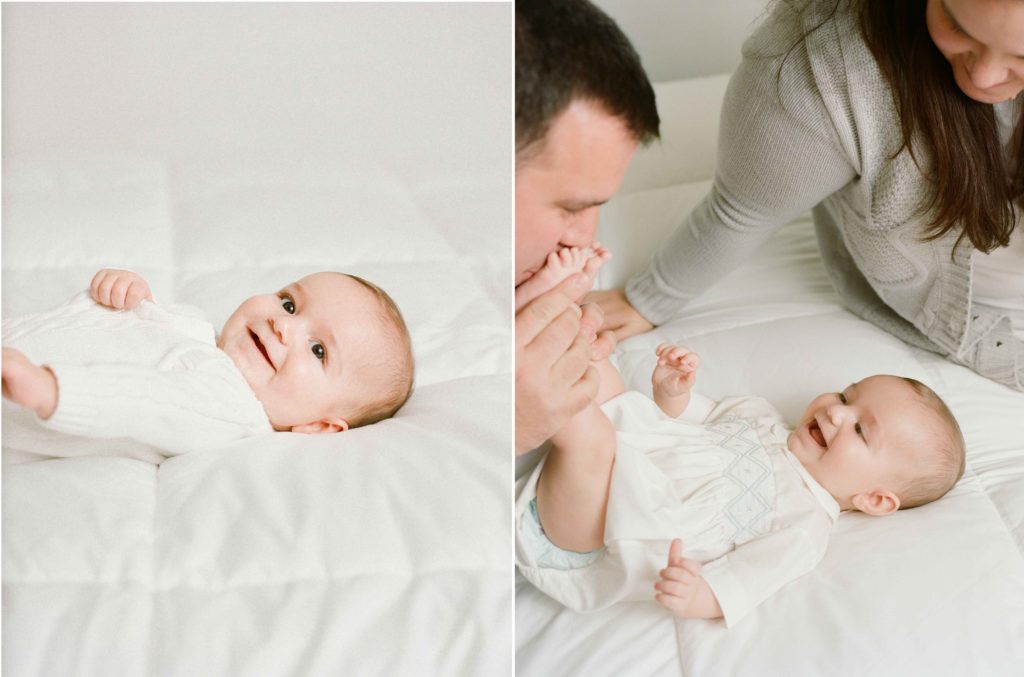 January 17, 2020
January 17, 2020
I finally got ally my Europe photos organized (and sent off to be printed!!!!) this week, so I thought I'd share a little about our trip... where we went, stayed, what we did.... This trip was to celebrate our 10th wedding anniversary (and Jeremy's birthday since we were there on his birthday).
So, we booked our flight to Europe (London) out of NYC. It's so much cheaper to fly to Europe out of NYC or Boston... so check there if you are on a budget. We had vouchers from our Key Largo trip last spring that covered our NYC/London flights round trip!
We flew from Charlotte to NYC and hand enough time to ride into the city, eat lunch, visit Ground Zero and Central Park. We stored our luggage at the airport for a small fee. While there, I also did my Global Entry appointment in about 30 seconds... it was glorious.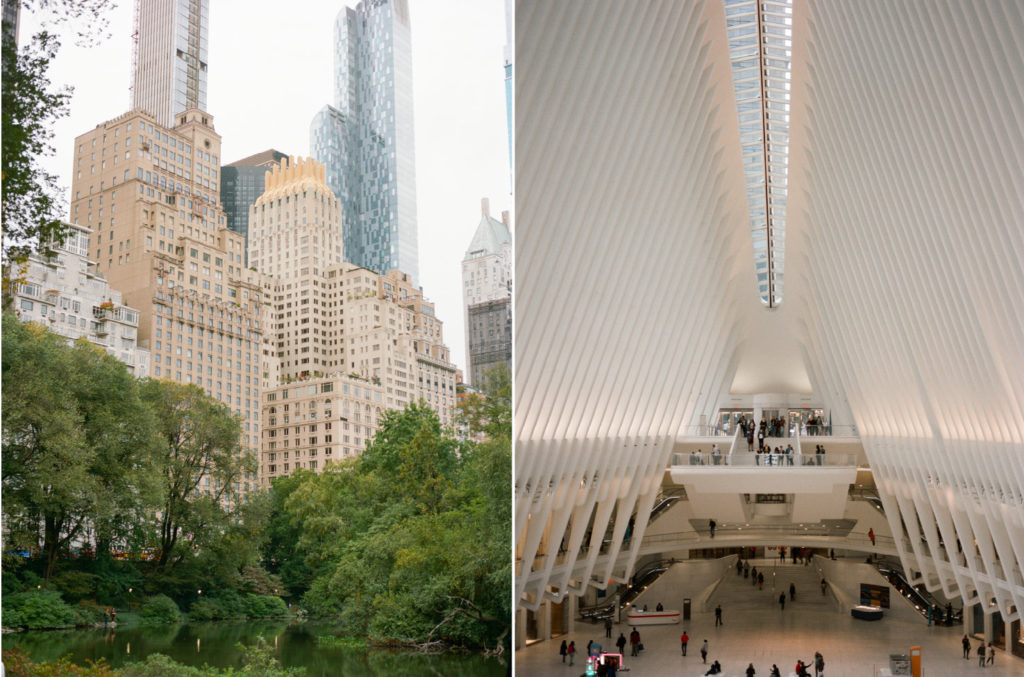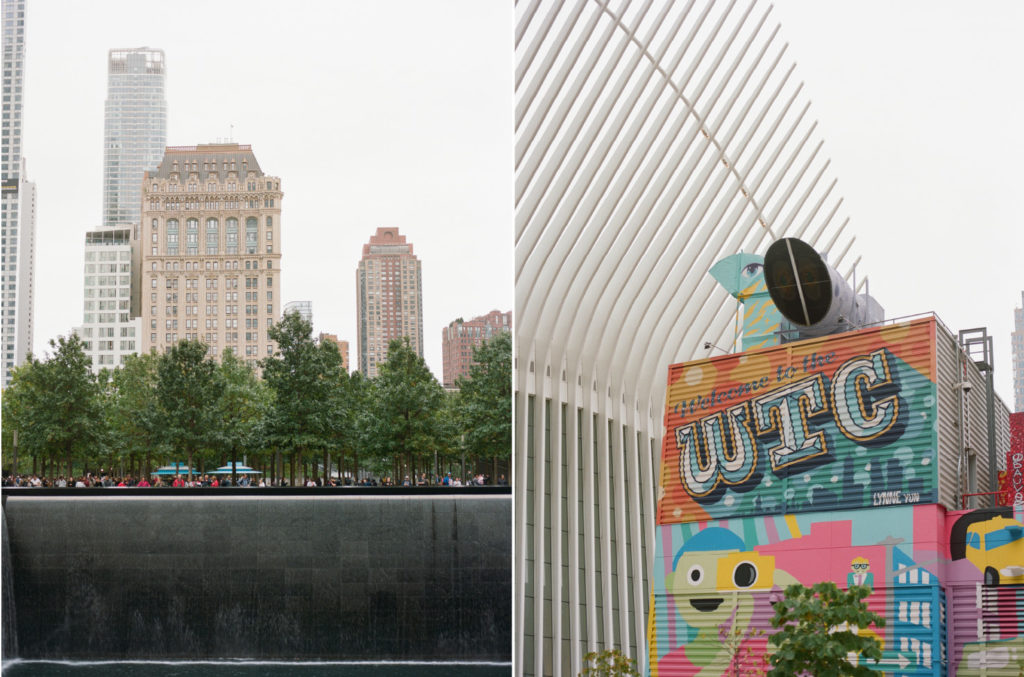 We boarded to London that night for a red eye. It was pretty awful if I'm being honest. Red eye flights in coach suck.... big time. Neither of us slept at all so when we got to London we were cranky, dehydrated and just miserable. We toughed it out, got lunch and headed to our next gate.
We flew to Athens and landed late afternoon. We took a taxi to our hotel, Hotel Hera. I used American Airline miles to book a free night there. It was wonderful!! Such an amazing location at the base of Acropolis, quaint (tiny) rooms and a yummy rooftop restaurant! Highly recommend that hotel! We ate dinner, came back to the room and crashed about 9PM. Jeremy had set his alarm for like 11PM to face-time Kate. I barely remember him doing this. I woke up the next morning and it was 10AM!! We had been up about 36 hours straight, so 13 hours of sleep was much needed, but we wanted to site see before going to the airport. We literally jumped out of bed, brushed our teeth, threw our stuff in bags, dropped them at the front desk and bolted up to Acropolis. We had about 90 minutes to get there, site see and get back to our hotel for our taxi ride to the airport. We made it, but it was a whirlwind! I wish we had 1 more night in Athens.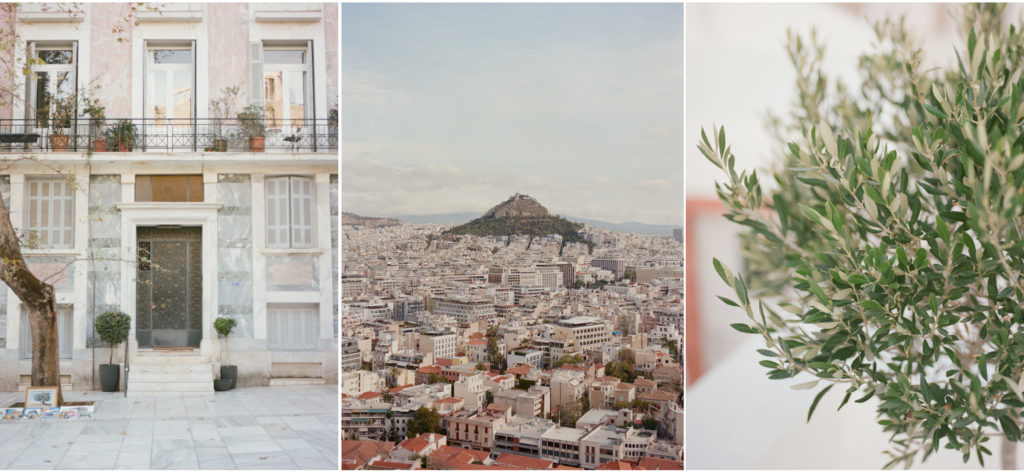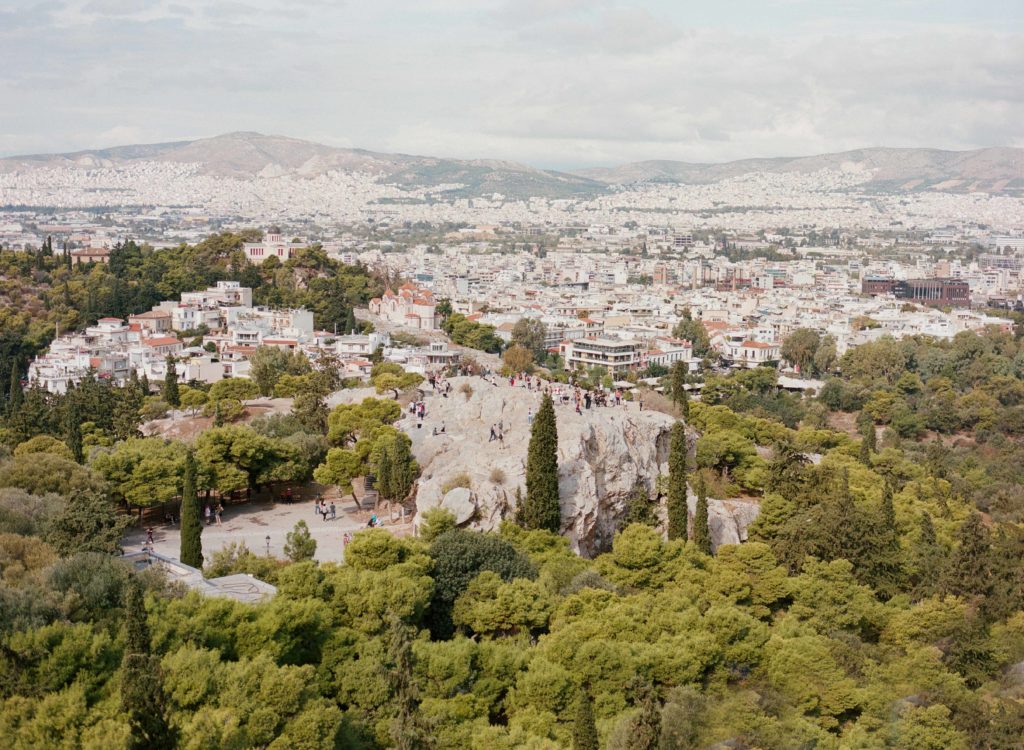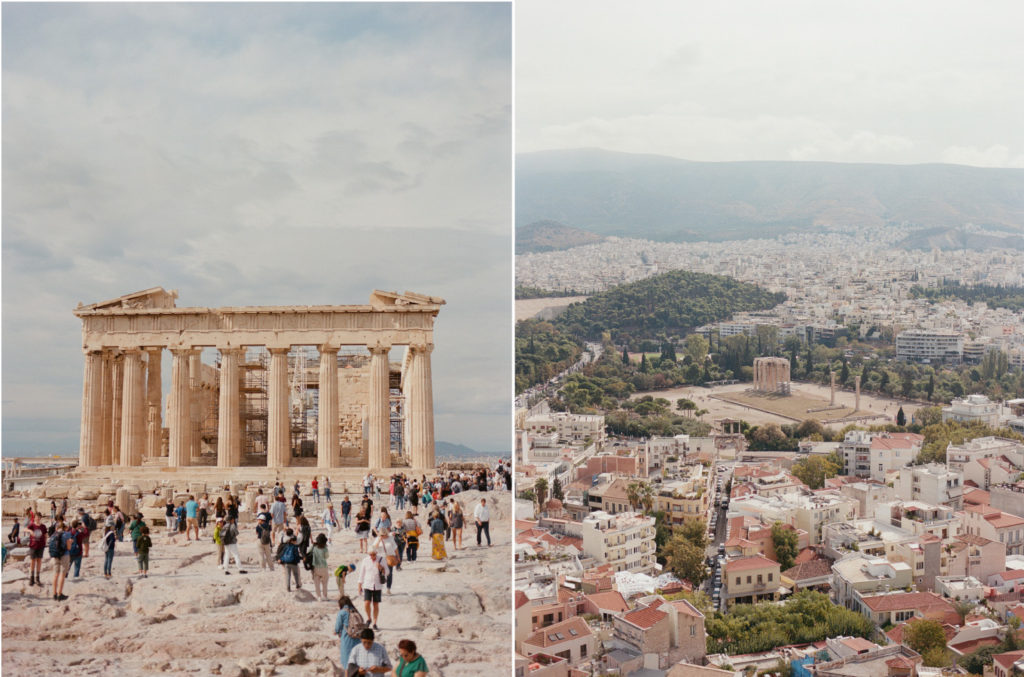 We arrived in Santorini mid afternoon and took a pre-arranged transfer to our hotel. We stayed at Strogilli Traditional Houses. The hotel was fine. It was well priced to be in Oia, but we were in a very basic room up at the street. While convenient, I wish we had splurged for something a little nicer. We walked into Oia each day which was really nice.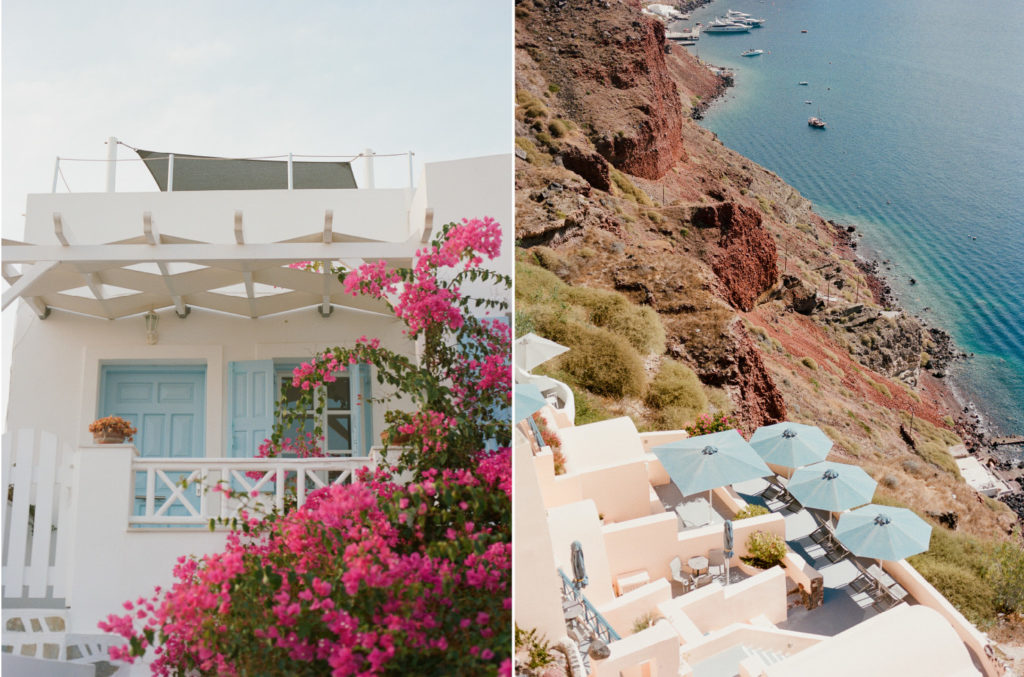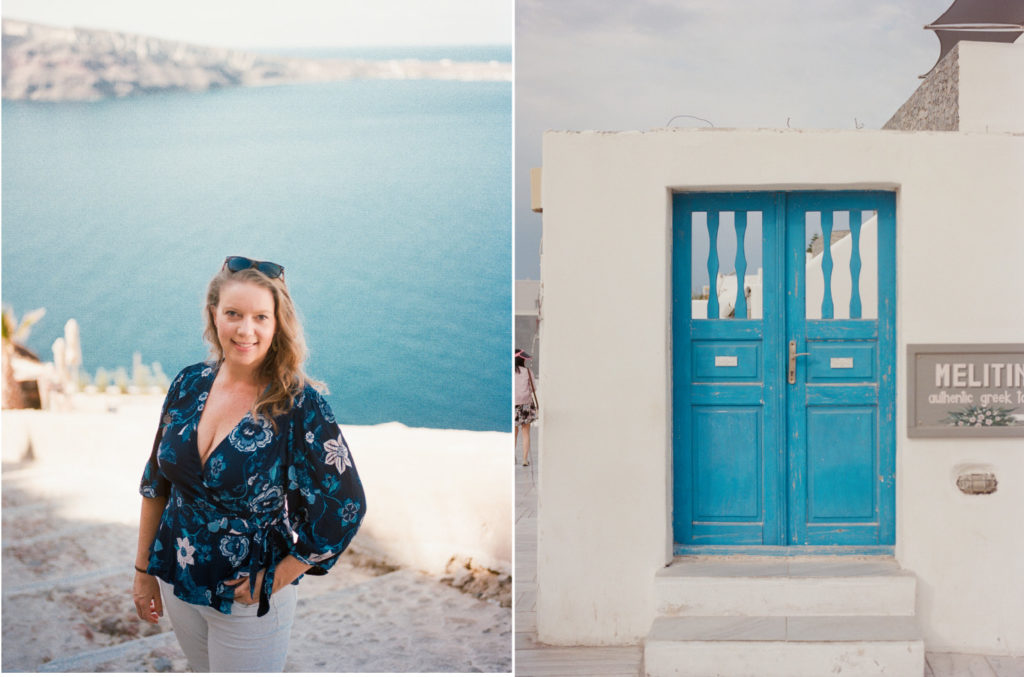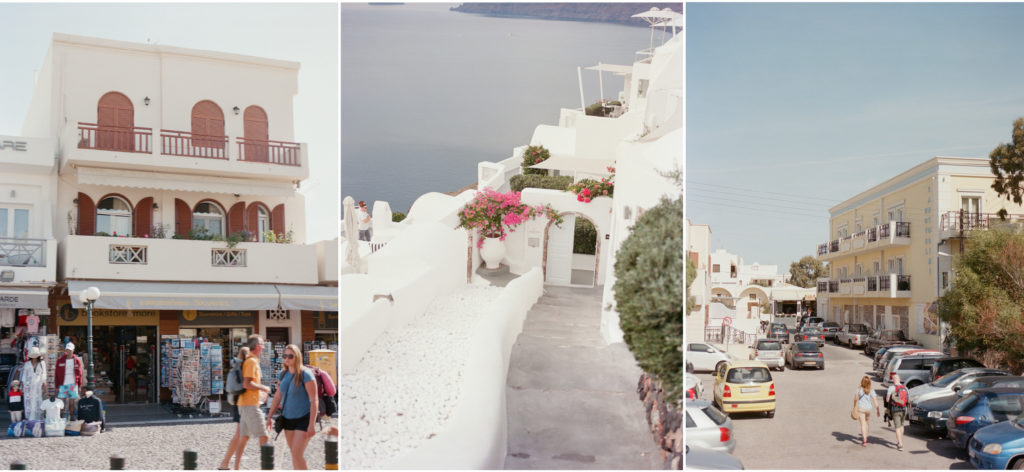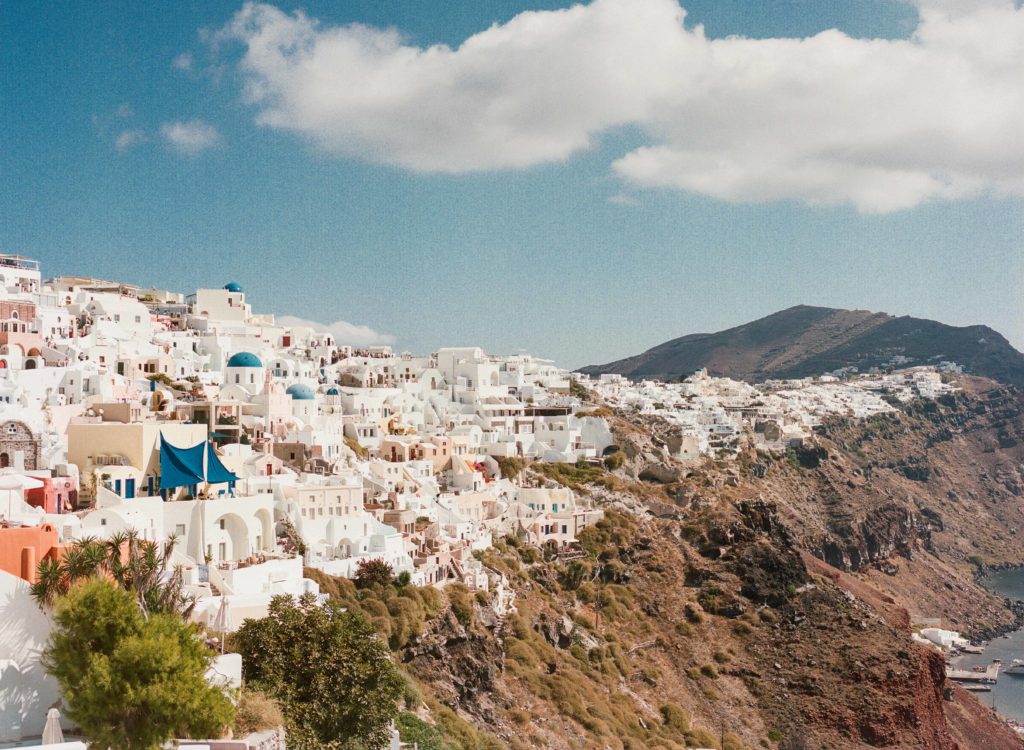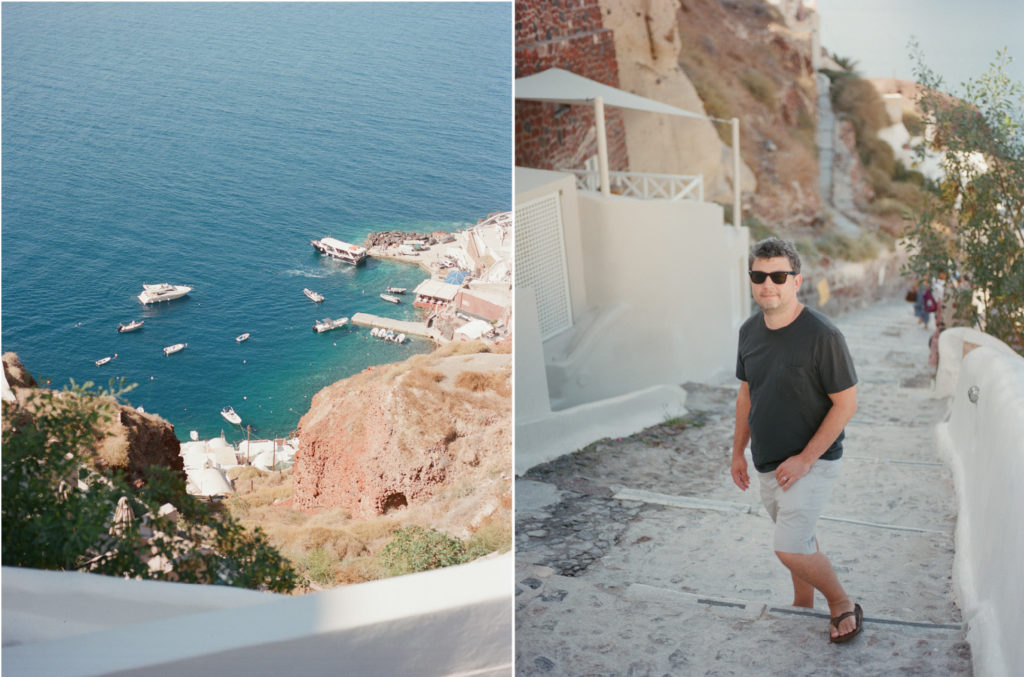 We figured out the bus system and took a bus to Fira (the capital where all buses run) and caught a second bus to Perissa to see the black beach. I had read the restaurants have chairs with umbrellas and if you order food/drink you can sit there as long as you like. We ordered beers and a gyro that was delicious!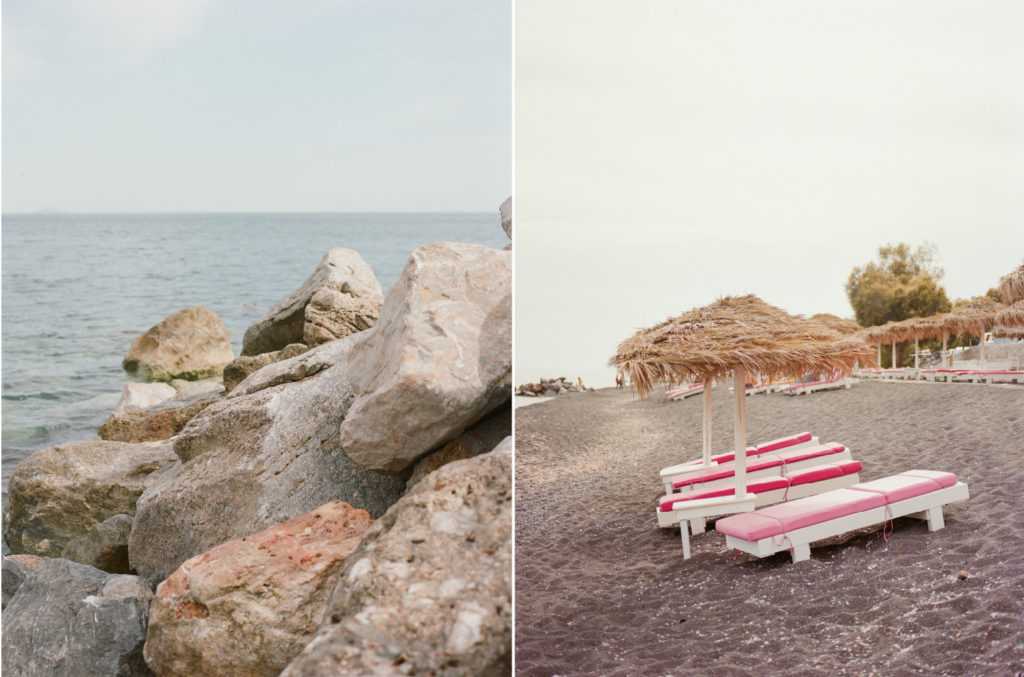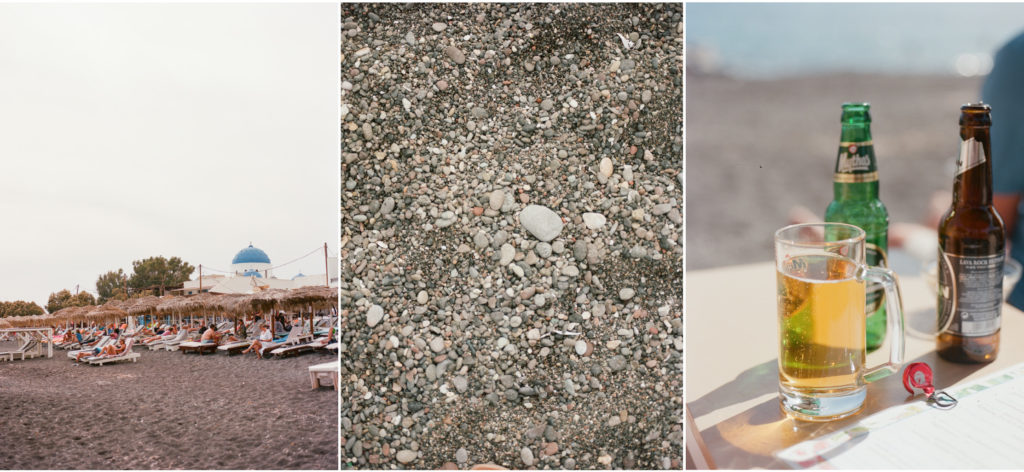 Thursday we had a sunset cruise booked. It was our only real splurge of the trip and worth every single penny!! You board early afternoon, make several swim stops, the deckhands cook you lunch, show you sites and then you park for sunset. It was amazing, definitely a highlight of the trip!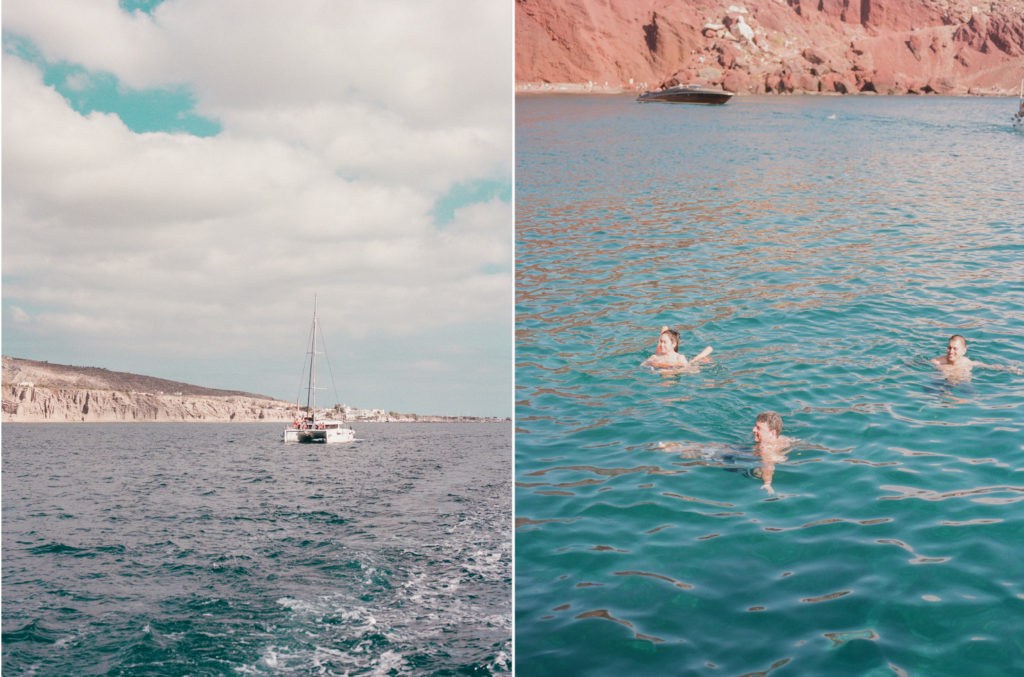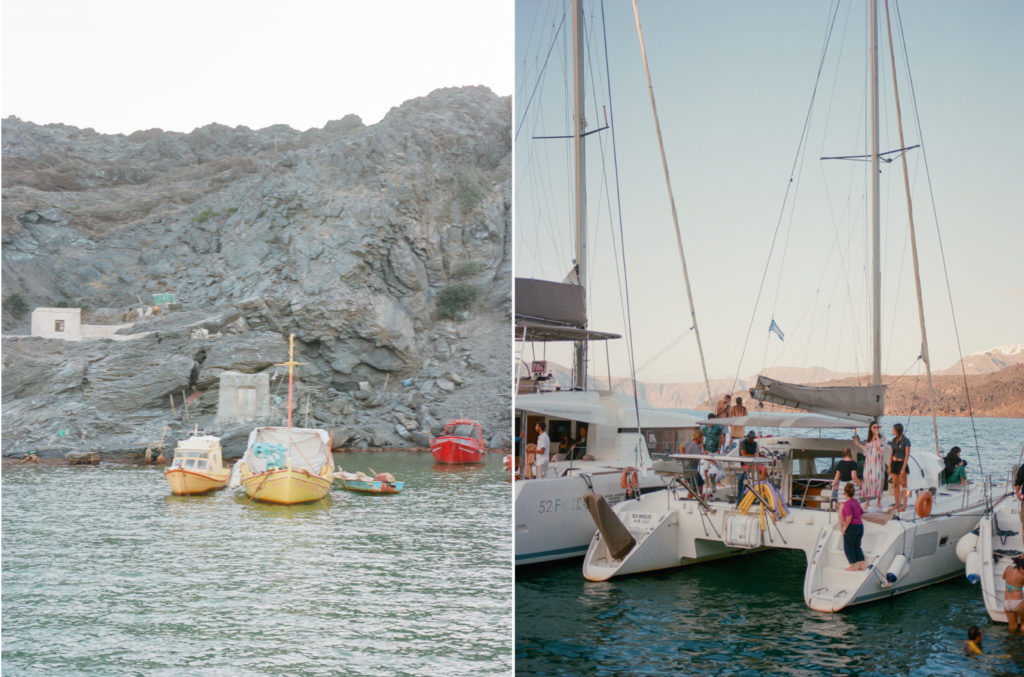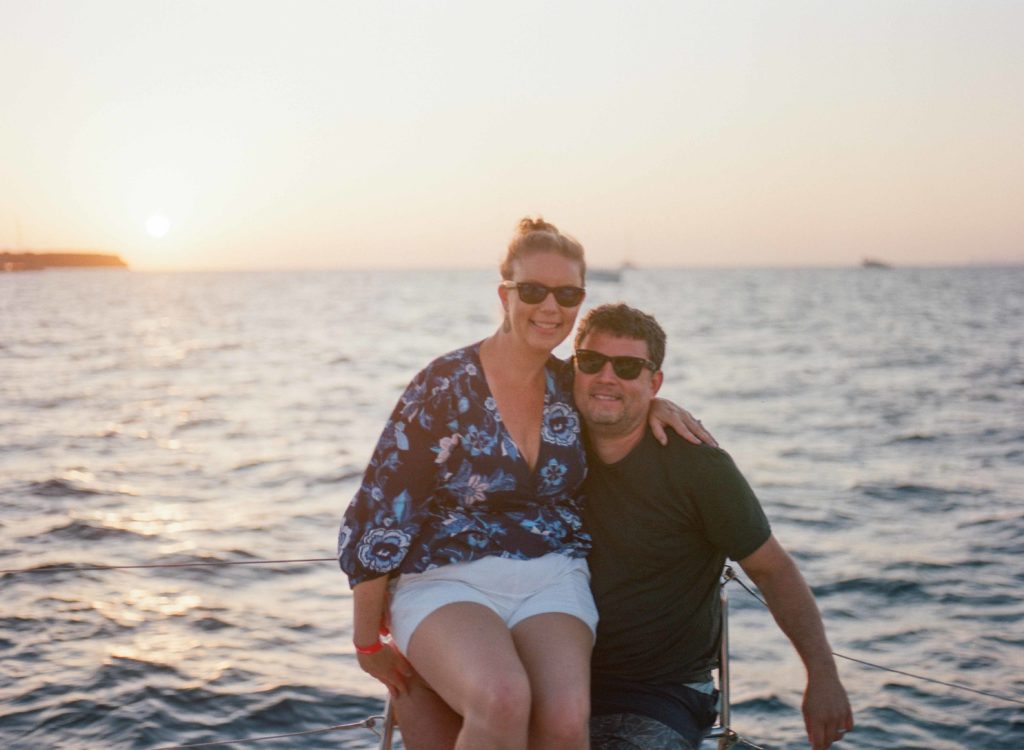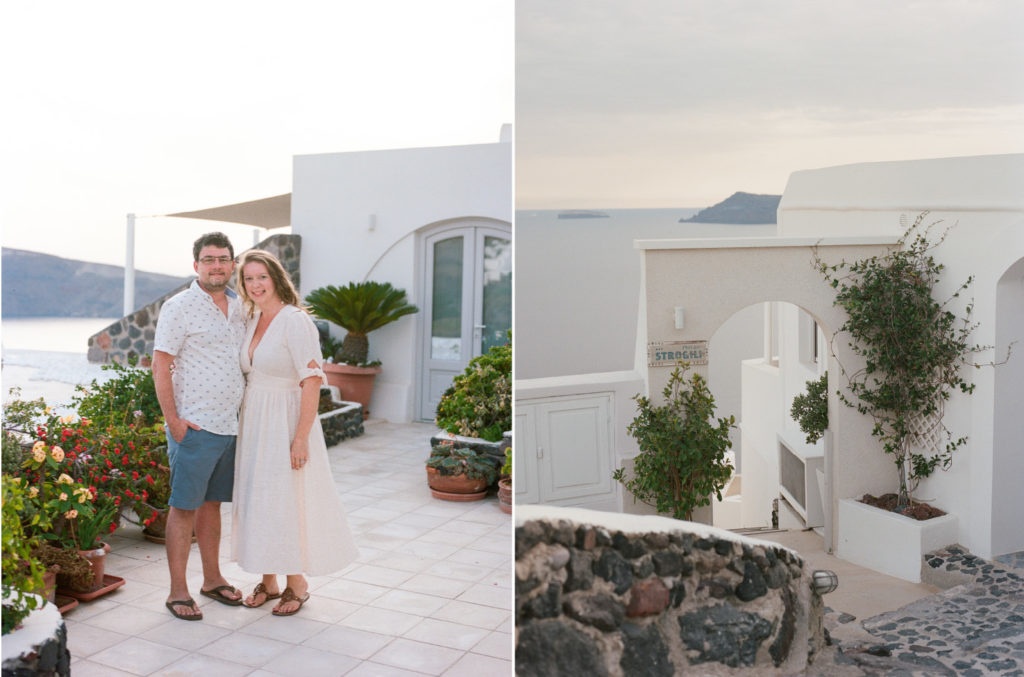 The next morning we caught the bus back to Fira. Jeremy waited with our stuff at the bus station while I went into the town to get us breakfast. Croissants and cokes would do! We took them with us to the airport and ate outside in their lounge area before going inside. The airport was very small (under renovation though) and only had 1 or 2 gates. The gates were literally just passed security, so you could not go through security until right before your flight was scheduled to board. We flew directly back to London from Santorini which was great. We ate lunch on the plane, and landed late afternoon.
We took the tube to the area we were staying, Shoreditch.... and quickly realized we were not cool enough to be staying there! I booked the CitizenM using points for 3 nights. The rooms were very cool, but a lot like a cruise ship stateroom. The giant king bed went from wall to wall, and furniture was built-in. We picked the hotel because it was about half way from all the London sites to Tottenham stadium where the Panthers were playing. We ate dinner the first night and met up with our friends Stephen and Andrea for drinks and site seeing.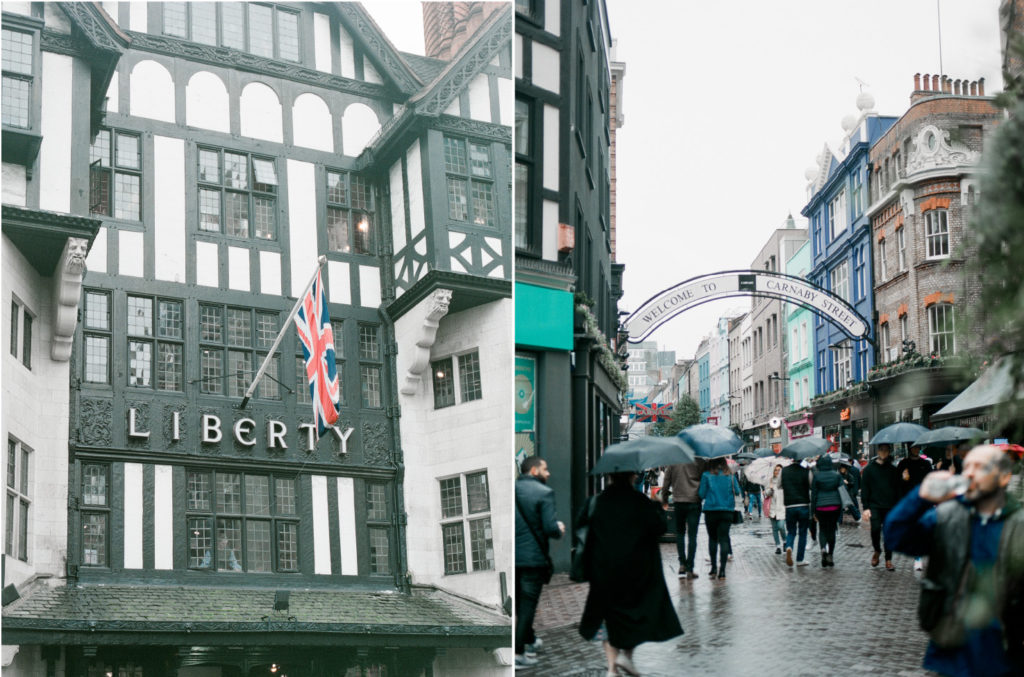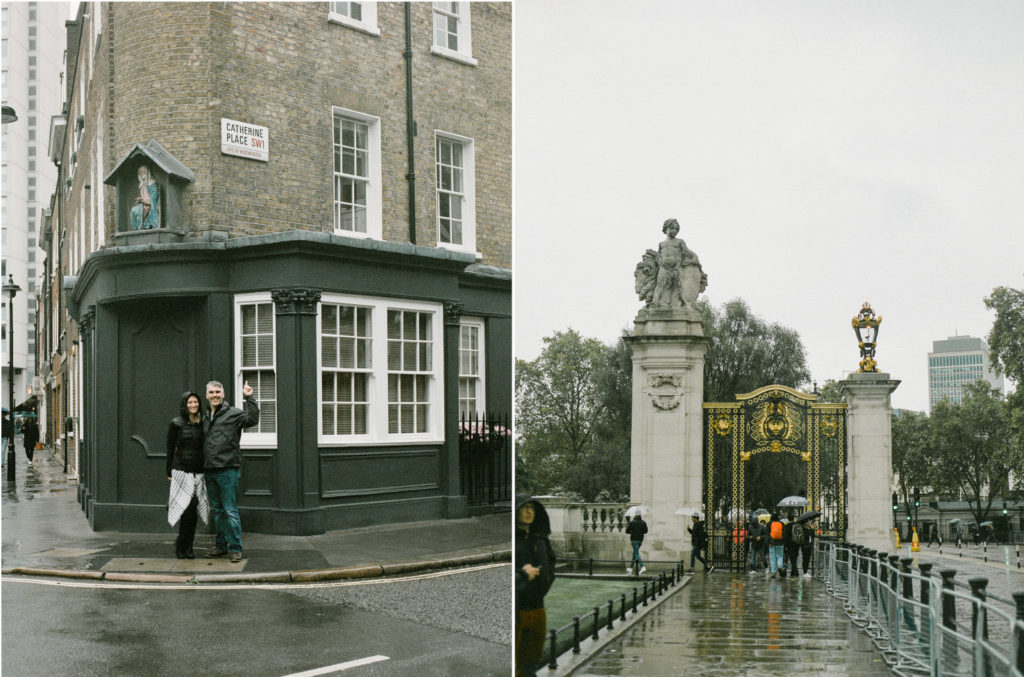 London was wet.... so wet. We tried to make the best of it, but I didn't take many photos because #rain.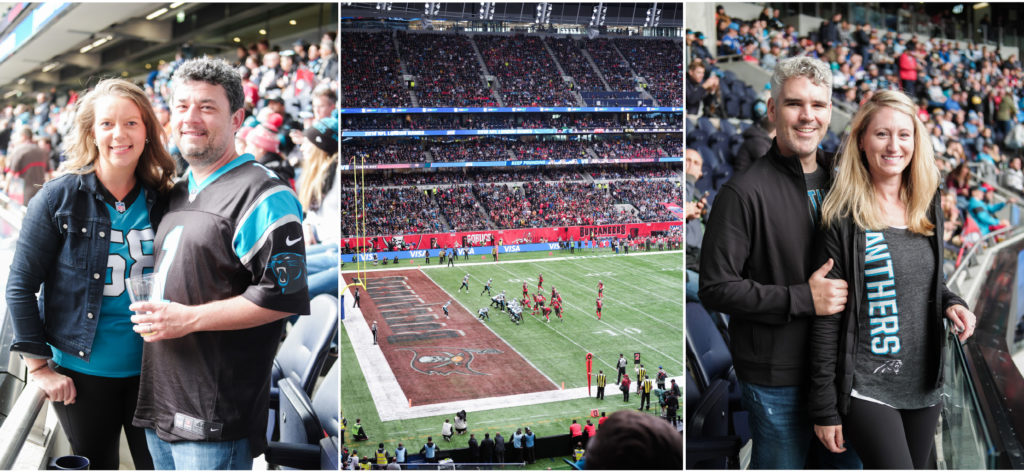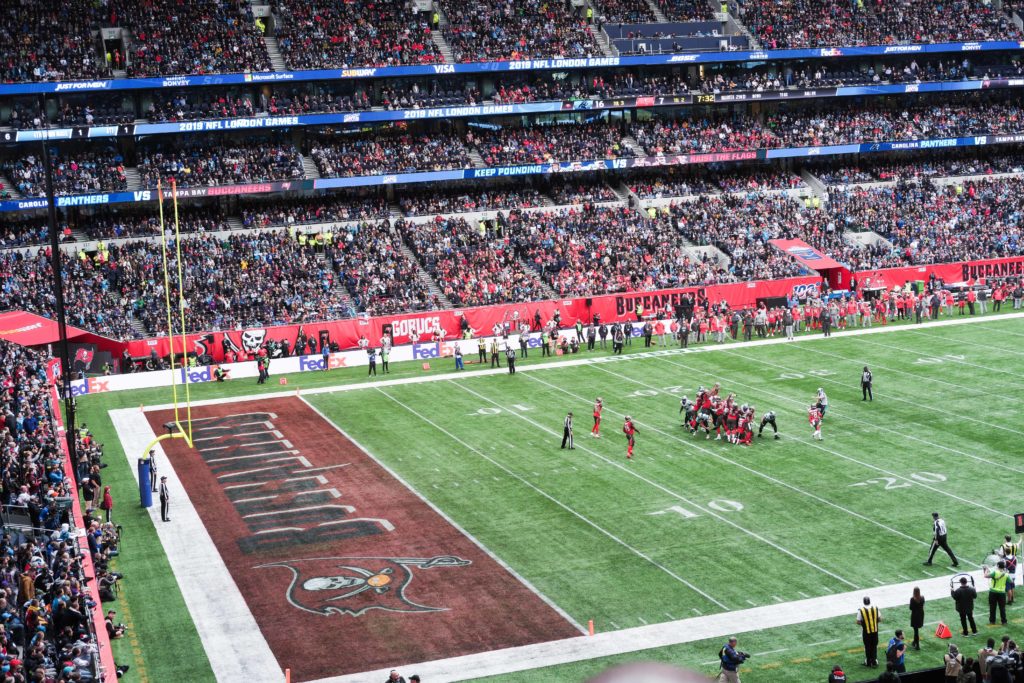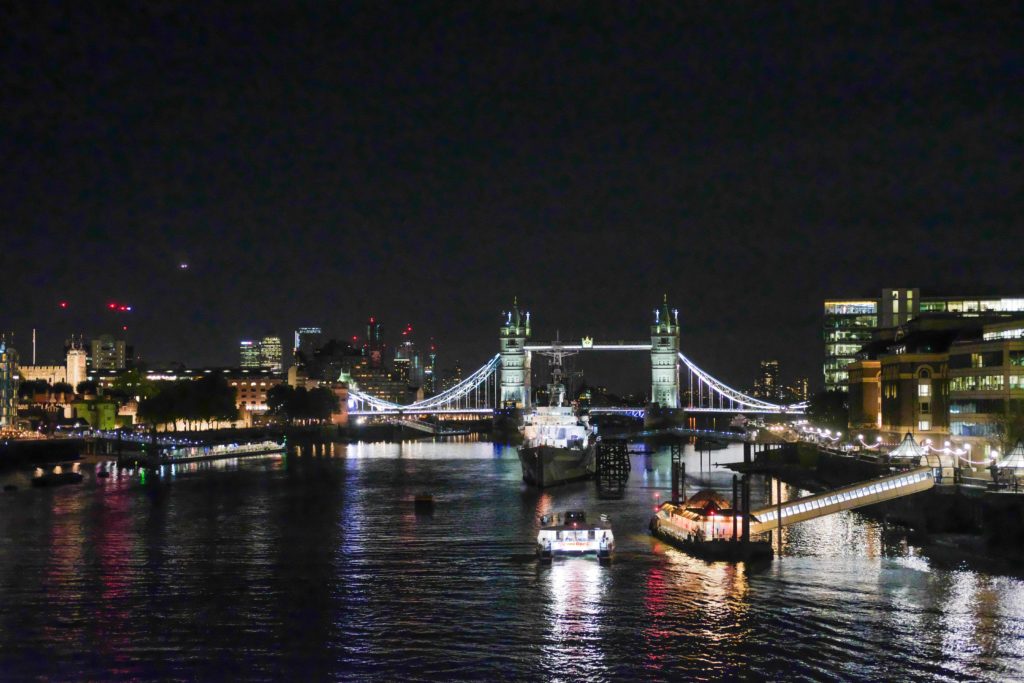 We flew back to NYC the morning after the game. We landed about 11AM NYC time, and had a 4PM flight booked back to CLT. We had been told there was no way we would be able to catch a 130PM flight because of customs.... wrong. Remember I said I had done my Global Entry appointment when we left out of NYC? Yeah, we were through customs in like 10 minutes. We went to the counter and paid a small fee to change our flights to 130... and still had time to eat lunch! This was big for 2 reasons... 1. Not burning daylight in an airport and 2. I had to drive to Georgia that night, after getting some laundry done. If we had taken our original flight, I would not have seen Kate before leaving again... so that small fee was worth every penny!
This was certainly a trip of a lifetime. I hope we make another Europe trip happen before our 20th anniversary!