January 30, 2019
January 30, 2019
I'll be the first to tell you, one of my biggest wedding regrets was skipping the bridal session. You see, I wore my mothers wedding dress that I'd had altered (to be strapless instead of long sleeve) and on our wedding day, things were so crazy, rushed that I don't think I really got to enjoy wearing it. It had a simple zipper that got zipped in 0.2 seconds.... no big ceremonial moment of "getting into the dress" for me. I was also busy micro managing 10000 other pieces of my wedding, that I could have delegated out (like tying ribbon on bouquets, and moving lamps... yes, for real). *All images from Emily's bridal session at
The Mayton Inn
in Cary, North Carolina, dress from
Gilded Bridal
and bouquet from
Blooming Branch Creative
From Emily:
"So glad I did this! It was such a great day and I was so thankful to see small changes I wanted to make to my dress prior to our wedding day."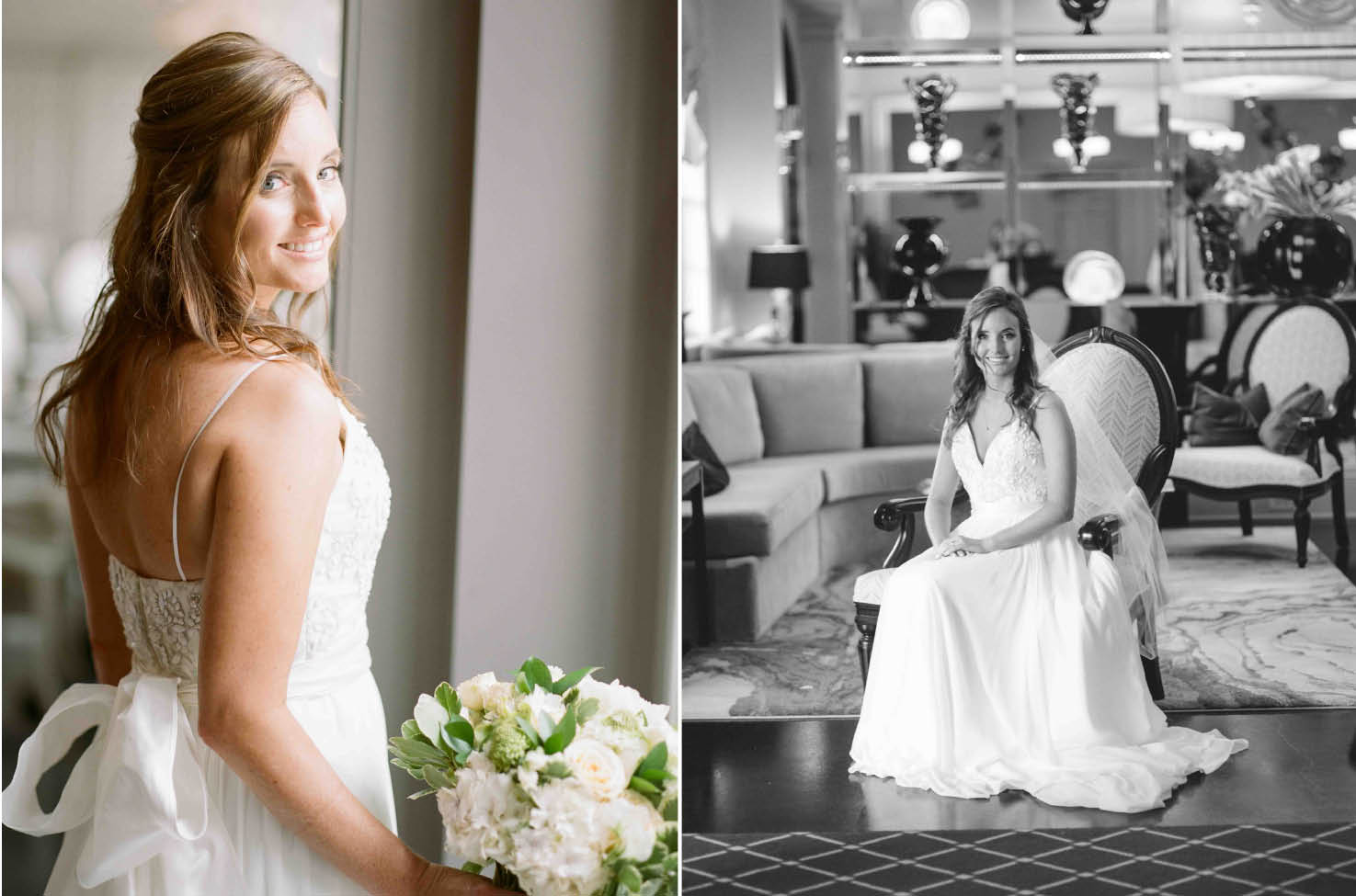 SO! Here are six reasons you should absolutely NOT skip a bridal portrait. 1. See how your dress wears. I remember just after I got married, I had a friend get married. She got dressed and started down the aisle with her dad, only to realize her dress was never hemmed!!! She had to wrangle holding it up the rest of the day to avoid tripping over it... such a nightmare! 2. Test your hair and makeup style Most times if you are working with a reputable hair and makeup artist, they will include a trial run in their fee to work your wedding anyway. Now, some will tell you that this is not really an opportunity to do bridals because you may try many different styles and makeup looks, but you'll want to talk with them about that.  However, it will be a good indicator of how your hair and makeup process will go, and how it will photograph! You might think you are caked with makeup, but photos may tell a different story. Of course photos aren't everything, so you want to make sure you look how you want in person, too.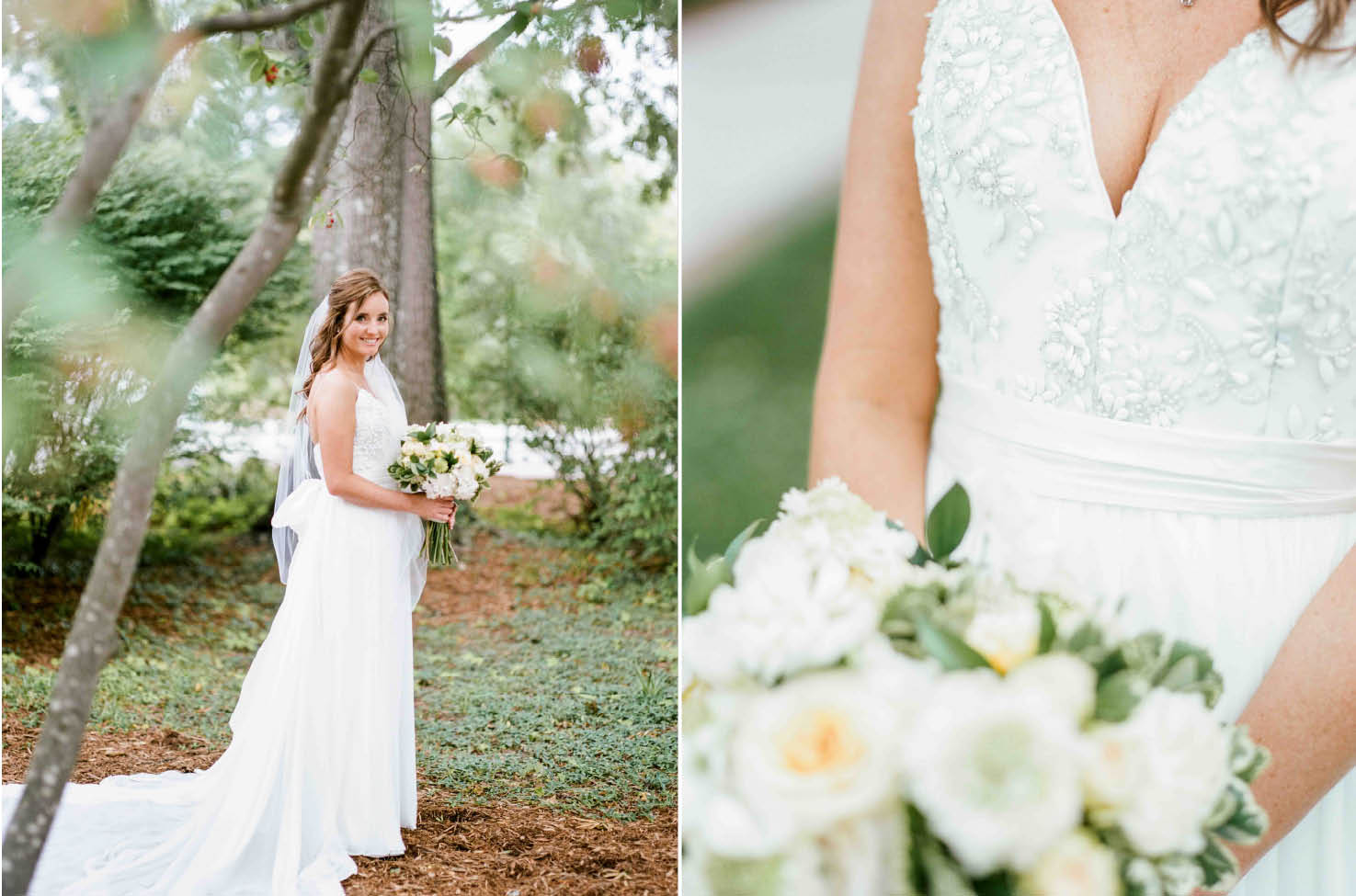 3. Decide on jewelry You may have several bracelets, necklaces and multiple pairs of earrings you've set aside. This is a great chance to try them and see which you prefer! 4. Test out your florist Like hair and makeup artists, this might be something they include in their fee to do your wedding. You'll get to see how the colors, textures and size of your bouquet work with your dress. You may decide you want more of a certain flower, or less greenery. On the note of YOUR bouquet, have one made that you love. Spend extra to have your favorite flower, pretty silk ribbon, etc. Why? Because IT WILL BE IN ALL YOUR PHOTOS! You can skimp on the bridesmaids and centerpieces.... but please don't skimp on yours!! Also, I ask for it to be delivered to the bridal suite so I can photograph it with your other details... so it will be used in many different capacities.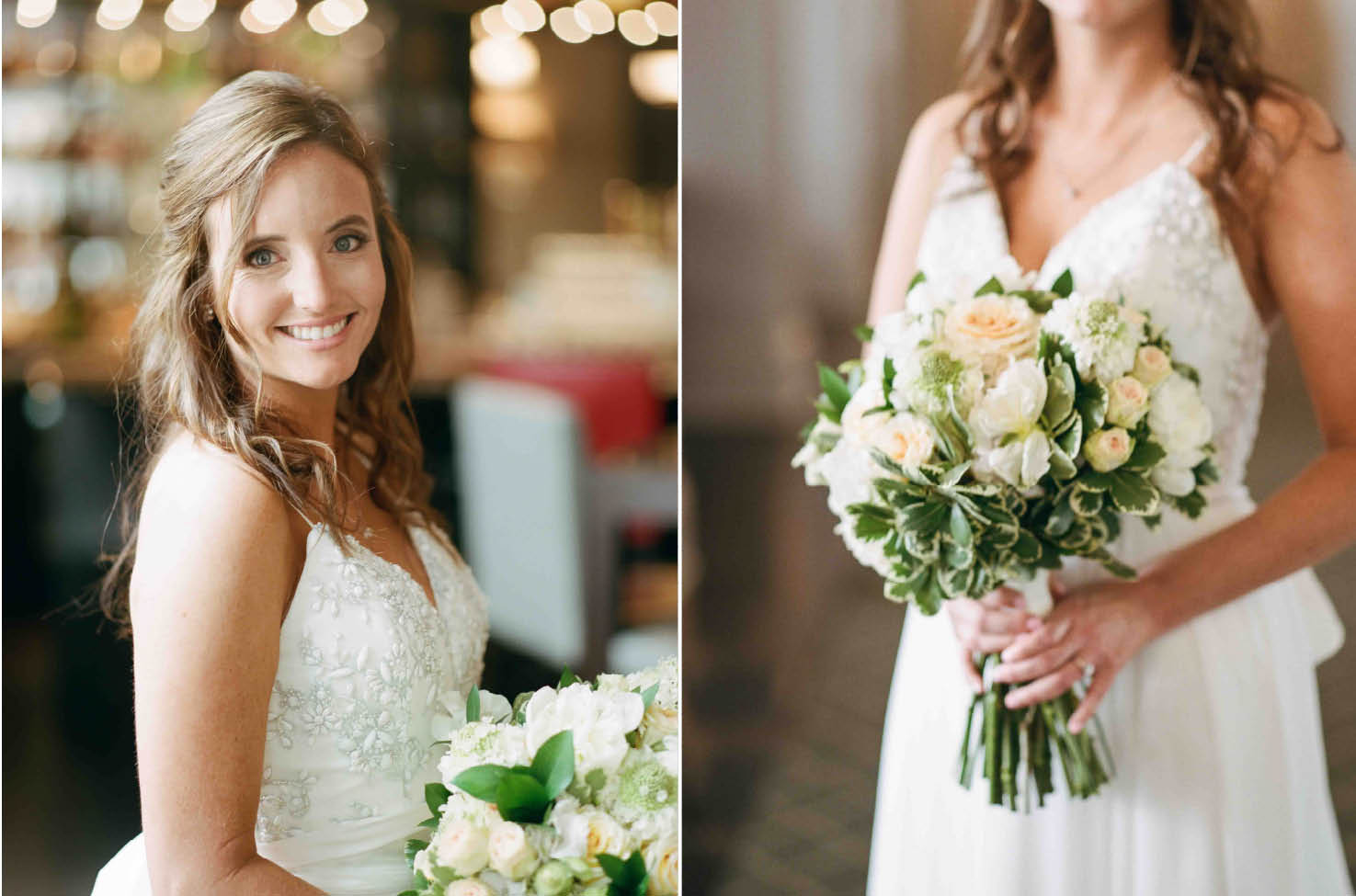 5. Decide on undergarments You'd be shocked how many times brides decide after their bridal portrait to take their dress to have cups and or boning sewn into their dress because trying to keep a strapless bra up and comfortable for 8+ hours sounds like a nightmare after only 2 for their bridal portrait. You'll also know what undies work and don't work under your skirt. I've watched so many gals go through different cuts, Spanx, commando, etc. trying to make sure their rear end looks flawless on their wedding day!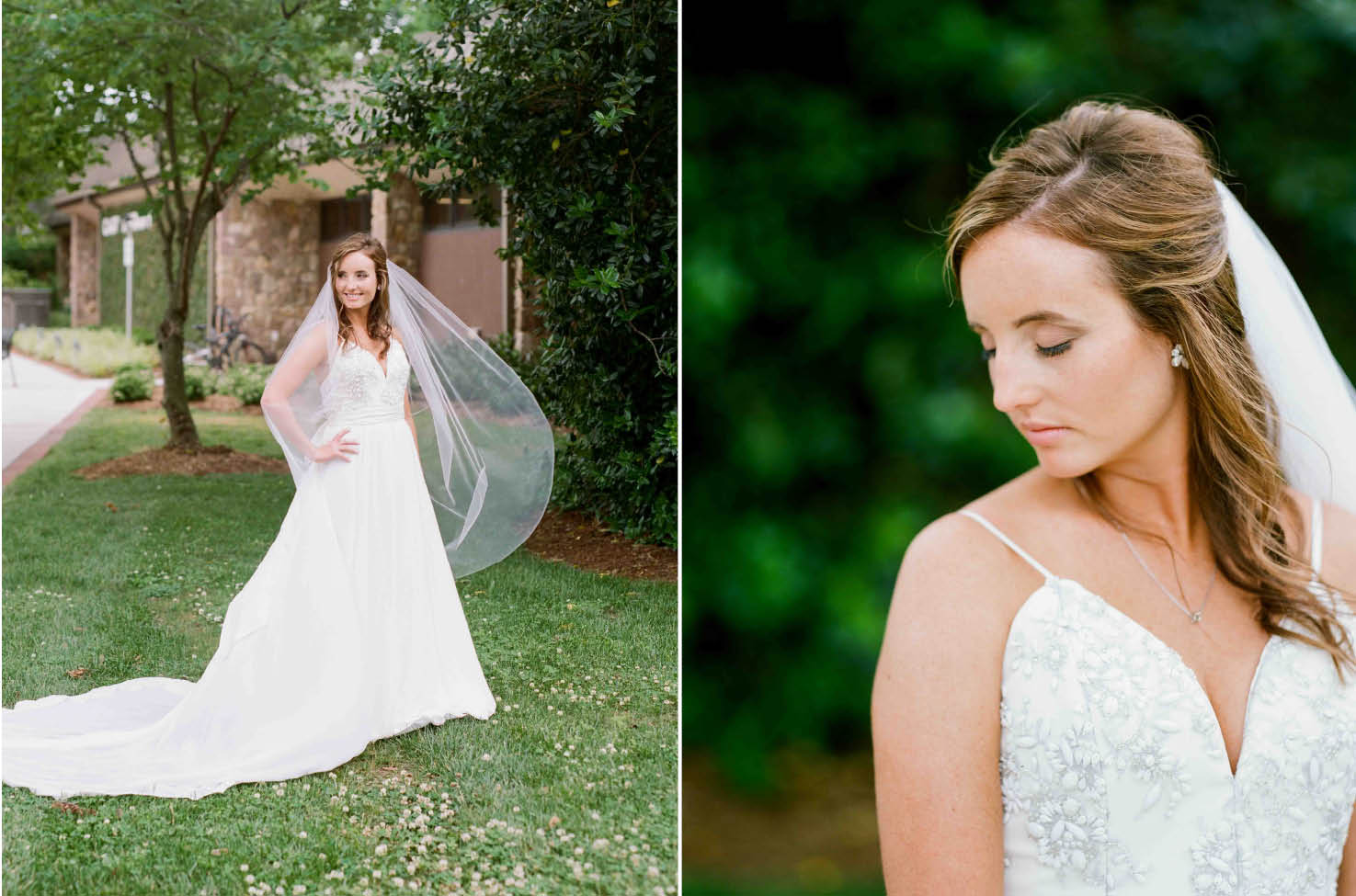 6. It's all about you Let's face it, your wedding day is too.... but it's just different. The time flies on wedding days, and it's usually more about sticking to a schedule than getting to be doted on by you mama, sister or best friend. Having someone help you walk, hold your dress, fluff your train and slip your shoes on does not happen for more than five minutes on your wedding day, but on portrait days... it's like a full 2 hours of fanning you with palm fronds, and who doesn't love that!?
January 9, 2019
January 9, 2019
Since I have been photographing weddings on the coast more and more, I thought I'd share some tips to have a successful beach wedding. Note... a LOT of photographers hate shooting on the beach. I do not. I love it. Here we go!
1. Consider your the time of year you want to get married.
Summer is great and all.... but NO one wants to attend or be in a wedding party when it's 90 degrees. You're just asking too much of your makeup artist, hair stylist and guests. #rant  (clearly I'm talking about the south... if you live in Maine and want a beach wedding... by all means, do you. And bring me... I've always wanted to go to Maine!) If you MUST get married in summer on the beach, consider a sunrise ceremony. Yes, this will mean an early call time, but not melting... and being done with the whole shindig before lunch is dreamy. I've had one sunrise wedding and it was GLORIOUS. The beach was virtually empty, the temperature was delightful and I was back in bed by like 10AM. They served breakfast and mimosas, and then hit the beach for the rest of the day! Erica and Jesse were married mid day at
Shell Island Resort at Wrightsville Beach 
Sun behind us, it was late afternoon.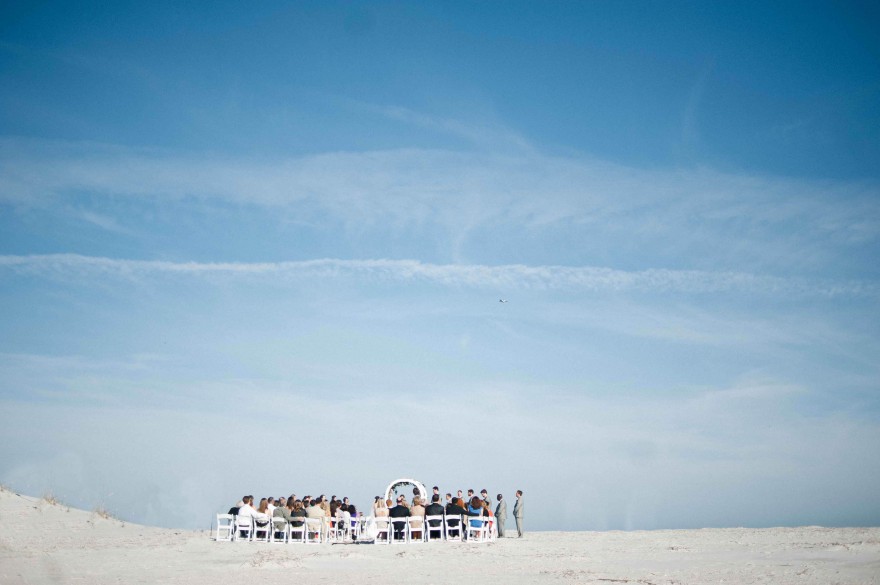 2. Consider the direction your beach faces.
OK, this sounds extreme and probably silly to the average bride and groom... but here's why it's important....  the sun. The sun rises in the east, and sets in the west. If you are getting married on an island that runs north-south, that means the sun will rise over the ocean, and set over the land (we are talking east coast), if your island runs east-west, the sun will rise over one end of the island and set over the other... here's a visual. This is the southern end of North Carolina. The beaches east of the Cape Fear River, run north-south (Carolina Beach, Kure, etc.) while the islands west of the Cape Fear River run east-west (Bald Head Island, Oak Island, Holden, Ocean Isle, Sunset, etc.). If you elect to get married on a N-S island you're more likely to have harsh sunlight in front or behind your ceremony. So either your guests will be staring into the sun (before noon) or you will be lit with full sun in the evening (sun behind your guests, shining on you). If you select a E-W island, the sun will rise to the left, and set to the right in the case of the islands shown/listed. It will offer a little more directional light, and honestly... make pretty photos (just my opinion!) Of course there's exceptions to these rules, like if you get married at the end of an island... it will change your direction, and thus the sun placement will be different.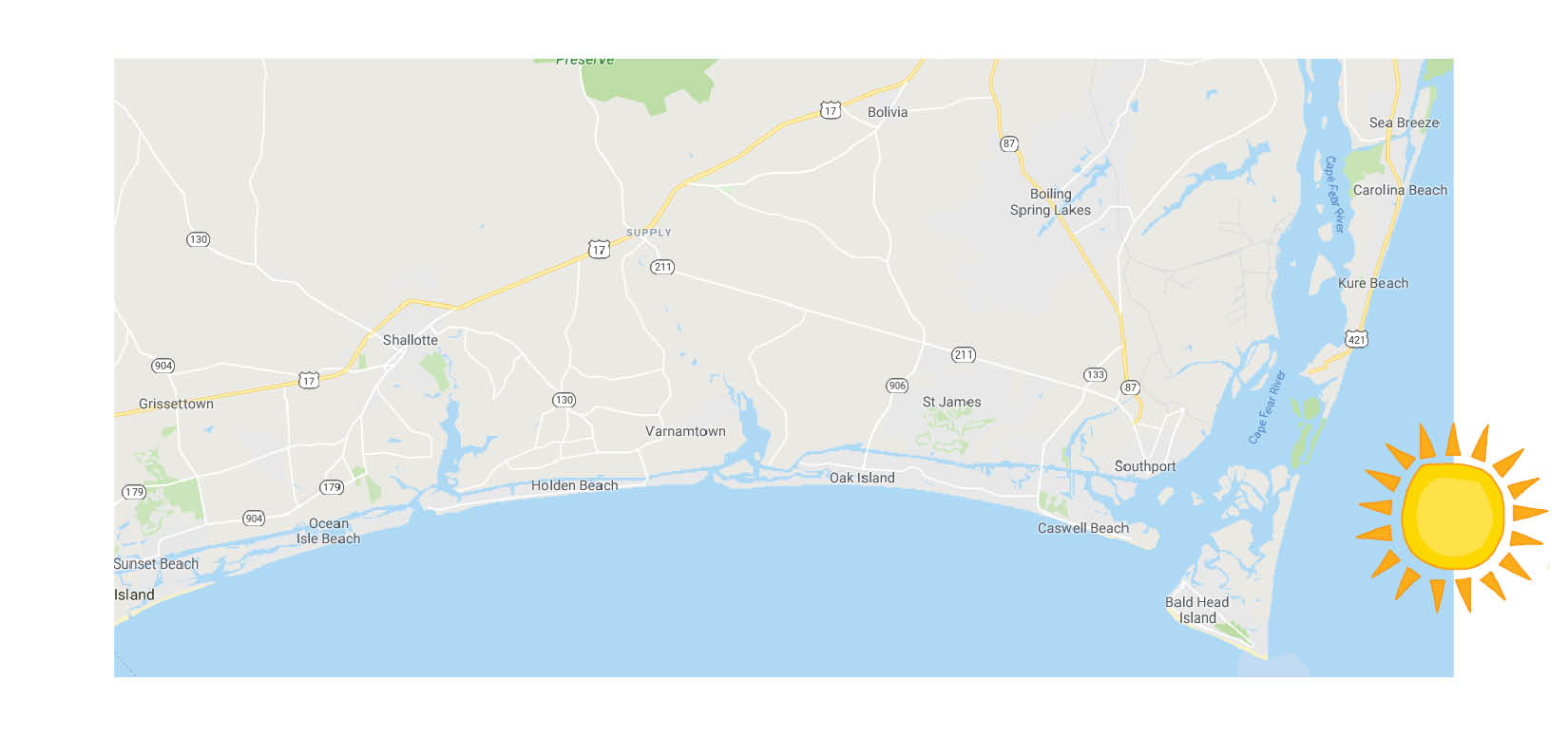 3. Consider the time of day to get married.
This is a 2 part-er.... A. Normally, there's not a lick of shade on the beach, and if it's a sunny day, that can cause harsh shadows across your face. This means, the lower the sun is in the sky, the less harsh the shadows can be. Now... film shooters often love bright sun, I do... so this doesn't matter so much to me. Just know it will be hotter and brighter. B. Bikinis.... warmer, brighter weather brings bikinis.... and no one wants Prince(ss) Consuela Banana Hammock in the background of all their photos. We attended a wedding of some friends of ours on Emerald Isle years ago, on an unseasonably warm Saturday for the fall. This jerk with his rainbow colored umbrella was literally camped out behind the alter! Thankfully he finally moved just before Kristine walked down the aisle! Luma and Aaron got married at Sunrise on
Carolina Beach at the Marriott.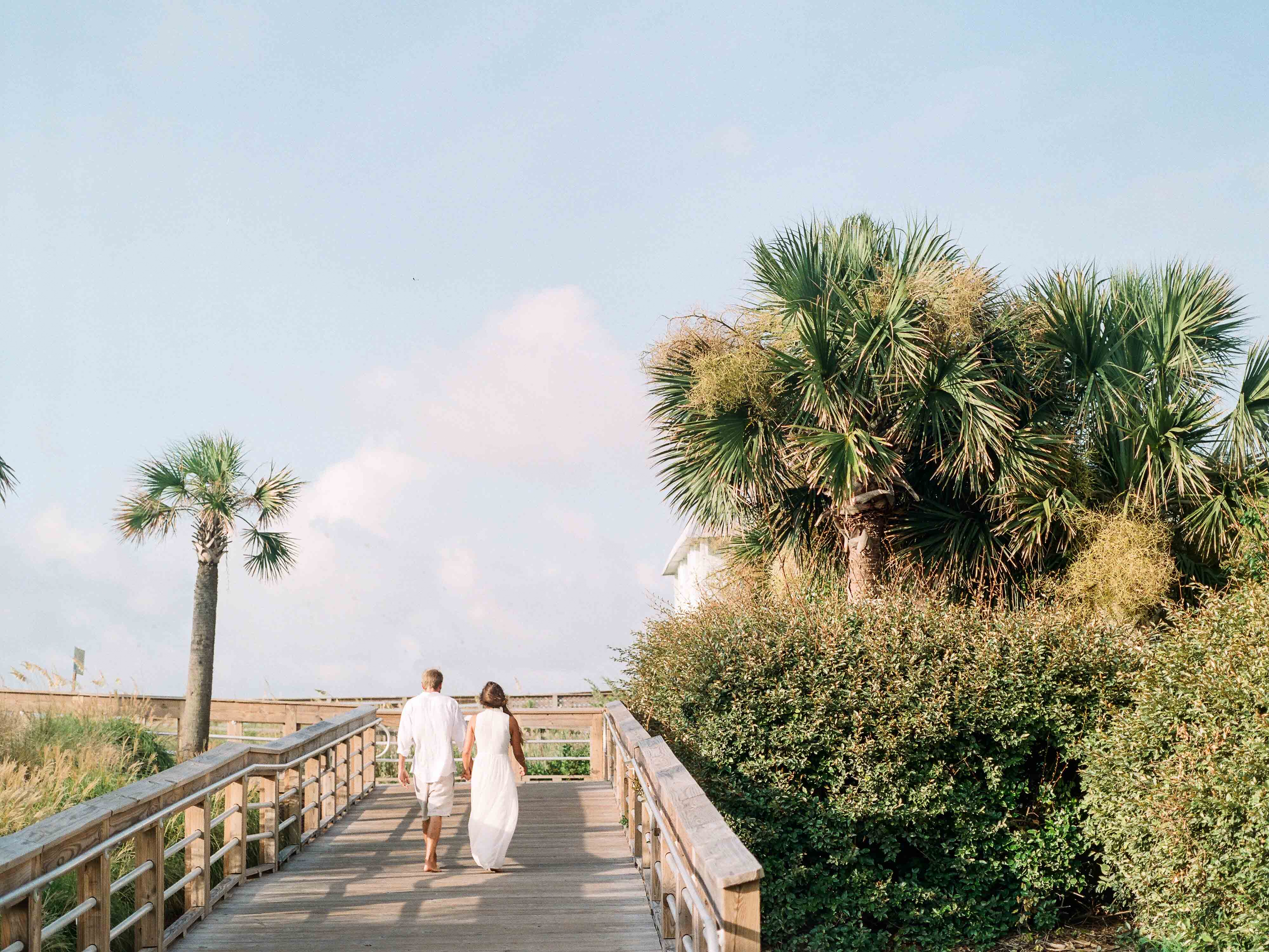 4. Holidays
The weekends surrounding the three major summer holidays will give you a little more of a headache. The weekend of Memorial Day, Labor Day and the 2 surrounding 4th of July are going to be INSANE. Your guests will have a hard time finding lodging if they haven't booked it way in advance and rates will likely be higher. You may even run into surge pricing for vendors, too. Alan and Ashley at
Sandals Royal Caribbean, Jamaica
(yes, they hired us... you DO NOT have to use the resort photographer, and I would highly encourage you NOT to!)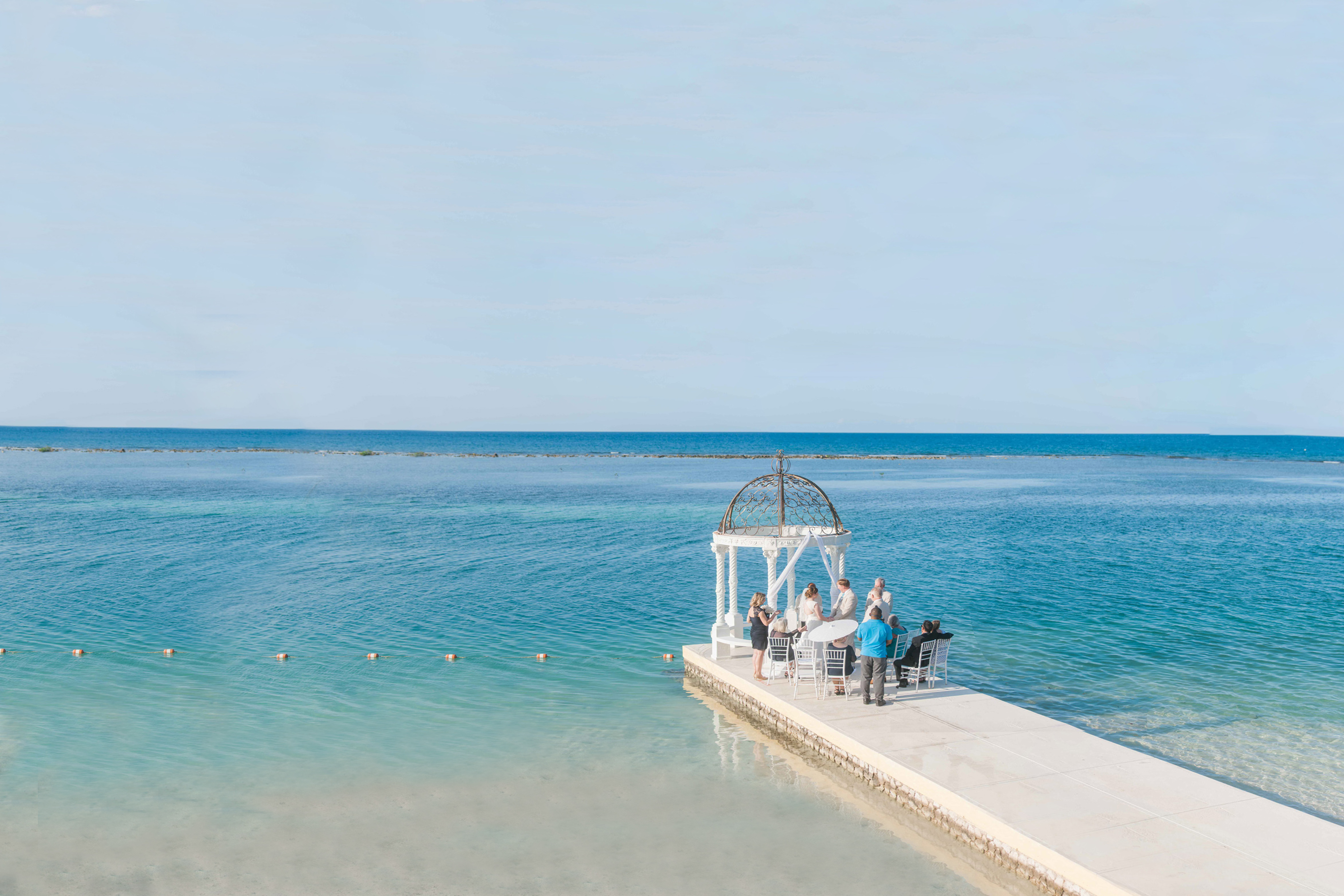 5. Seaside location
To go along with time of day, also be mindful of your nuptial location. If you decide to get married in front of a bunch of high rises, you'll most likely have unwanted spectators at your private event. I recommend either A. a strip of beach that is just home to private houses or B. the far ends of the island. Typically the ends are less inhabited, yielding less unwanted on-lookers. C. a secluded resort-style area (like Shoals Club at Bald Head Island) Catherine and Brooks (shot for Julia Wade) at
Bald Head Island Shoals Club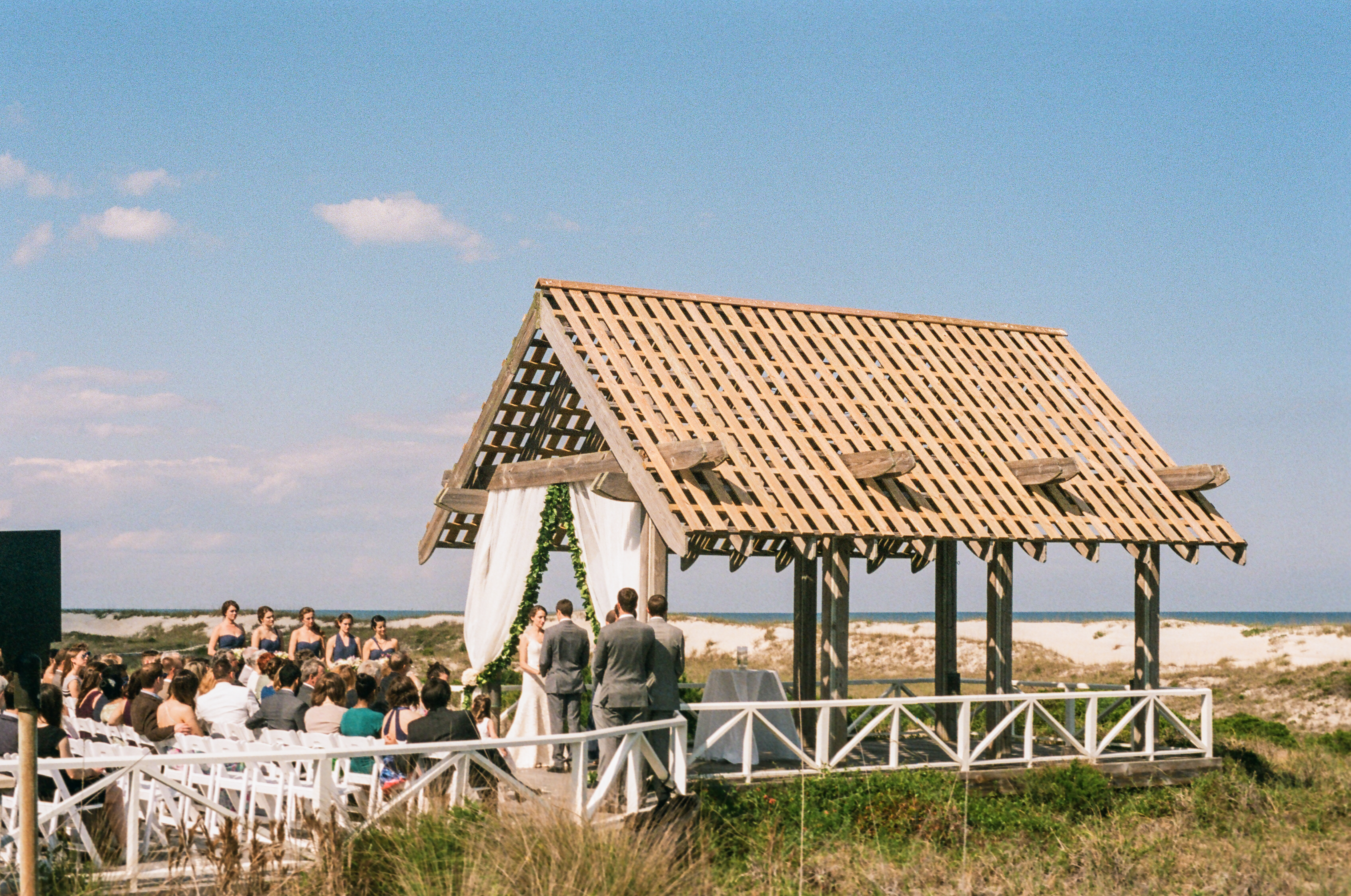 6. Your hair
I love a gal who can rock perfectly undone beach waves, but if that isn't your style, spring for an updo that won't move! The beach is breezy... and down right windy some days, and if you want your hair to stay looking sleek, have it done with all 758 bobby pins! So, there you have my 6 tips to planning a wonderful seaside wedding! I've linked the locations pictured, but I also LOVE
30A on the panhandle of Florida
, and would really like to add an
Amelia Island
wedding to our roster! We stopped by Amelia Island on our way home from the Gator Bowl and fell in love.  Send those my way!
November 8, 2018
November 8, 2018
I've always photographed babies.... although at first (....ahem.... 9 years ago) they scared the beejesus out of me. They seemed to delicate, fragile... and noisy. Fast forward to becoming a mom and I feel 180 degrees different. Well... probably before I actually became a mom. If you're new around here, you may not know it took us 4 years to have Kate, and in those 4 years we tried multiple fertility treatments, and eventually completed our home study, making us a "waiting family" for an adopted baby. During those months and years, I realized how special those moments with a new baby are to a new family. They change over night, they grow out of their jammies, they make new faces and master new tasks. Being a new parent usually means figuring things out as you go, and I've realized that photographing that new family member is no different! Just like I have to guide my brides on how to have a successful wedding day, I wanted to start educating parents-to-be on how and when to capture their new bundle... so here we go!
Milestone Education
I have a handy-dandy guide I send to all my baby inquiries. This lets you know how and when to prep for your sessions with me, but this might come to late for those who didn't pre-plan their sessions. I realize as a photographer, I had my sessions planned months and months in advance (maternity, fresh 48 and newborn)... but many of my clients do not plan in advance. My last two baby sessions were booked after baby arrived....thankfully, I had wiggle room in my schedule and could get them in, but planning ahead is always best when possible.
Fresh 48
I get that not everyone is into birth photography (I wasn't... although I do have a little regret over it), but a Fresh 48 session is a MUST. Those first hours of life are really unique, and unlike anything you'll ever experience. Not only does it capture the setting and new baby, but it also has a wonderful side effect.... you have a reason to look and feel human. I felt a little less like a mack truck hit me once I had showered, put on makeup and fixed my hair for the session.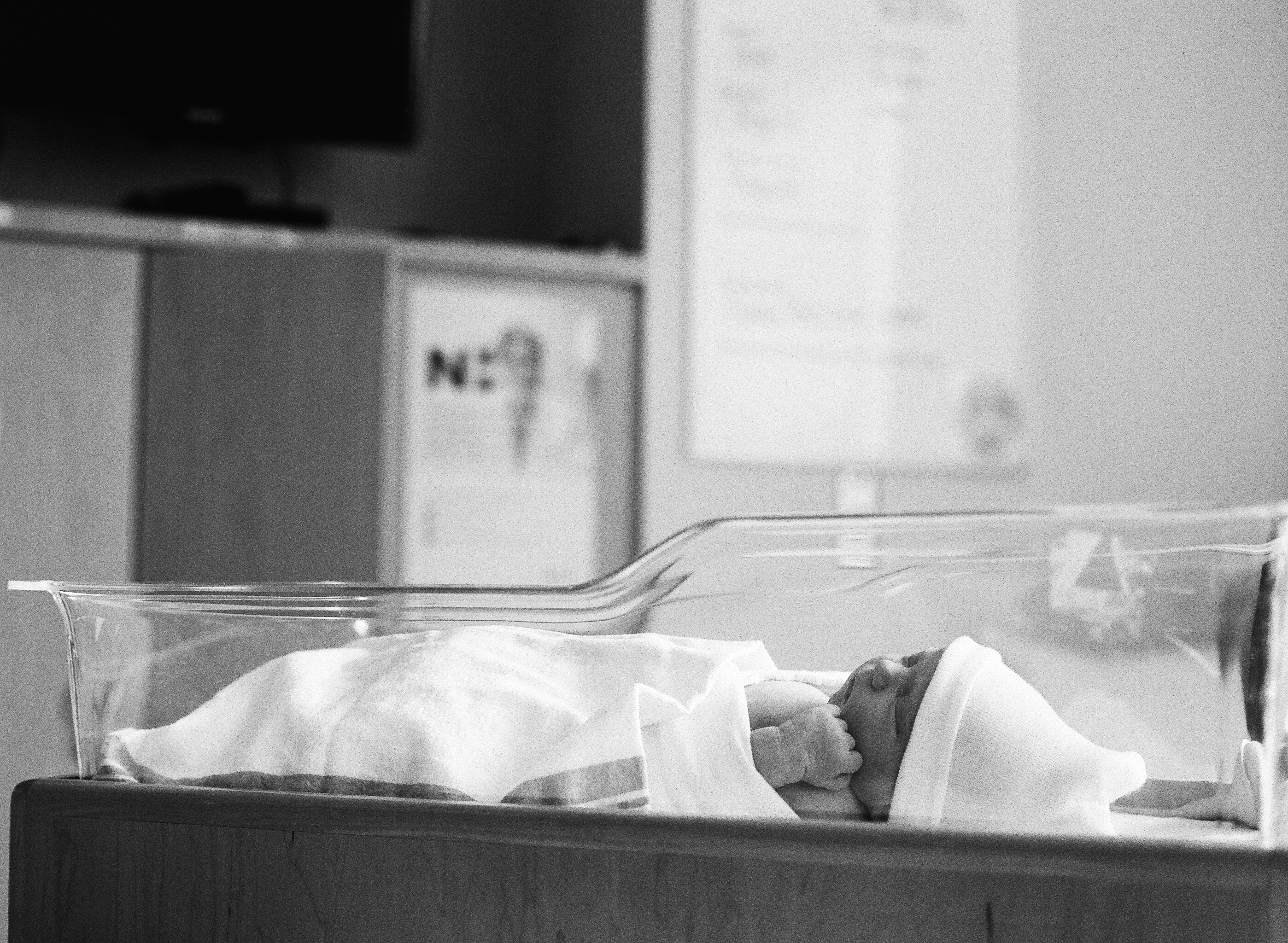 Newborn
I think we all agree that the precious newborn stage disappears the fastest. Within days or weeks, babies start to gain muscle strength, holding their heads up, and eyes open for longer and longer. This is why I (and most photographers) advocate to photograph your new bundle withing the first 2 weeks of life. [caption id="attachment_8350" align="alignnone" width="1475"]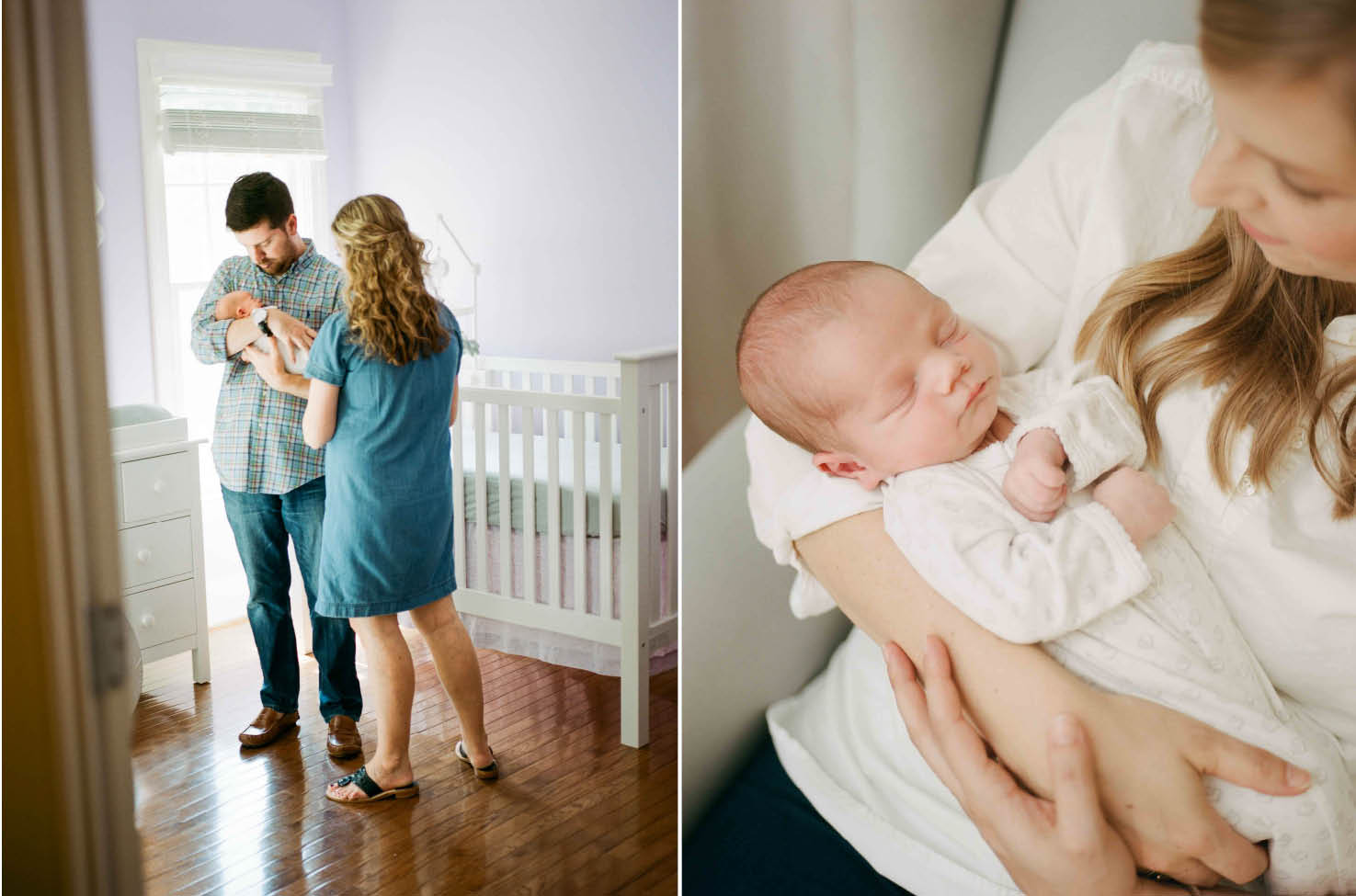 Kennedy Maddox (left) Tripp Mann (right)[/caption]
Three Months (push ups)
The three month session often gets over looked. Maybe it's the fact that your hormones are balancing out finally, or you just started back to work... who knows. Why capture your babe at the three to four month mark? They've probably mastered pushing up on their arms at this point, and their big doughy eyes are just looking the cutest! They are also likely interested in their own fingers and toes! [caption id="attachment_8352" align="alignnone" width="1475"]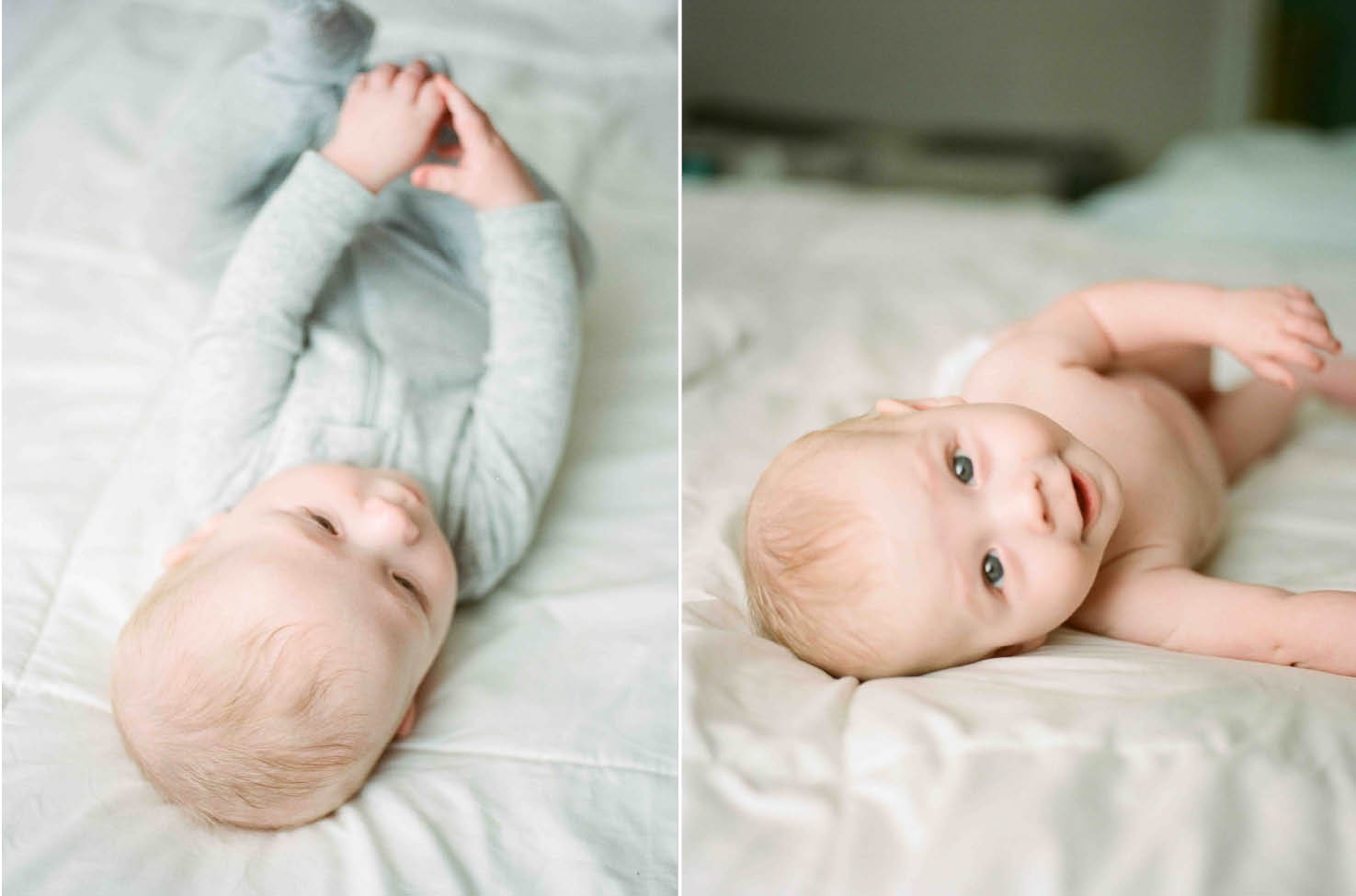 Harrison Levine[/caption]
Six Months (sitting)
Six months has just about become my FAVORITE to photograph!! Around the 6-7 month mark, most babies are able to sit unassisted, but they aren't mobile yet. They sit, and they might giggle and smile for me too at this age. It's SO fun! [caption id="attachment_8353" align="alignnone" width="6016"]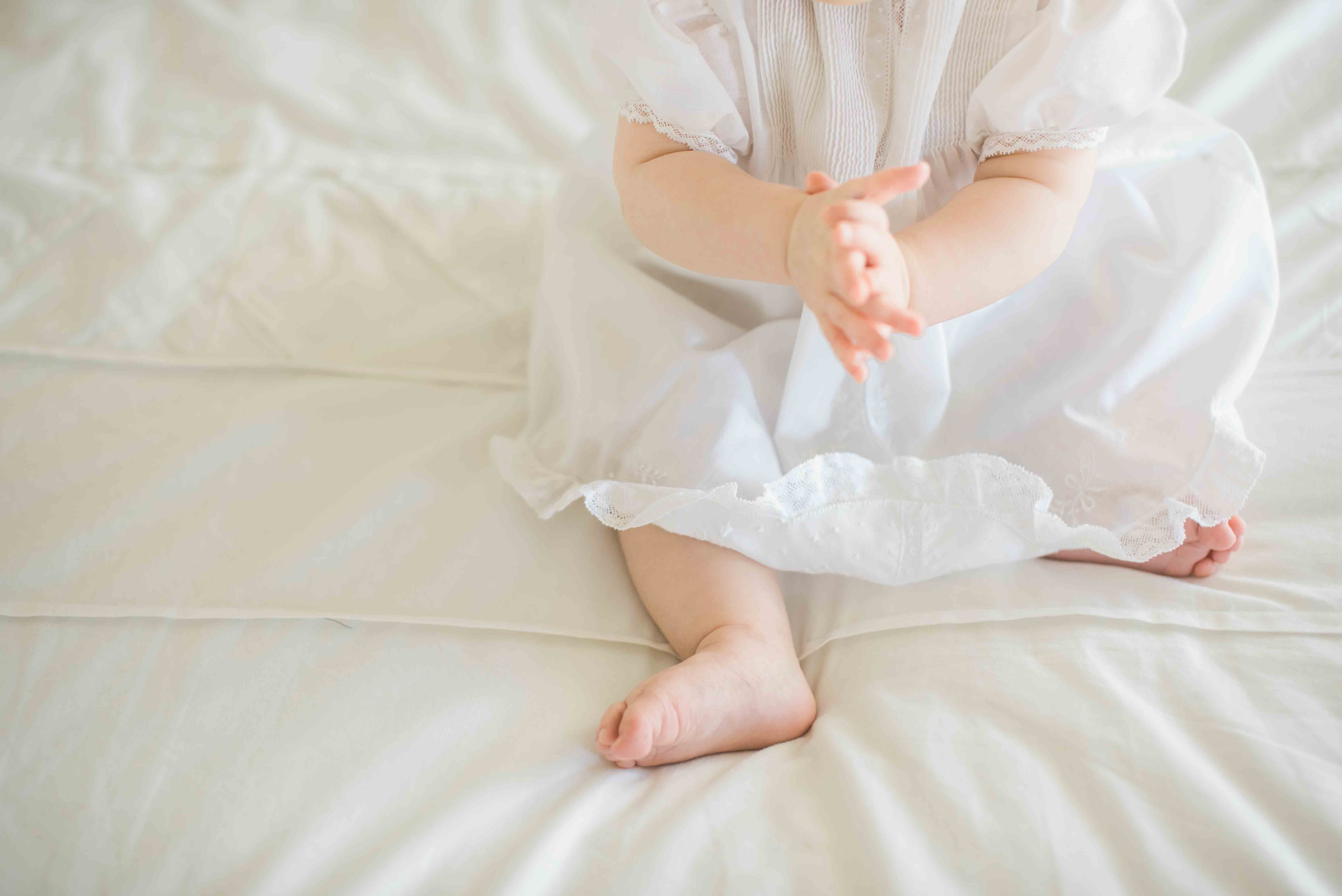 Emery Testa[/caption] [caption id="attachment_8206" align="alignnone" width="3965"]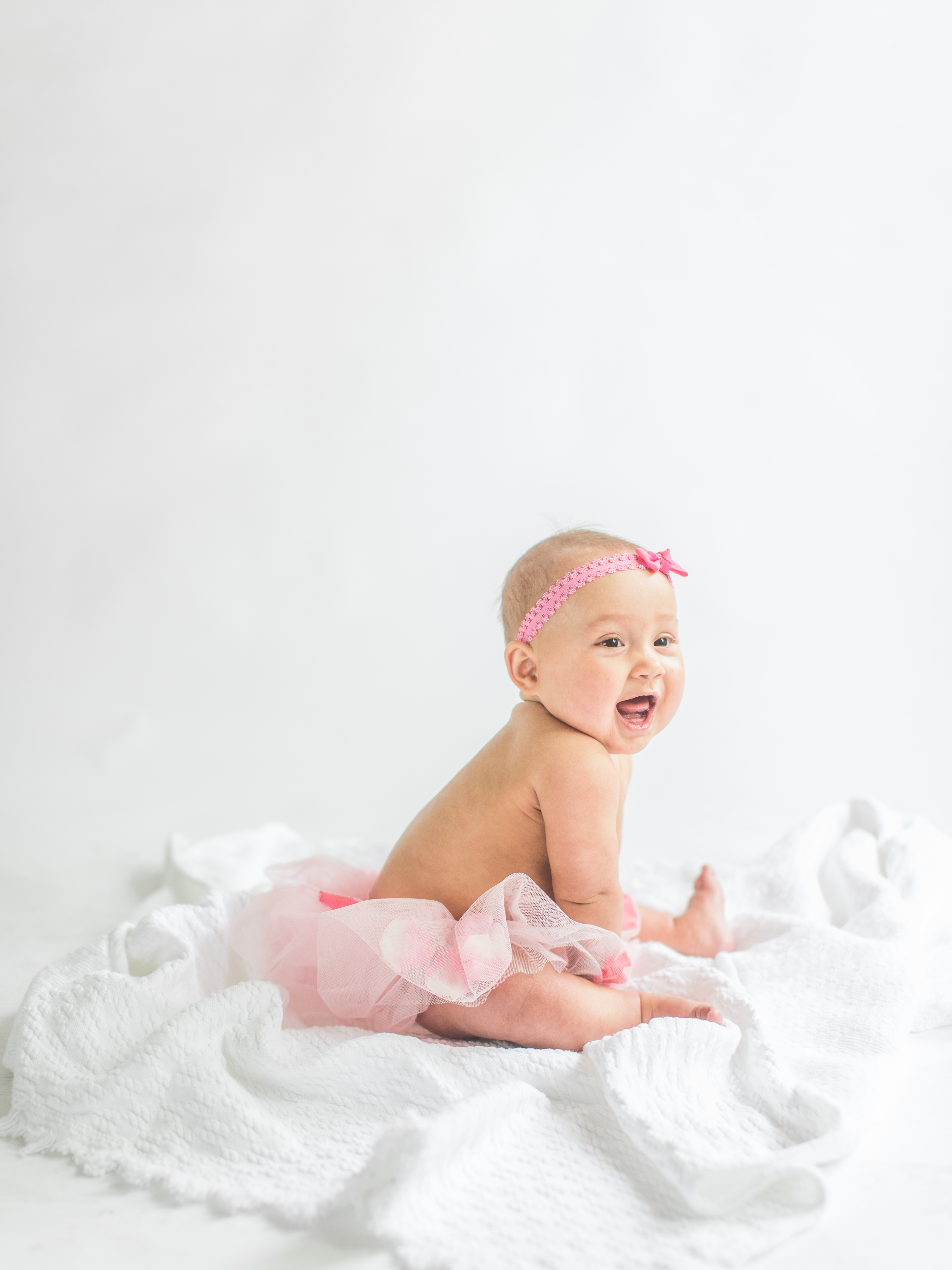 Athena Hoffman[/caption]
Nine Months (crawling)
[caption id="attachment_7464" align="alignnone" width="2400"]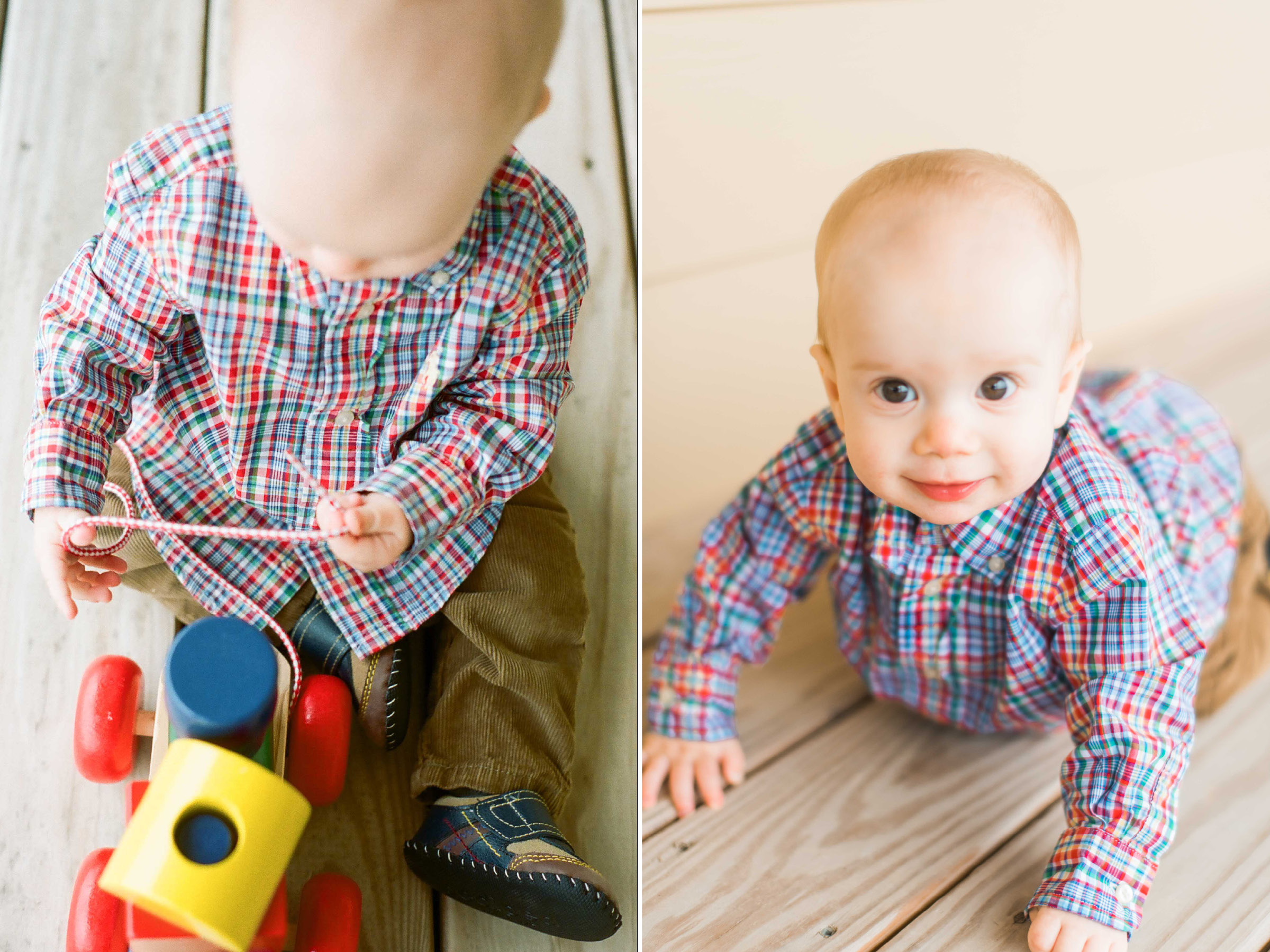 Jameson Riggs[/caption] They are now on the move!! While this gets more challenging for me as a photographer, don't you remember how excited you were when they finally got the hang of one knee in front of the other?! I know we squealed when Kate finally mastered using both knees to crawl, instead of just using one and army crawling.
Twelve Months (standing/walking)
I mean, it's their birthday and all.... but you just successfully kept a human alive for a YEAR! Even if they aren't walking just yet, they are likely standing up (even if holding on to something). And let's be honest, it offers us wardrobe-conscious parents a whole new world of outfits that look cute when baby is finally standing! [caption id="attachment_8065" align="alignnone" width="1475"]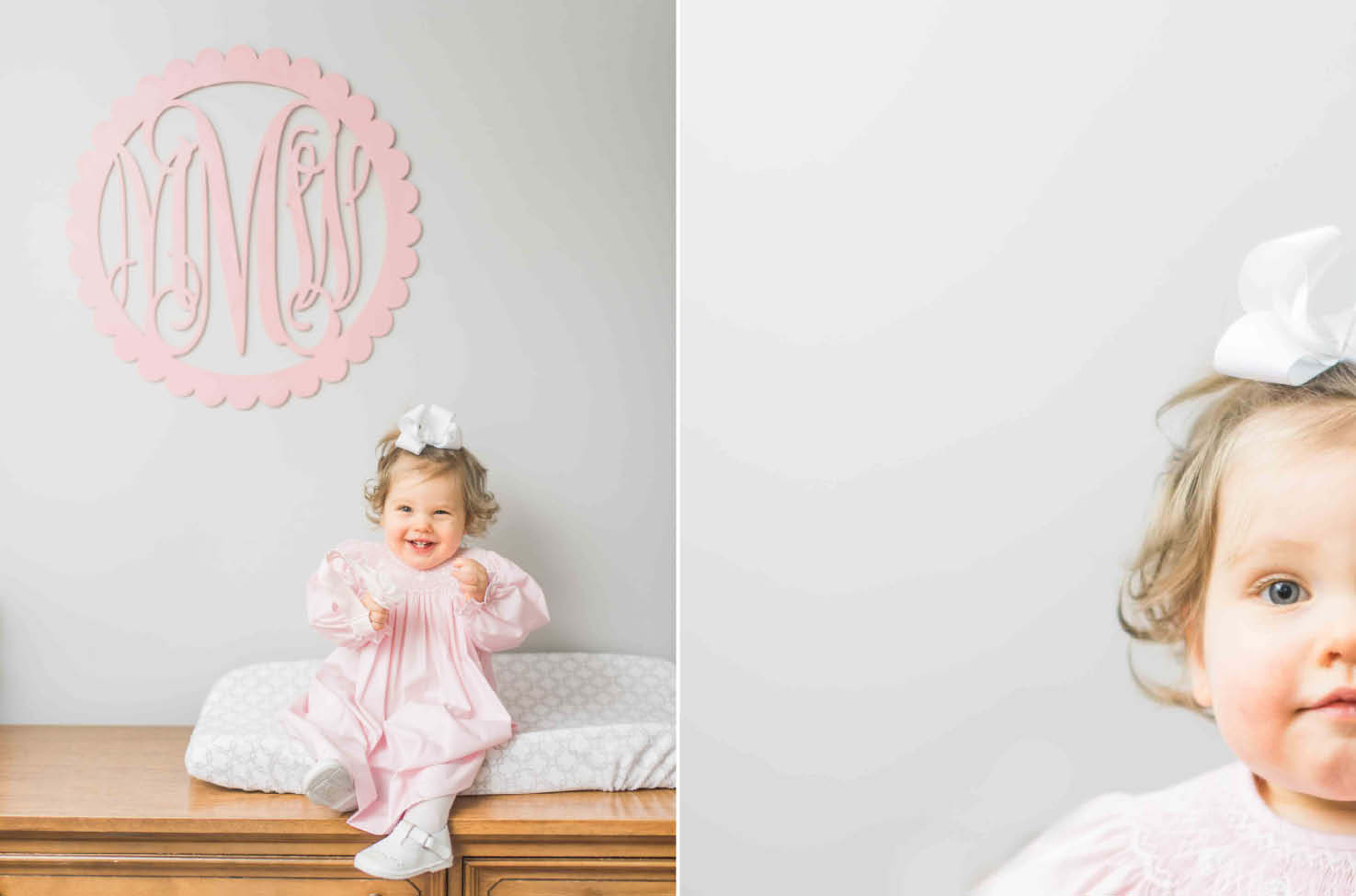 Mary Watson McBroom[/caption] I hope you have a better understanding of when and why to photograph your new bundle!!