I read them all. Navigating my way through all those must-have lists. They basically included everything but the kitchen sink for you, your babe and your hospital bag. Trust me, 99% of it is overrated. Nearly 6 months later, I reached back into the cobwebs of newborn-hood and really though about what we needed and used. You'll notice I left diapers and car seat off the list… those are non-negotiable, duh.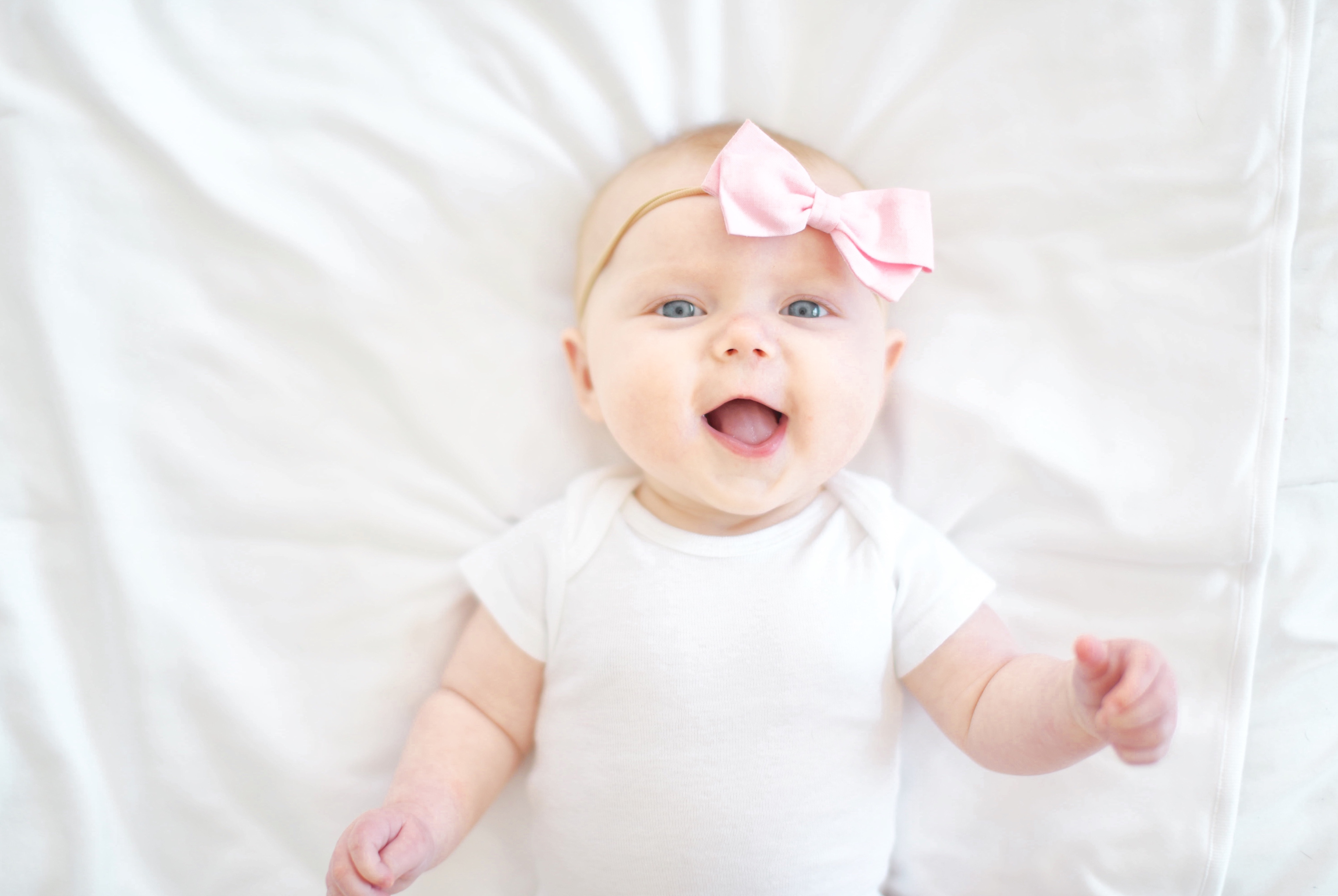 So, here we go… let's start with mamma. Taking care of yourself those first few weeks is a headache, be prepared. I had a (rather traumatic) vaginal delivery, so I don't have suggestions for c-section moms.
I naively thought I'd be dressed in a hospital gown the whole time I was admitted. Nope. As soon as they were ready to move me to my recovery room, the nurse asked what I wanted to change into…. ugh…. I had literally brought my pretty robe (for our fresh 48 session) and a maxi dress to wear home. So I had her grab the robe and nursing bra, and I lived in that outfit for about 48 hours…. no joke. I did send my sister for a change of clothes, but I never ended up wearing them.
Your lady bits will be getting some regular attention to make sure things are healing and swelling is going down, so pants really aren't the best option while you are in the hospital (a big reason I stayed in my robe was for Dr./nurse convenience), but a nursing gown would work too.
Ready to go home? Great. Don't wear a maxi dress, like me. I thought, it will be August, hot, miserable, this is the best choice. No. Just NO. You will have everything but the kitchen sink wedged between your thighs, and you will want the support of pants to help hold it all there. I really thought I was going to have a mishap on my waddle to the car.
I pretty much lived in nursing bras/tanks with athletic shorts or leggings those first few weeks. So, stock up a few pairs of each to rotate through…. #aintnobodygottimeforlaundry
Nursing Tanks (any brand will do) I have some from Target and Walmart (actually prefer my Walmart one because it's thinner)
Leggings
Robe (similar to mine)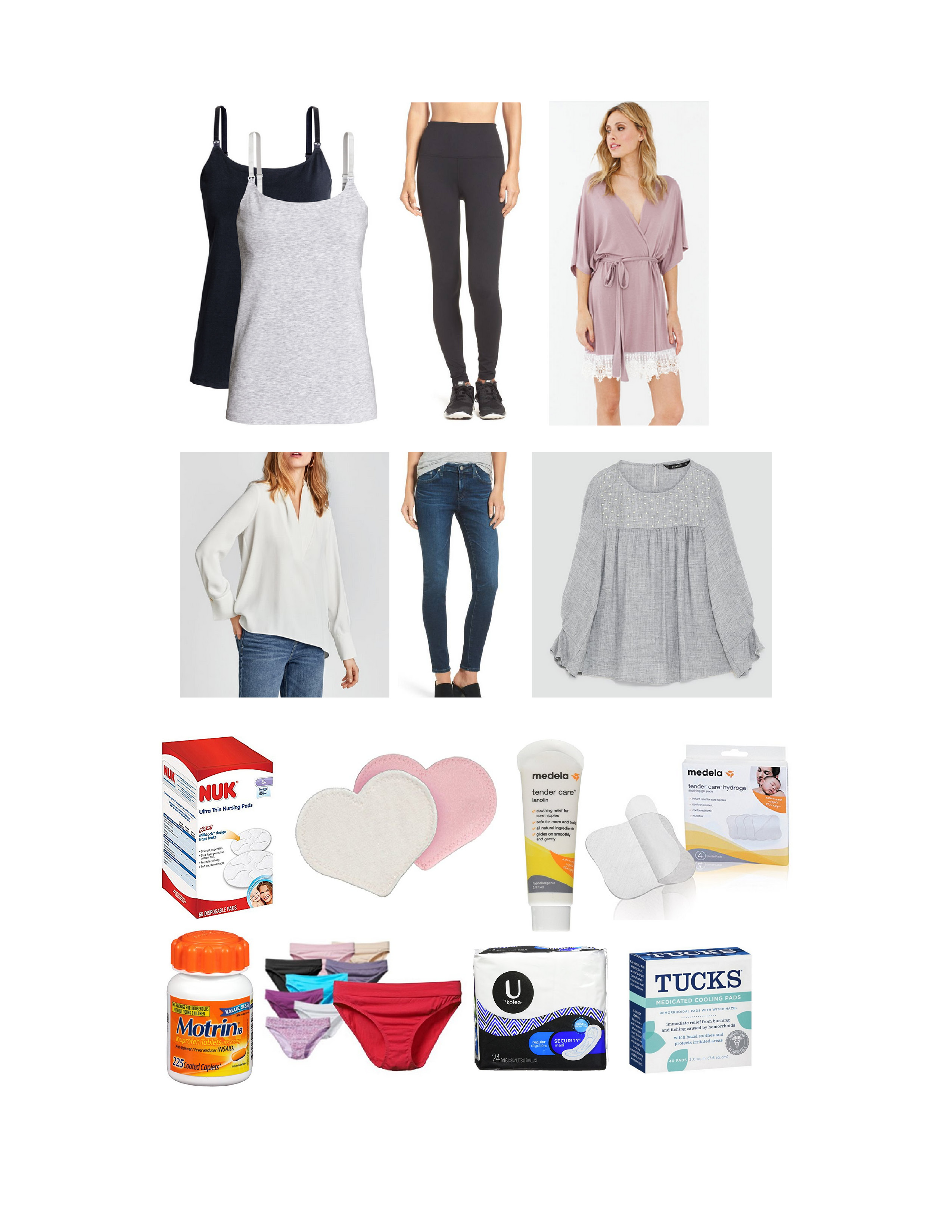 You're probably confused by that second row…
You see, at some point, you will want to wear something "normal" but you won't fit into your pre-baby clothes just yet (pants especially!) You will also likely be having newborn photos taken during those first few weeks… Shit. What the hell are you going to wear (because yes, you will in fact be in some photos) Get yourself a white/gray/cream tunic style top and some jeans or leggins to wear. The light color top will keep your photos neutral and not cast an ugly color on your babies skin (go ahead and get dad a new shirt too!)
Gray Top
Jeans (just a reference, I know these are pricey)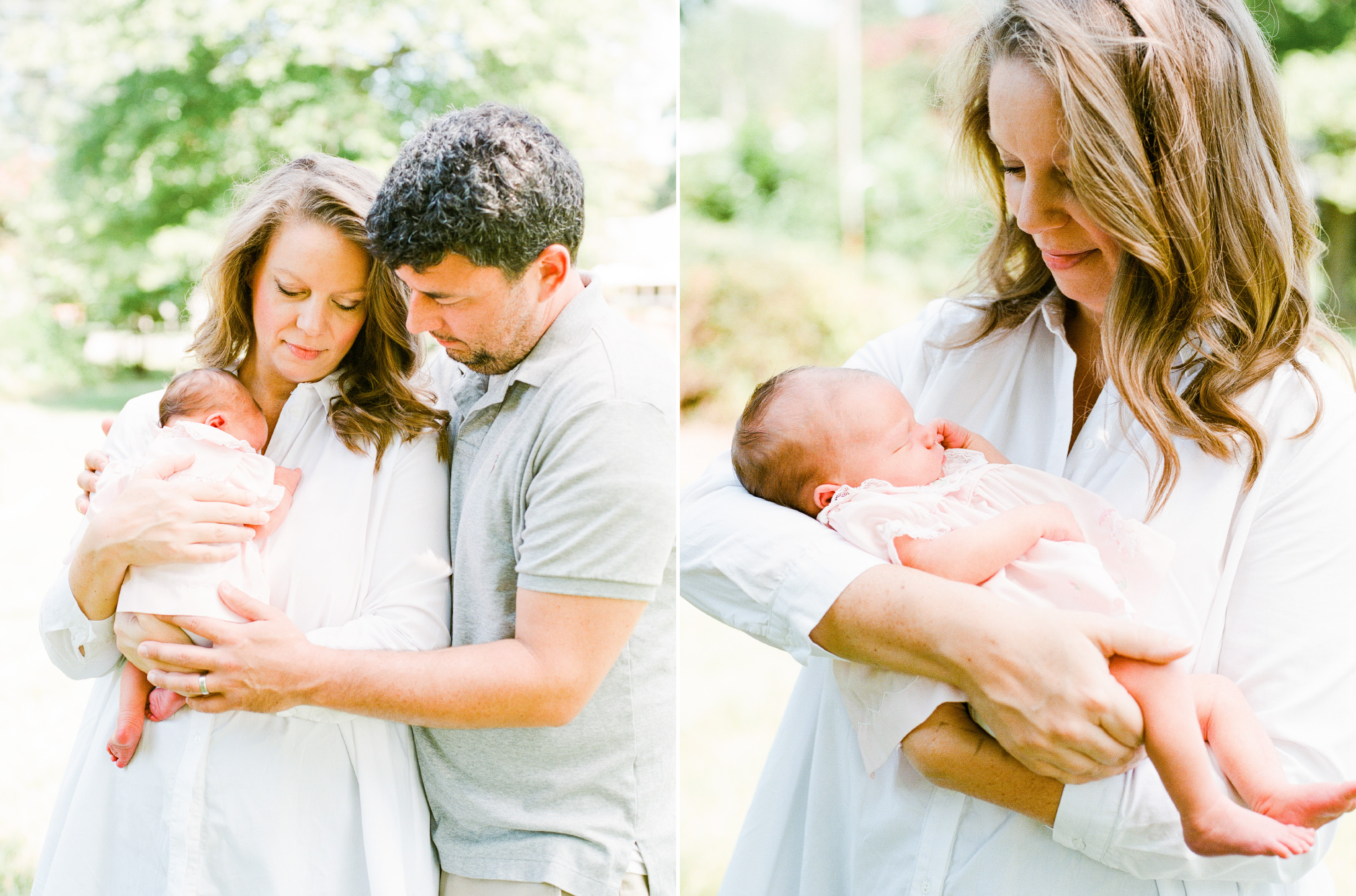 *Images by Lauren Jolly Photography
The ugly necessities come next. If you're nursing, that next row is all you… boob leakage and pain is real, be prepared.
Nuk nursing pads. These are simple and well for someone not spewing tons of milk.
Bamboobies nursing pads. These are my favorite. They are super soft and do the job well.
Medela lanolin. I had samples of this given to me at the hospital and ended up liking it better than the Lansinoh brand I had tubes of.
Medela hydrating gel pads. This is for when you want to rip your nipples off and/or never let anyone or anything touch them again. They were a God-send.
For your lady bits.
Motrin. I lived on it for the pain down there, as well as breastfeeding pain.
Fruit of the Loom undies. I actually bought and wore these pregnant… I'm still living in them. Seeeexxxxxxaaaayyyyy. Apparently some hospitals give you decent undies to wear, ours did not. They were mesh, and too loose to really hold much in place. I was much happier in regular granny panties.
Kotex. Don't get fancy with wings, your thighs will hate you after a few days of that plastic rubbing.
Tucks pads. These were nice, and cooling. Some people swear by dermaplast, but I didn't find it did too much for me.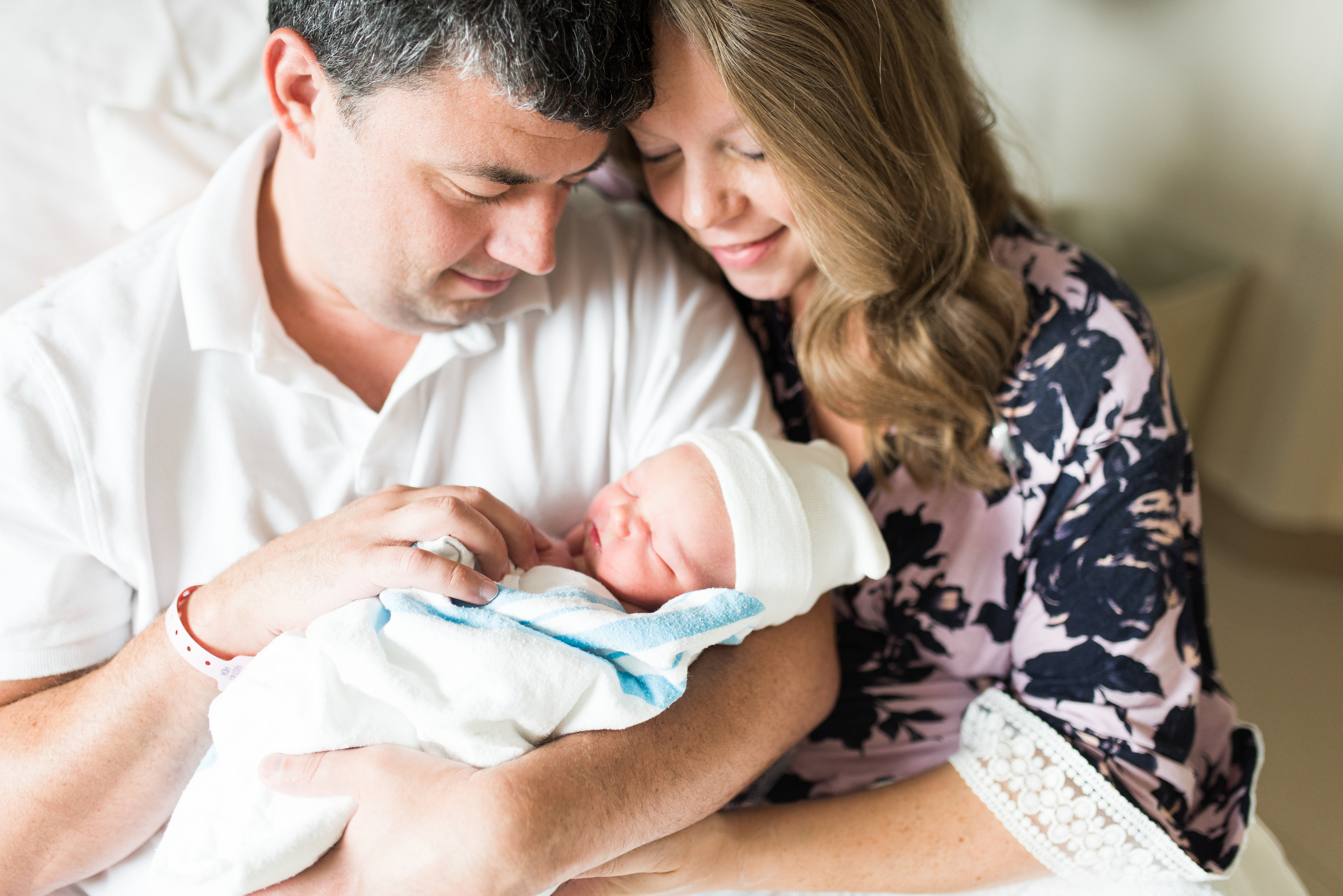 *Images by Lauren Jolly Photography
OK, on to baby! Despite the thousands of items available, 99% of them aren't necessities… you really just need diapers, wipes, jammies and a spot for them to sleep. Everything else just makes life a little easier… here's what we've loved!
Aden and Anais kimono one-piece playsuit/jammies. Babies seem to have giant heads, and I hated pulling tiny onsies over Kate's noggin… so these just snap around her and we love them. Bonus is that they are muslin and get softer each time they are washed!
DockATot. I cannot rave about this thing enough. It was by far the most expensive thing we bought, but she's slept like a dream in it every single night. It's 100% breathable, easy to wash and super light weight. We even few it with us to Washington and California back in November. We used it in her cradle and now have it in her crib.
Blankets! You'll get tons of them as gifts, keep them all. We have stashes of them all over the house, car, etc. Muslin ones are our favorite.
Zip up jammies. When your baby is up 4+ times a night and you need to change diapers, this makes it so much easier when you are a zombie. Snaps can be hard, guys, real hard.
Solly wrap. I am not crunchy, but damn. This is the only thing that allowed me to do anything human. I waited until Kate was 5 weeks old to buy it, and wish I'd had it from the get-go. She just lulled herself to sleep for hours in it, and I could cook, shop, clean, eat, etc. I still use it!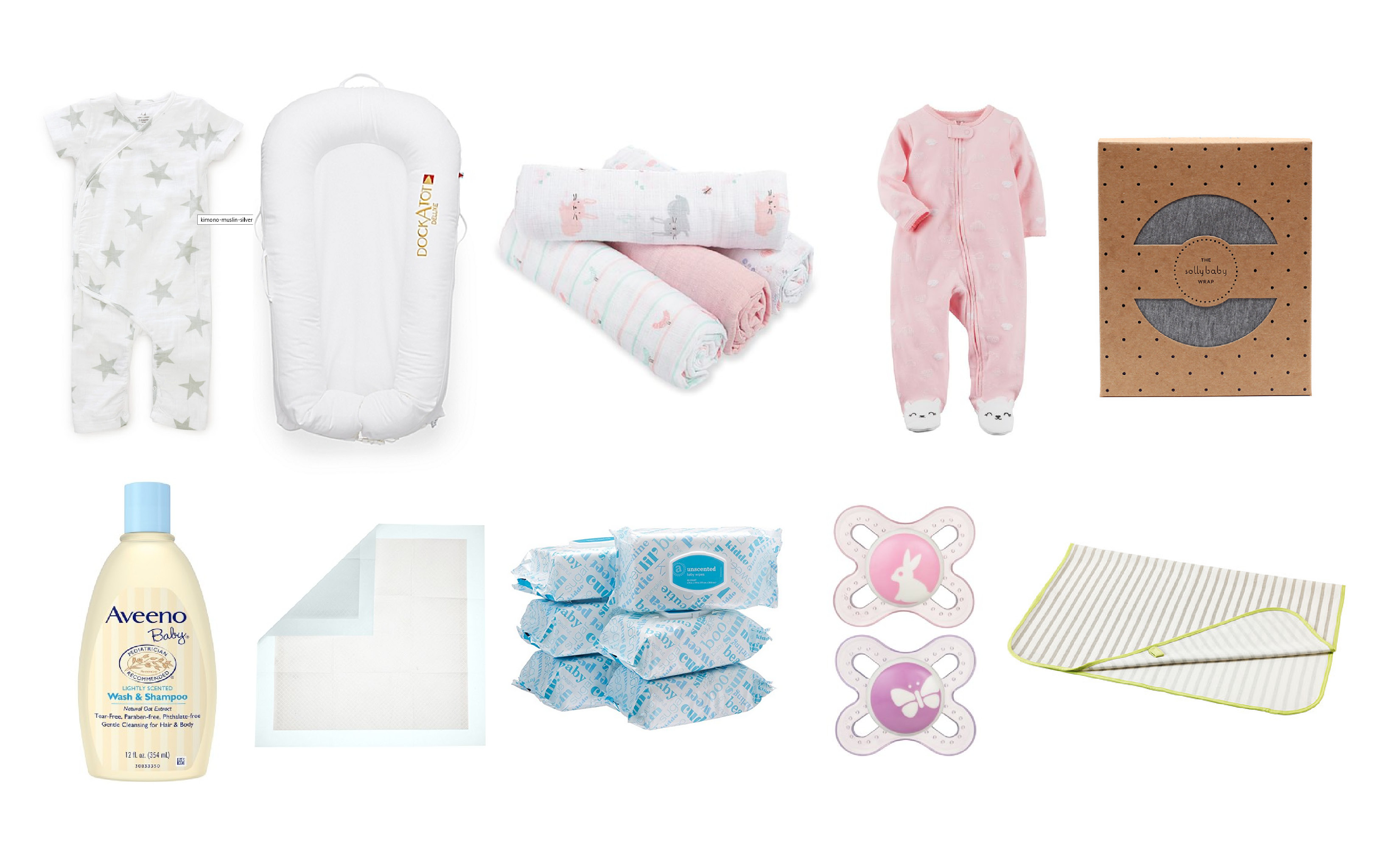 Baby soap. We use Johnson & Johnson and Aveeno interchangably. We got a bunch of sample bottles from the hospital that are great for travel and we got a big bottle of Aveeno that we use weekly at home.
Puppy pee pads… hear me out. Karen sent me a box and I was confused, too. Put one on your cute changing pad for when baby pees or poops mid-diaper change, or when that diaper has exploded. Put some with your diaper bag pad… because who wants a poop covered changing pad in their bag, and then have to walk around with it?! (on a related note, keep a gallon-size ziploc in your bag for a place to contain diaper exploded clothing and doggy poop bags for smelly diapers you cannot immediately throw out!)
Amazon essentials wipes. We have used a bunch of different kinds, and like these best. Why? BECAUSE YOU CAN GET THE DAMN THINGS OUT WITH ONE HAND. Nothing is more infuriating than wipes that stick together and you need 2 hands to get one free from the container.
MAM pacifiers. We just liked these best.
Ikea changing mat. Again, another item Karen sent us that we love. It's easy to keep anywhere… your bag, your bedroom, car, etc. We've kept ours in our master bedroom since Kate slept in there until recently.