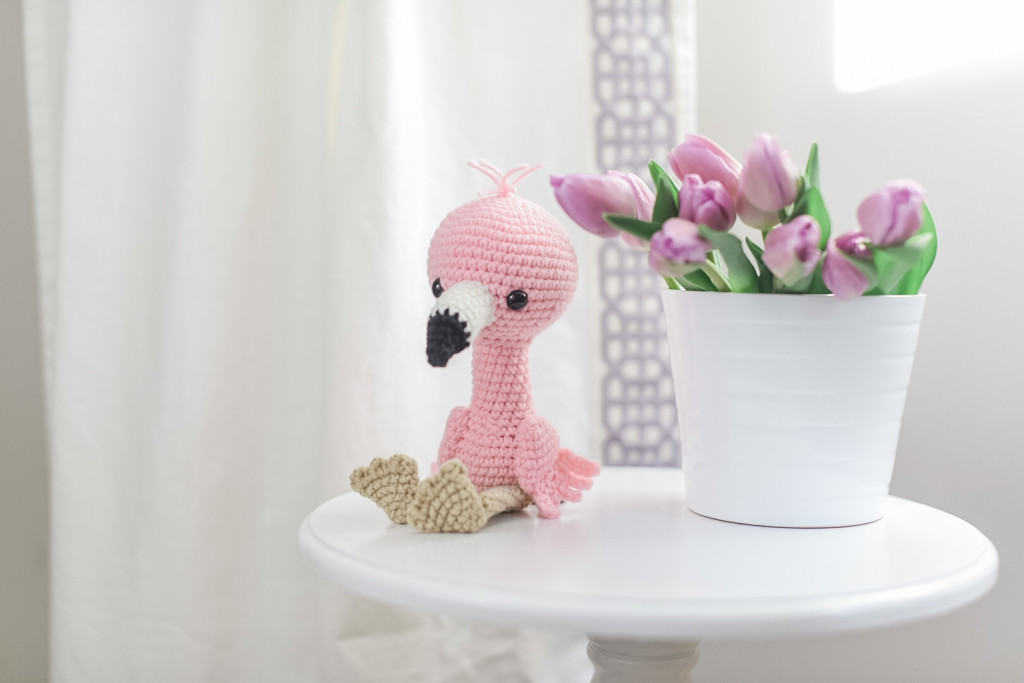 Well, as suspected, I haven't been able to stay on track with the One Room Challenge with my travels and work… but we have made progress!! The only thing truly up in the air at this point is the light. I ordered one, it arrived and it's tiny! So, back it goes and the search continues.  Check out my other posts here and here!
Curtains: The curtains have been finished and hung! I finished them a few weeks ago, but had to wait on the curtain brackets to arrive… then for Jeremy to help me hang them. I am ecstatic to say, they were hung yesterday and are PERFECT!
Crib: The crib has been assembled for months (we actually assembled it 2 days before finding out we were pregnant!) but of course the linens took time. They are all in, and I found the perfect blush pink pillow to add to it (just for pretty purposes). The white pillow is from my stash when we sold our old house a few years ago.
Roman Shades: The fabric arrived last week and I took it over the the seamstress, hoping they are finished quick because I've been SO excited about this piece for months!
Dresser: We decided to paint the dresser white! The painter is a little backed up, but it will be completed by July. So…. just pretend the dresser is white, kthanks.
Glider: We hit the jackpot! A friend told me about the Transit Damage Freight store in Charlotte, and how they carry the chair we were interested in, the Natasha chair from Best (they can order all Best Chairs, if you're local!). They didn't have it on site though to see, and I wanted to tush test it before ordering. We found it in another shop, liked it and decided to go for it. The shop we saw it in was like $600 just for the chair, but at Transit Damage, we got the chair and ottoman for $501! We got it ordered on Saturday, and it should be here my mid June. We ordered it in navy.
I also found a little white side table at HomeGoods to have next to the glider. A little perch for water, phone, bottle, etc.
Art: I went up in the attic searching for prints I made in high school (and didn't find them) but did discover an 8×10 print from my first birthday! I hung it over the crib, and will get one of Jeremy to hang with it. I may take them down and re-print them in black and white instead, we'll see.
I still have to get the blanket framed and hung in the acrylic sheets. I think it's going over the dresser.
Sources: Dresser & Crib (vintage), Chair & Ottoman, Rug (old from TJMaxx), Side Table (HomeGoods), Curtains, Trim, Shade Fabric, Curtain Rods, Curtain Brackets (purchased from eBay), Hamper (Marshalls), Crochet Flamingo, Acrylic Sheets & Hardware
BEFORE: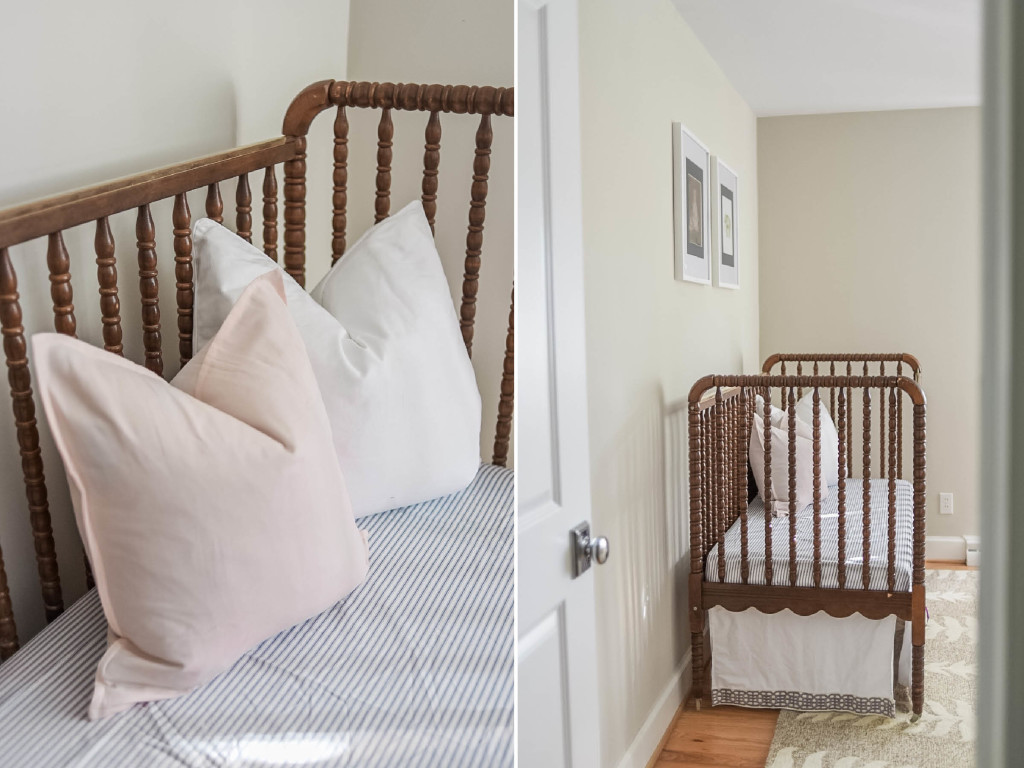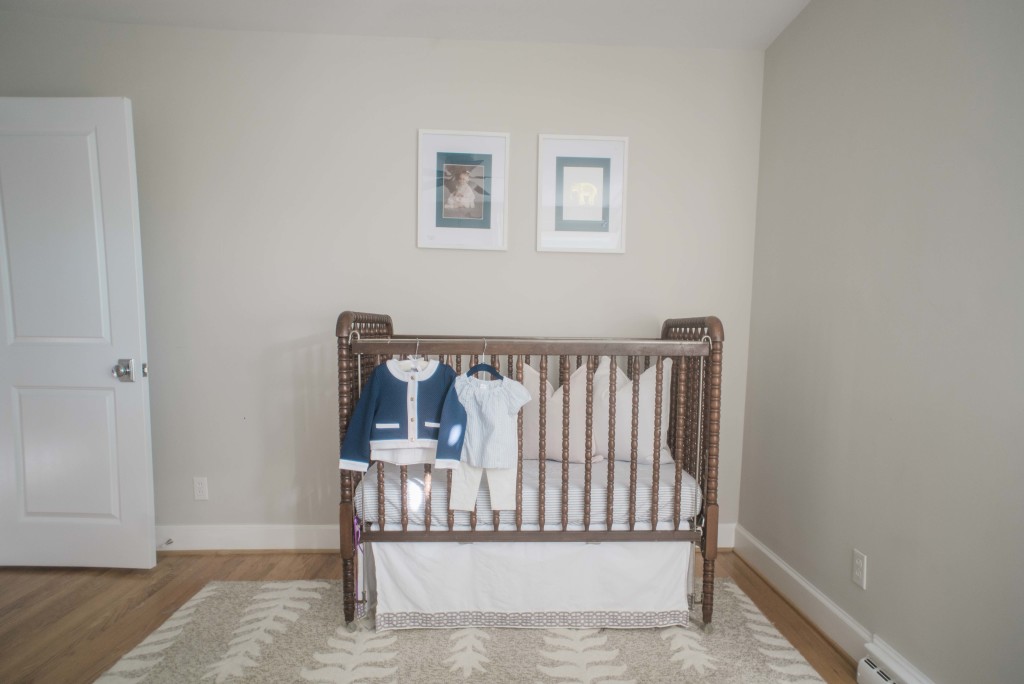 The navy & white stripe bin is being used as her hamper.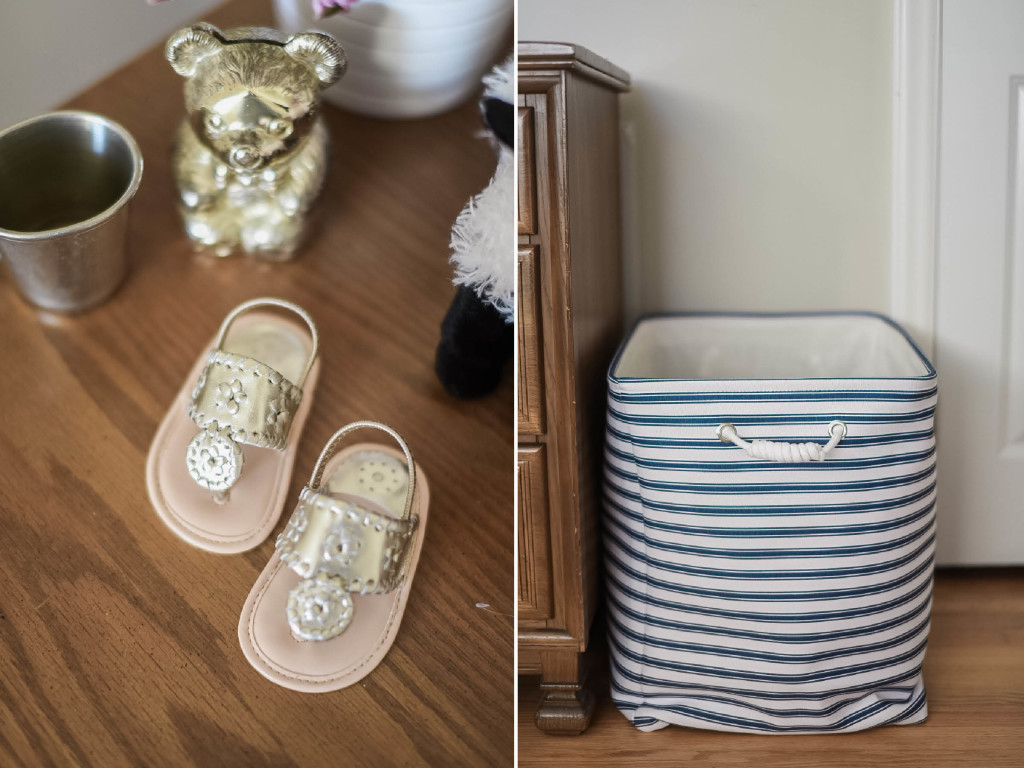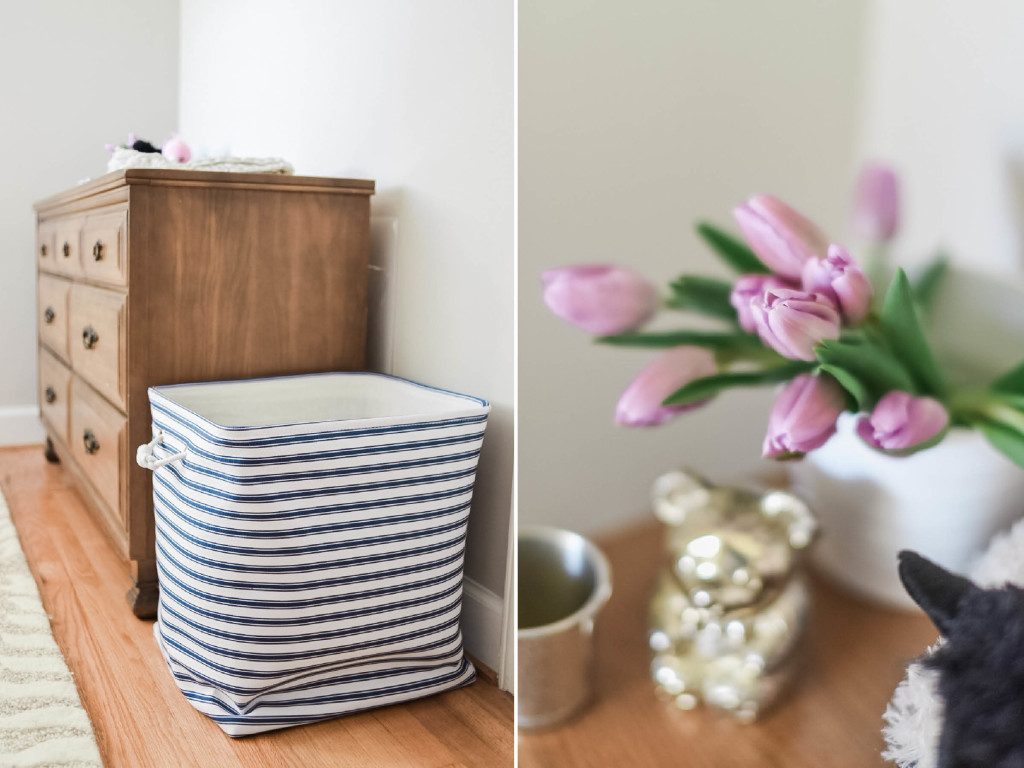 Pretend the blanket is framed and hung above the dresser, and there's a changing pad on the dresser…. and the dresser is white with acrylic hardware…. #useyourimagination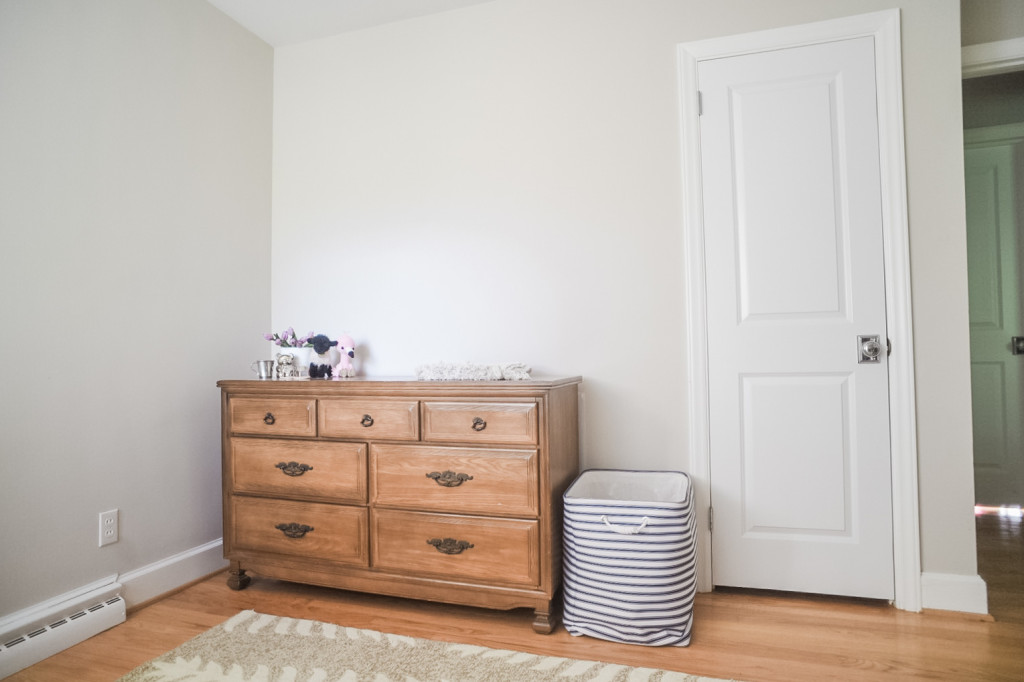 *Just imagine the navy glider & ottoman where the buggy is!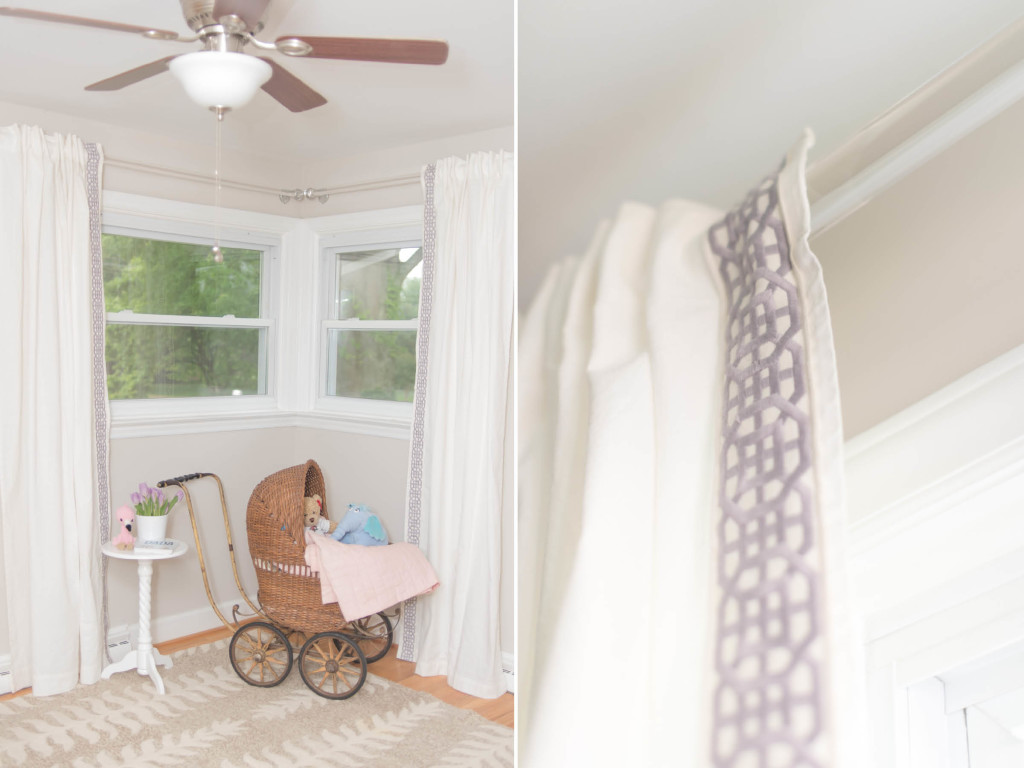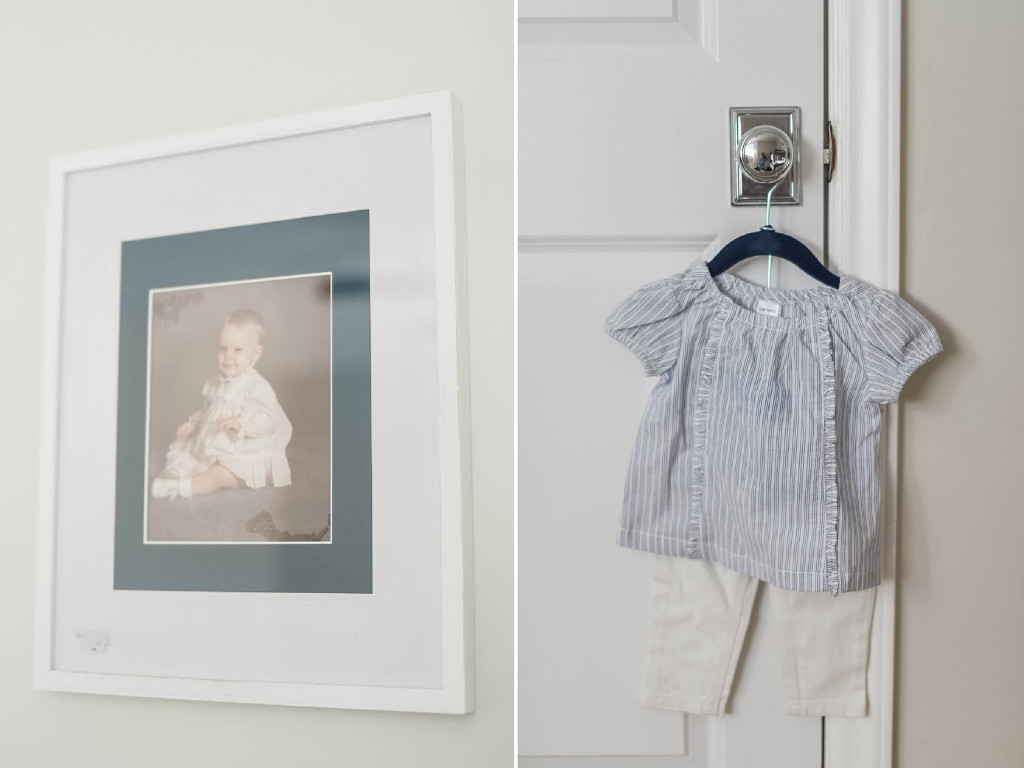 Still to come…. roman shade install, order & install new chandelier, delivery of glider and ottoman, frame and hang blanket over dresser… paint dresser…. eeek! Only about 14 weeks to go until she's here!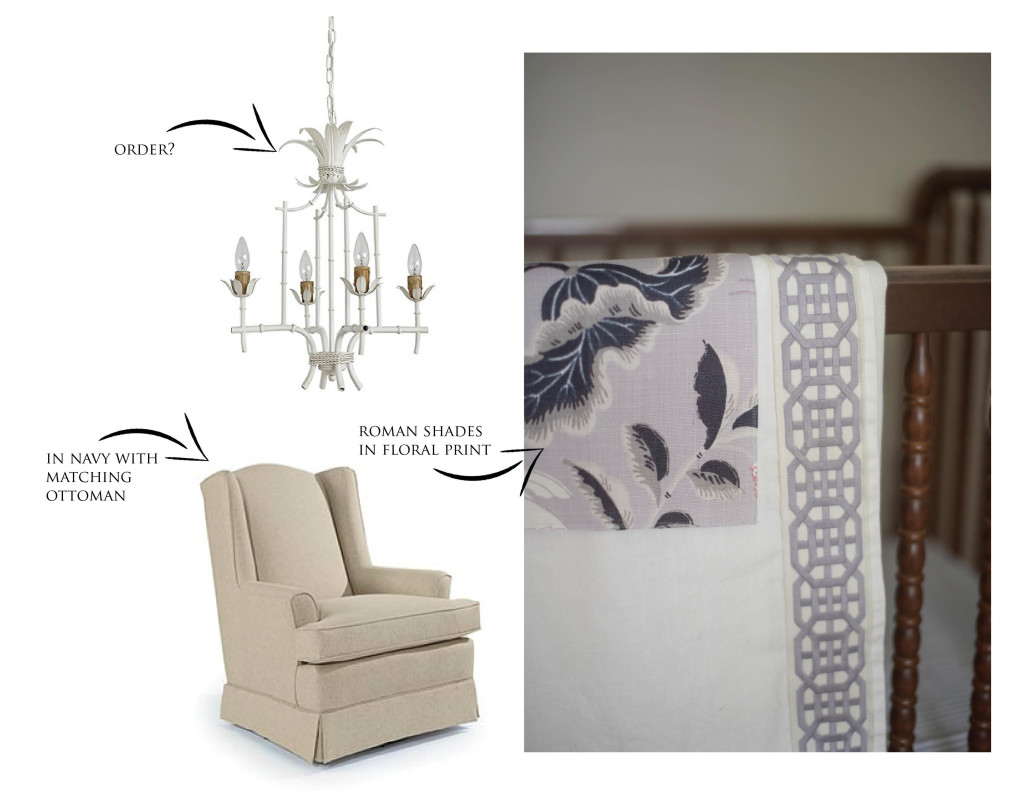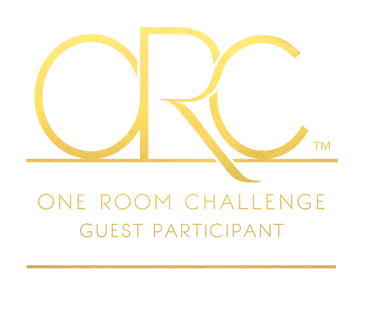 We've also got our maternity, hospital and newborn sessions booked!