Well, if you missed the big announcement over the weekend…. baby Horton is a GIRL! (read all about the day we found out, here) Today I thought I'd share the nursery plan I've got going for our little mango (that's the size she is this week)… since I've shared house stuff in the past… AND because this week starts another round of the One Room Challenge.  The ORC is a blog series created by Linda at Calling It Home…. she selects a handful of designers to complete a room in 6 weeks, blogging their progress each Wednesday. Now, this room certainly won't be done in 6 weeks, but we have about 18 weeks to get it done before baby girl is set to arrive. Ideally, I want it done before July… so about 6 weeks before my due date.
Thanks to Dina Holland Interiors, I fell hard for a silly expensive fabric to use for roman shades…. but I've totally justified the expense because we aren't buying a crib or dresser. It's the purple you see in the image below…. Schumacher's Lotus Garden in lilac, and the jumping point for the whole space. I'm certainly not against having pink in my gals room, but this purple was just too good to pass up, so her nursery will be lilac, navy and lots of white. The print does have a touch of pink in it, so I may do a pillow or something in a coordinating shade.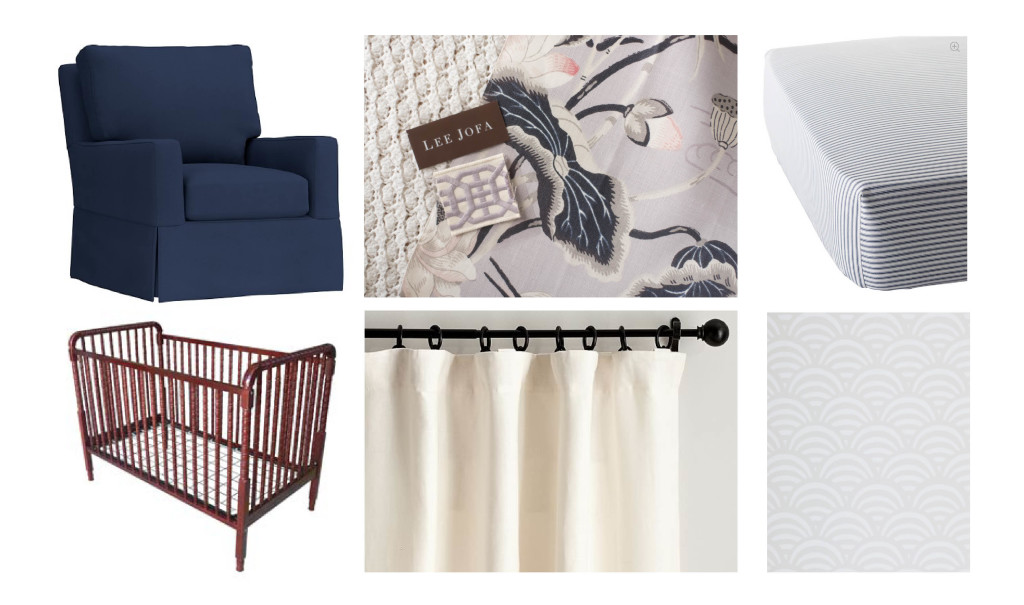 Glider / Lee Jofa Trim / Schumacher Fabric / Crib Sheet / Curtains (I'm planning to make ours) / Wallpaper
This is kind of an inspiration board of sorts… The navy glider is from Pottery Barn, and I have no idea if we'll actually get that one, but I threw it in for reference because I want a navy chair. The crib image looks pretty identical to the one we have (it was mine when I was a baby, and my sister used it for both her girls), and I already have the striped crib sheet and wallpaper. I'd purchased the wallpaper before we were pregnant to use on the ceiling of the room… but I haven't decided if I'll actually do that – we'll see!
The lilac Lee Jofa trim will be used on the leading edges of the curtains (like this) and along the hem of the solid white crib skirt (seen below with orange trim). The trim is pricey too, but their are so few options for lilac trim! I debated using navy instead because their are many more options, but I just like the lilac better.
We already have a rug in the room, it's the one we had in our master bedroom at our old house. You can see it here.
The last major thing I need to decide on is the light fixture. I love this one, but wish it came in chrome!
The walls are already painted a super pale gray (Valspar Modern Gray) as the rest of our house, so that will stay as is.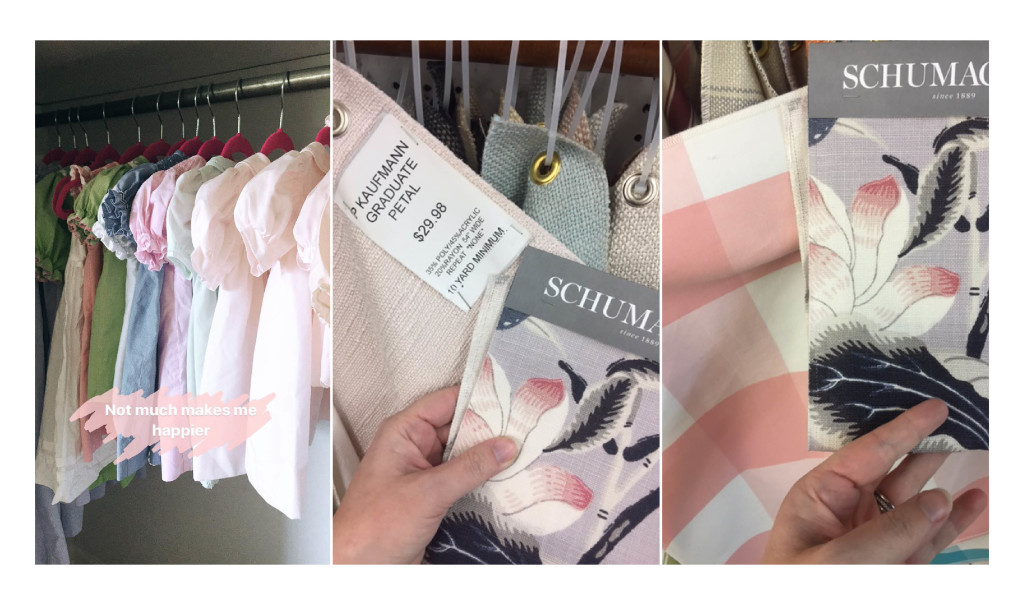 Here's a few more snaps… first, her closet is already well stocked from Aunt Jenny (yay for hand-me-downs!), second and third were two fabrics I saw in Mary Jo's that I thought paired nicely with the Schumacher… but they both have minimums that I won't need, so I'll pass on them…. but aren't they pretty!
Before…..
The good… it's a decent size room. We actually slept in this room while our master suite was being built (see it here!) I think the room is like 11×12 or something. It has 2 nice windows, albeit awkward mid-century modern corner ones. The closet isn't too tiny (it goes back behind the dresser a little).
The bad… That ceiling fan has to go! It's perfectly functional, and was brand new when we moved in 2 years ago, but it's just not pretty. We are actually moving it into our master bedroom… because #function (and it beats the lone light bulb hanging from our ceiling!).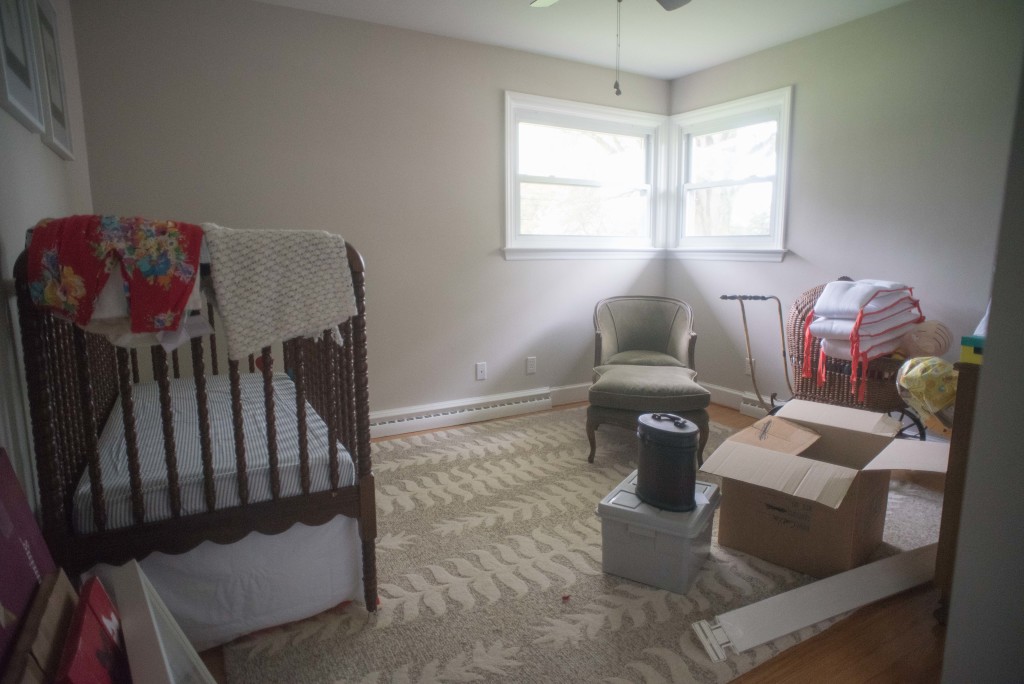 Be sure to follow along on my Instagram stories for behind the scenes… there's a little tour of the room up right now!
Once things start coming together, I'll post a reveal. August is going to be here before we know it!