Since we completed the beach house last summer I've contemplated sharing the financials of how we afforded this…. since the house was shared on Southern Weddings last Friday, I thought this seemed like an appropriate time to share. I'm not one to be shy about money, and hate how taboo it seems to discuss. So, here it is… all out there.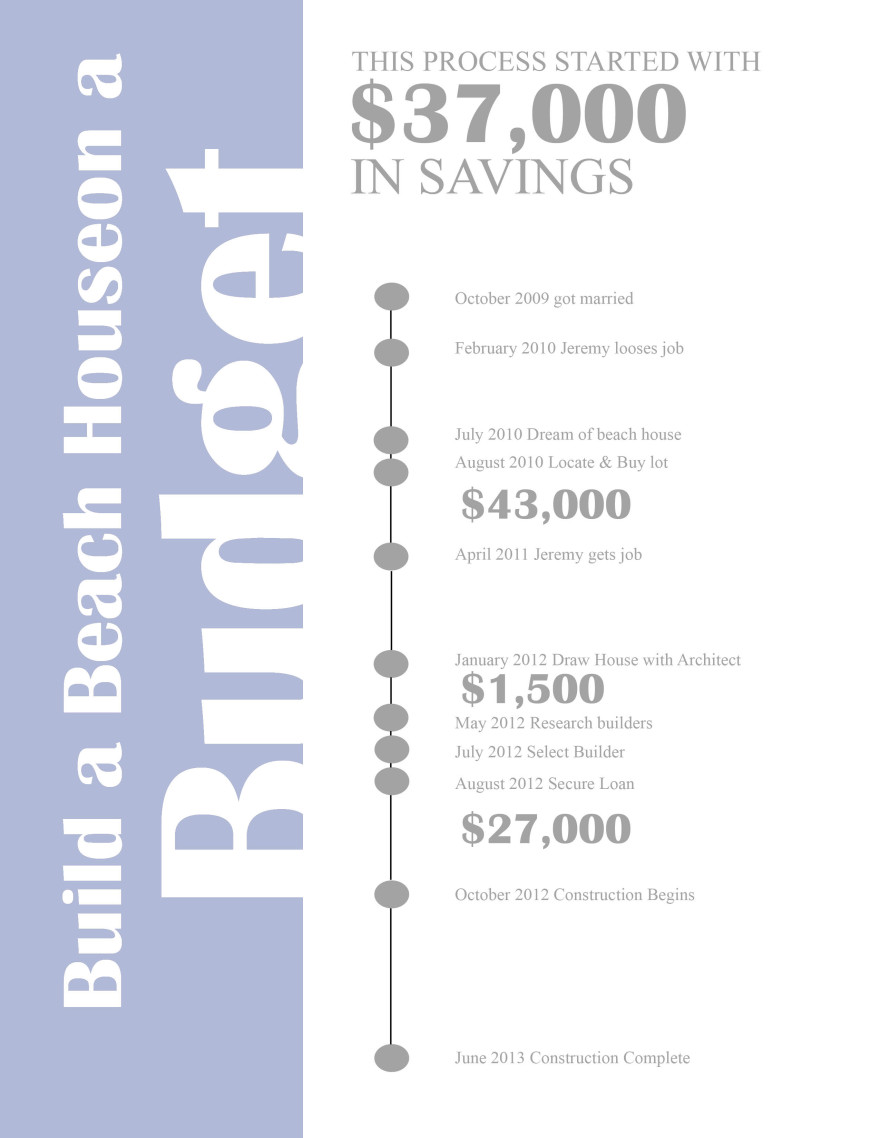 In January 2008, my grandmother passed away and left me money. I tried to make sure this money found a productive home, and used some as a down-payment for my house in Davidson. We got married a year later, and used some to pay for our wedding. After that, we were left with about $37,000. It was floating us though Jeremy's layoff. Over July 4th we were contracted to shoot an engagement session in Wilmington, so we drove down that afternoon, shot the session at sunset, visited with family that was there on vacation and drove home late that night. While visiting with family we dreamed of having our own spot there. I got curious a few days later and started to look at lots (keeping in mind our savings amount). I located 703 Texas Avenue quickly, it was listed for about $30,000. My sister (a Triangle based realtor) got me in touch with a local realtor and we learned that the owner had so much activity, they decided to raise the price to $45,000. We put in an offer (I think for $35,000) and it was countered. We ended up with a sale price of $43,000, we put our cash down and then they owner financed the remaining few thousand. By January 2011 we owned it free and clear.
Dreams of building one day were put on hold while Jeremy was jobless, but come April he got hired at his current company. At this point, I'd booked a healthy amount of weddings and put everything I was making into savings. By January 2012 we thought it might be safe to meet with an architect and start to draw plans. The plans were finished about early March and we continued to put money into savings. Hiring an architect to draw custom plans costs us $1500.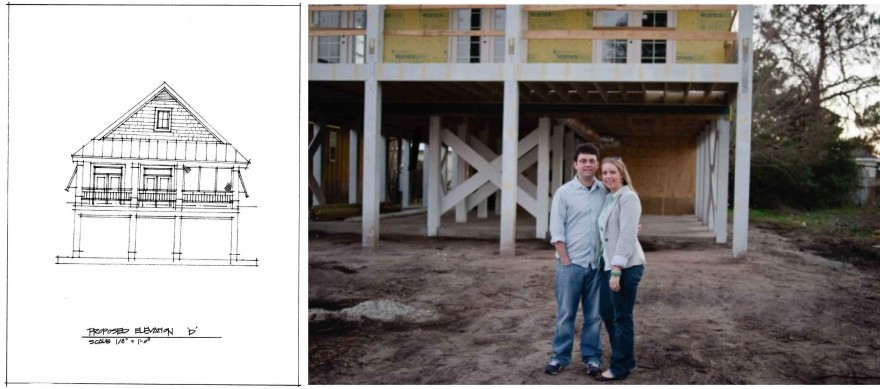 In May I began to research builders. I contacted about 4 or 5 and only 3 got back to me. The only builder that went into any amount of detail with their quote was with Bass Built. We sent Bryant the floor plan and then he asked us lots of questions about the finishes (because they would greatly impact the final cost… think laminate counters vs. marble). To our surprise, his quote came in at about $270,000…. a lot less than the other two (generic!) quotes we got. We met with them in person on July 5th and signed a contract, contingent on us gaining financing.
**The proposal included quite a few things we didn't want to spend money on, but we left them in there knowing we could pull that money away from those items to use towards other items that we thought were more important. For example we left the $3,300 landscaping, and $6,000 appliances in there, knowing we would nix the landscaping for now and we would provide our own appliances. **
We then took the proposal to Liz at NCSECU (credit union) to see if we could qualify for a loan. As part of the builders contract we had to give a 10% deposit (~$27,000) directly to him to start construction. This isn't really in the "rules" of lending with the credit union, but they worked with us (they give money upon work completed, not work to-be completed). We were able to use our land as collateral on top of the 10% and the loan worked out! We closed on the construction loan in September and construction was to start the following week. Somehow we had saved about $8,000 more than we needed for the down-payment…. so we promptly booked a trip to Hawaii (why not!). While this trip was wonderful, I do wish we had held onto more of that cash than we did.
We did have a few snags getting construction going, but they finally broke ground about Thanksgiving. We went down over Christmas and got to see the house starting to take shape.

Once the contracts were signed, we began to collect items for the house. Our home in Davidson became a make-shift storage unit for about 8 months….  we housed all the appliances, bathroom vanities and lighting in our living & dining rooms. It was total chaos, but worth it! We saved a ton of money on these things. The appliances (fridge, oven, cooktop, dishwasher, washer, dryer) with the builder would have cost $6617. We purchased all these items (higher quality) through big box store clearance. Nearly everything we bought was an "open box" special…. in total we spent about $2500 on all these things. The kicker with doing this, is you must come out of pocket that money… we had to pay cash for those appliances, but it was worth freeing up $6k to use somewhere else!
Saving the landscaping, appliance and some on lighting freed up money to upgrade our kitchen counter and bathroom tile.
My biggest piece of advice is to not feel pressure to just pick something. I really loathe most specific lighting (bathroom vanity lights especially) so I couldn't justify spending my $3300 allowance on things like boob lights… so we didn't. Instead, the electrician stuck in temporary light sockets or covered them for us. This has allowed us to purchase the lights we love later on. Even a year and a half later, we still need a light in the guest bedroom, sconces and overhead light for the master, a ceiling fan in the living room and sconces on the deck…. but they can wait.
Another thing to go along with not picking things you hate…. I traditionally hate builder bathroom cabinets. I like "permanent" things that look more like furniture… this is where our bathroom vanities come into play. We had an $11,000 cabinet/counter allowance, which needed to cover our kitchen and all three bathrooms… that was going to be tight. Instead of doing the normal bathroom vanities, I wanted something custom. I thought a nice dresser or buffet would work well. I spotted the master bath buffet in a local consignment shop for $250, we had it modified by a local carpenter so that it could house 2 sinks. I was still hunting for a 2nd vanity  when time was ticking down…. we had been into Lowe's to look at something and spotted a lot of clearance items. Their was a vanity there that had been a floor model marked down to $200 from $400. I looked it over, but passed on it. The next week I was back in and the vanity was still there, this time it was only $100! Sold (It's from their Allen & Roth collection, but I can't find it online anymore). I bought it right then. I didn't love the espresso finish (although I didn't hate it… it's above in the far left image), we had the same carpenter paint it for us a lovely shade of navy. I think the carpenter cost us maybe $200 to do both these pieces. I really think they are both so special, and everyone always comments on them. We did concede and put in a non-custom vanity upstairs, but our theory is, that's the kids bathroom and they'll beat it up. Maybe one day we'll change it out.
To help afford this, we have a cheap mortgage in Davidson ($600) and had no car payments at the time of construction. We live a pretty modest lifestyle full of coupon clipping, clearance rack shopping and fuel efficient cars to afford the payment on the beach house.
I'll be back on Thursday to talk about how we furnished the house on a budget! If you have any questions, feel free to ask!