So, like normal…. technology is a little challenging these last few days (other blogs planned, and not working out quite right at the moment)…. so, since we've made it 14 days into the new year without a post, perhaps we should jump on the resolution-esque blog post.
Since dreaming of, building, and moving in the beach house we've had a list of things we want to complete at the house. I made a list a few days ago and thought I'd share! Can't believe it's been since September since I did a house update?!
See previous beach house posts:  Labor Day & Move In, Trim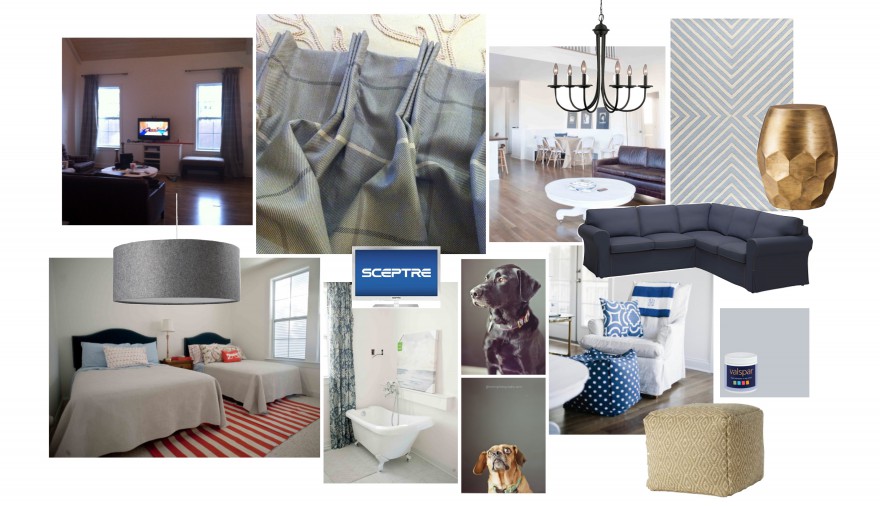 To do ASAP…..
1. Hem living room curtains (I sewed them, pleated them, and we hung them…. now they just need a good hem!)
2. Fix & hang guest room curtains: I found 4 perfect, silk panels at the restore months and months ago…. I only need 2 for the guest room, and these are too short, so I am ripping the 2 I don't need apart and adding length to the ones I am going to use.
3. Hang light in guest room: found this one at West Elm about 2 years ago for like 70% off!
4. Finish & hang light over dining table: We picked out this one and got it from my Dad for Christmas…. I'm wrapping it in rope! It's about 80% done.
5. Hang these dog prints in kennel
6. Fix coffee table: needs some supports built in
7. Hang tv in bathroom: it goes where those boxes are uncovered over the tub.
8. Recover chair in living room: I got 1 done…. and have been dragging my feet on the 2nd one :-/
8. Buy & hang hooks in master bath: I want the same ones we hung in the entry-nook-area
9. Hang 3rd print in living room: 2 of the 3 are hung…. but we needed more hardware for the 3rd one.
10. Fix cables in living room & hook up speakers: we got in-wall speakers for Christmas, and we hope to have them installed soon
11. Print some 4×6 images for frames…. ya know cobblers children have no shoes.
By July
1. Redo mats in kitchen & hang prints: I'm going to try very hard to remember to bring these home and run them by Michael's to have new mats cut!
2. Hang bamboo blinds in living room & kitchen
3. Paint master bath ceiling: been strongly considering painting the ceiling in here a coordinating blue tone!?!
4. Make organizer for silverware drawer…. oh I don't have a picture of the chaos of this drawer for a reason.
5. Hang shelves in pantry…. yeah our microwave is about 6 feet in the air on the only shelf hung…..
By the end of 2014
1. Buy new TV for living room: Jer has his heart set on a 55″
2. Buy sofa for loft: after lots of debate, reading and cost options: I think we're going Ikea. I'm not thrilled about it, but I'll live.
3. Have dresser for master painted & take to the beach….. yeah.
4. Build dining table: Make sure you ask Jeremy about this to keep it on his mind 🙂 He said months ago he wanted to build one…. I'm holding him to it.
Things I am pleased to report:
We finally got a rug! Our living room has been in serious need of some cushy…. found a deal on this on through Wayfair.com. It should arrive next week!
I also hit Target with a vengeance this week…. finding this bar cart 70% off (to be used as my night stand), this end table (for the living room) and 2 of these poufs for the living room! Thank you Cartwheel app & Target debit card for the savings!